Crestwood mayor opposes calls for plans to aid further revenue loss
Robinson reminds Board of Aldermen he serves as 'mayor of all the people'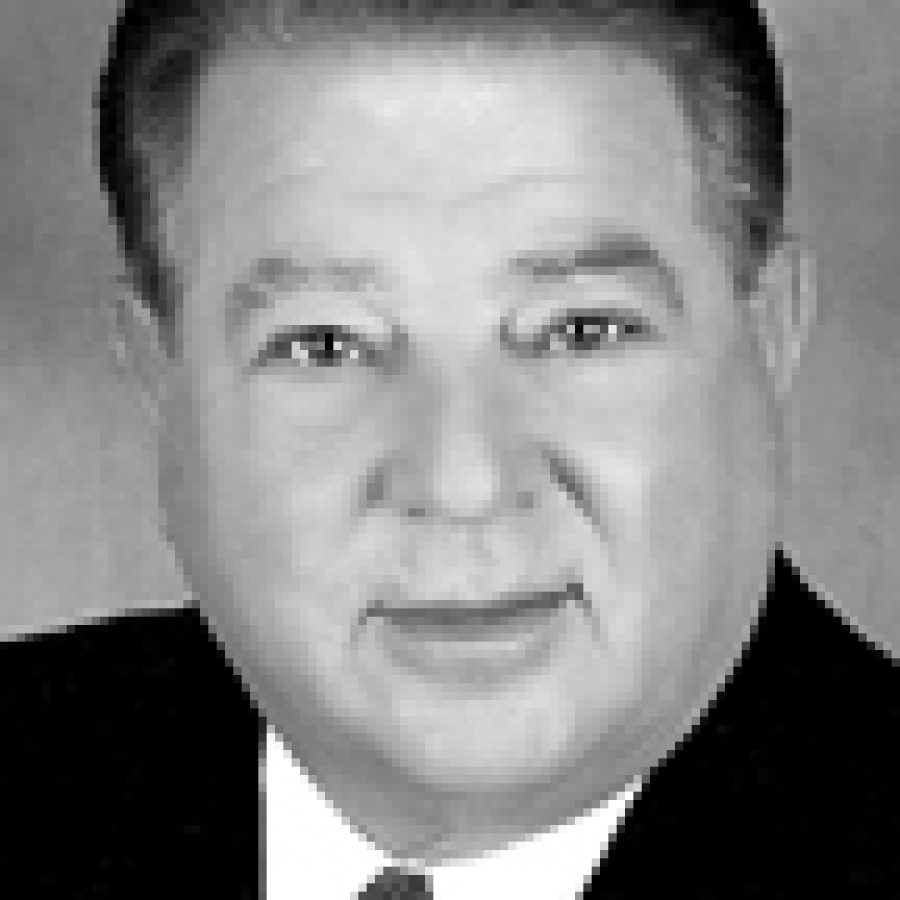 A week after rejecting Ward 3 Alderman Jerry Miguel's "Plan B" proposal to combat any further loss of sales-tax revenue at the Crestwood mall, Mayor Roy Robinson last week opposed similar strategies offered by six aldermen.
For the second time in recent months, Ward 1 Alderman Richard Bland publicly requested that the administration develop multiple strategies that would ease a sudden loss of revenue, namely if another anchor store closes at the Westfield Shoppingtown Crestwood.
The mall saw one of its three anchors — Dillard's — close last month and now is left with Macy's and Sears. City Administrator Frank Myers has estimated that the closing of Dillard's will result in the loss of $340,000 annually in sales-tax revenue.
Because the city's proposed 2008 budget projects a deficit of more than $202,000, Bland — like Miguel at the Oct. 17 Ways and Means Committee meeting — said he wants to make sure the city is prepared in case another unexpected drop in revenue occurs.
"It's costing more every year to run the city," Bland said at the Oct. 23 Board of Aldermen meeting. "Sales taxes are declining every year. And when you've got stores leaving town to the tune of what is it … $340,000 roughly give or take … we can't keep absorbing those kind of impacts. And eventually, it costs the city. Whatever the bottom-line cost is today is going to be more next year. If that cost that runs the city continues to escalate and sales tax continues to de-escalate, those lines are going to cross. And when they cross, we're going to be in the same position we were in with a shortfall. And I think we need to start being proactive and I think we need to start developing strategies to take a look at what kinds of things can we as a board do to try to minimize or to avoid that sort of a situation. Otherwise, we're going to be right where we were two or three years ago."
Aldermen last year unanimously approved a seven-year, $2.87 million annual-appropriation note with Royal Banks of Missouri to eliminate a $2 million debt and a $1.5 million line of credit with Southwest Bank. The money used to transfer that debt comes from Proposition S, a seven-year tax-rate increase of 20 cents per $100 of assessed valuation approved in April 2006 by voters.
Bland's sentiments to develop financial strategies were echoed last week by Miguel, board President Gregg Roby of Ward 3, Ward 1 Alderman Mac McGee, Ward 4 Alderman Steve Nieder and Ward 4 Alderman John Foote.
But Robinson opposes the development of any strategies, fearing that aldermen's ulterior motive for such strategies is a tax-rate increase. The mayor further said that such strategies are unnecessary because the city is "doing great."
"I know what the mood is here," Robinson said. "All these people are starting to talk about wanting to raise taxes to get what they want. I'm not getting part of that raise-taxes business until I'm convinced that there's a reason for it. And we're not there yet. So I'm just telling you all up front. This board can approve it. And I will veto the ordinance that puts the tax increase on the ballot. And you all can go out and try to pass it. I guarantee you you won't be able to pass it. So let's think about it. If you want to talk about initiative, call me on the phone, come in the office and visit and we'll sit down and we'll talk about alternatives. But I have never had any of that. I hear people going and talking to each other. Well, the way you work in the political arena is you work with the elected officials.
"And I happen to be the mayor of all the people — not the wards. So I'm going to represent all the people. And I'm expecting you all, if you've got initiatives or you've got things that you want to move forward, come and sit down and talk with me. Then we might be able to get it going. I tell you, I get tired of hearing this nay, nay or people say no or that things are bad. Things are not bad. You ought to have been here three years ago. You would have seen things bad. We're doing great. And we can work out all these problems. We don't have a problem here."
But Foote countered that no aldermen are advocating tax increases and simply are trying to facilitate future financial estimates and solutions to help them make accurate decisions. He also spoke in favor of gathering residents' input on what city services are most appreciated after officials develop true costs of those services in the coming years.
"The first statement was, offered by Alderman Bland and myself, was let's sit down with the residents," Foote said. "Let's talk about services and the costs involved. There was no mention of taxes or this or that."
"Well, that's …," Robinson interjected. "That's what's been going on all along. I know."
"That's not the issue," Foote said. "What does it cost for our services? And what services do the residents want?
"Once they have the input somewhere, I would think by April we should have a very good handle on 2008. We have sufficient funds with reserves built up by steps taken in 2006 and 2007 … 2008 will be a successful year. It will be in the red, but we'll survive. By 2008 in the fall, we'll have a better idea of what the mall is doing. But in the interim period of time, the residents need to be heard as to what services they wish to take and how they want to go about it. After we have that information, there's plenty of time then to address the problem," Foote added.
To address aldermen's concerns in the meantime, Myers has instructed the administration to develop a three-year budget for the years 2009, 2010 and 2011.
But Miguel is concerned that those estimates have not factored in the loss of any additional businesses or revenue.
"In the three-year plan that you've asked the staff to develop, have you factored in the possibility of the loss of another mall anchor in that three-year plan?" Miguel said.
"Oh Jesus," Robinson exclaimed.
"What I have asked the staff to do …," Myers said.
"Just answer," Miguel interjected.
"What I have asked the staff to do, and I'll get to your question, I requested expenditures," Myers said. "I've not … the revenue side will have to be looked at separately. I've asked each department …"
"You've answered my question, Mr. Myers," Miguel interjected. "Thank you. I don't understand how one can put a three-year budget together … if one cannot predict if the city will lose another anchor or one may occur. I think it's unanimous here. I probably use a different term. I use the term 'Plan B.' Alderman Bland uses the word 'strategy.' It's the same thing. I feel we need a 'Plan B' to get through the possibility of what happens if we have a major loss in revenue next year. We can't talk in terms of three years.
"You need to talk about the upcoming year. What happens if. Those strategies or that 'Plan B' needs to be in place. And it needs to be in place now. So whatever those strategies are, they need to be identified."