Crestwood Board of Aldermen candidates square off at forum
All but two candidates support early end to Prop S tax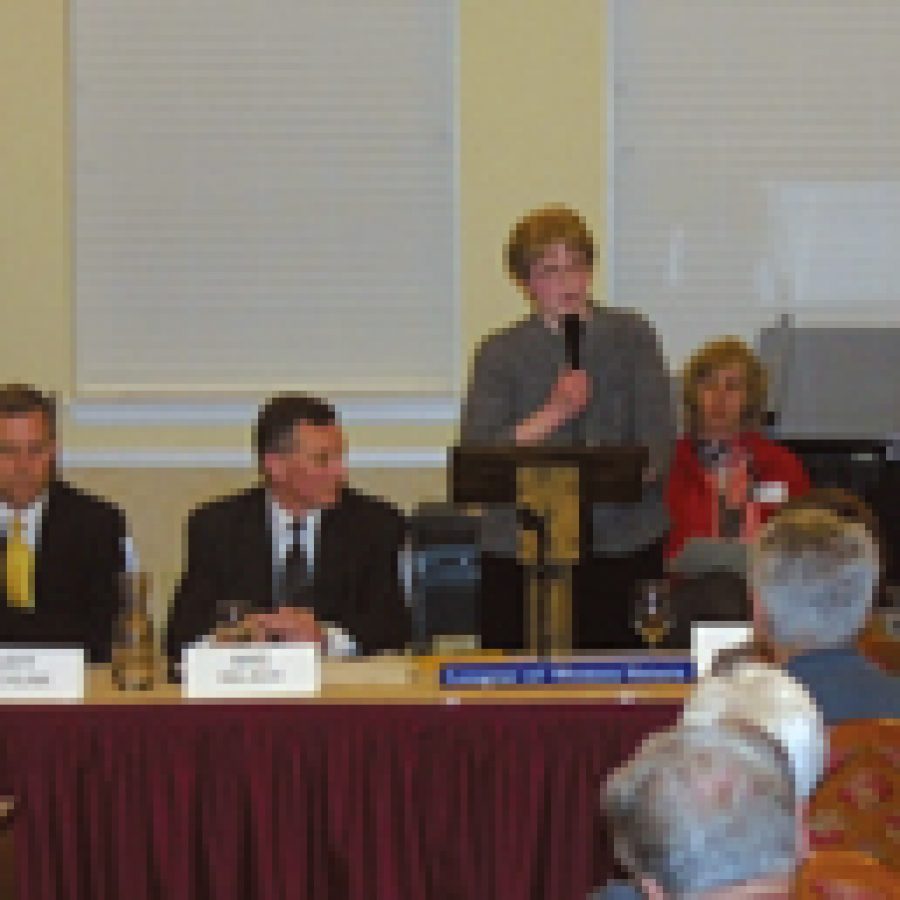 Crestwood aldermanic hopefuls last week discussed a variety of issues facing the city during a candidate forum.
The Crestwood-Sunset Hills Area Chamber of Commerce sponsored the March 19 forum for Crestwood Board of Aldermen candidates in the April 7 election.
The chamber also has scheduled a forum for Sunset Hills aldermanic candidates at 7 p.m. Tuesday, March 31, in the auditorium at South Technical High School, 12721 W. Watson Road.
In Crestwood's Ward 1, Mimi Duncan is unopposed for a one-year term and Darryl Wallach is unopposed for a three-year term.
In Ward 2, Board of Aldermen President Chris Pickel is unopposed for a three-year term while Jeff Baker and Jeff Schlink will challenge Ward 2 Alderman Mike Kelsch for a one-year term. Baker did not attend last week's forum.
In Ward 3, Jack Bazzell and Paul Duchild are vying for a three-year term. A third candidate, Michael Argent, remains on the ballot, even though he passed away Feb. 20.
In Ward 4, Deborah Beezley will challenge Ward 4 Alderman Steve Nieder for a three-year term.
Opening comments made by the candidates included:
Wallach said, "We need to encourage a business-friendly environment and bring the revitalization back to Crestwood. One of the opportunities that we have before us is Crestwood Court. And we need to make sure that's the right fit for our community."
Duncan said, "I think there are a lot of challenges to the city — first and foremost, the revitalization of Crestwood Court … We need to maintain the state of living of our neighborhoods … We have to make sure that government is accessible to our citizens and, when changes are made to some of the services, that we share those with our residents and we make known what we intend to do."
Pickel said, "I feel like we have some unfinished business. Certainly, we have our financial challenges. Those have been well-documented and they are very real. We have the mall development. There's been encouraging signs for Crestwood Court. The economy has turned. We haven't been able to jump off that project like we wanted to. But I'd like to see that come to fruition … Also, I'd like to see us go through a process of restoring our city's image throughout the region. We've had a lot of negative publicity with store closings … When I talk to people out in the community, they sometimes wonder what's really going on in Crestwood. And I think we have an opportunity to address that and change the public perception."
Schlink said, "If elected, I would be that taxpayer watchdog for the residents of Crestwood that I believe we need today. I will work to not increase your property taxes. I will try to help improve planning. Chicken Little runs rampant in Crestwood. The sky is not falling. And if clearer heads are elected to the Board of Aldermen, we can manage this financial situation better."
Kelsch said, "We've had very difficult times. Like Mr. Pickel, I agree that we are at a crossroads … We've met with mall owners in the hope and promise of forward progress, only to be upheld by the ailing economy. We face public scrutiny under the agenda of the minority. We've honored the voice of citizens of Crestwood through their votes. And we've made very, very difficult cuts while facing declining revenues that cut into the very fiber of valuable service of loyal employees. I'd appreciate the opportunity to finish this final year of this term to promote the vision of forward progress that I see for Crestwood."
Duchild said, "I've decided to run for office because I believe the city is not managing its expenditures in a conservative manner. The city has repeatedly asked citizens for tax increases with the claim that the city is running at bare bones. In the wake of the Proposition 1 defeat last August, we now know that the previous claims were untrue. Recently, the city has found ways to reduce its expenditures by almost $2.2 million. While this is a positive step, it does not fully restore the trust that has been eroded with the false claims based on that past election last August."
Bazzell said, "Our city is at a crossroads, and we have many challenges that we face today. For years, we've relied on Crestwood mall. And that tax base is not there anymore. I know cuts need to happen to survive. And I believe we must find ways to increase revenue for the city. We can just not throw up our hands and make cuts across the board and talk about closing facilities and think that our community's going to grow and survive. I also think it's important that we maintain our police, our fire and our medical services."
Nieder said, "Currently, the city of Crestwood is struggling to balance expenditures with revenue. We are not unique with this struggle as economic activity continues to change and evolve … An $11 trillion decline in the net worth of this country creates difficult and controversial choices about what is necessary or affordable and what is unnecessary and unaffordable for businesses, governments and individuals. In prosperous times, no one questions government expenditures. During economic downturns, however, every expenditure should be questioned and rationalized … Rather than ride this economic roller coaster, my solution is to plan for the downturn so that circumstances don't dictate choices."
Beezley said, "I see a very safe and secure community. It's a beautiful community … All that aside, our financial situation in Crestwood is very real. It can't be discounted at this time. There's a possibility we're going to lose some of our valuable community services that we depend on daily. It is critical that we look at alternate sources of revenue … My focus is to maintain Crestwood base services for fire and police, keep our parks active for our children and their families, continue with community focus groups to secure ideas …
"We have many senior citizens in this community. And they are truly an untapped wealth of resources that we need to look into … I also want to serve as part of an aldermanic team to build, continue to build and rebuild our mall, the business community and work with them as our partners."
Asked to address the early retirement of the Proposition S tax — a 16.9-cent tax rate approved in April 2006 by voters as a way to retire debt — all candidates, with the exception of Beezley and Kelsch, favor retiring the tax when that debt is paid off in 2010. The Prop S tax is scheduled to continue until 2013.
Beezley said, "It's very difficult times right now. We are not an island here in Crestwood … And it's not a tax increase. I think it would be fiscally sound to at least evaluate fully any opportunities to improve our financial situation by looking additionally at Prop S."
Nieder said, "The Proposition S resolution was put forth by the board (in March 2006) before I was elected. If we pay this off early, we would return that money to the residents … And I think we should maintain that particular position."
Bazzell said, "I think it's over next year. It should be over …"
Duchild said, "In order for us to be able to ask for a tax increase possibly in the future for specific needs, I think we should adhere to the resolution. And I will vote … to retire the tax next year."
Kelsch said, "I believe it isn't fiscally re-sponsible for us to retire Prop S. In the long run, it's going to help the city and it's going to help us in our cash-flow position and our debt expenditures … The money to pay (debt) off is coming from somewhere. It is coming out of our coffers. And I believe there should be some discussion among the board for us to consider what we want to do."
Schlink said, "Once Prop S has achieved the goal that it was set out to do, it should be retired … If we were to take that money and extend it past what we actually asked it to do …we would have told you one thing, but then we decided to do something different."
Pickel said, "The ballot language of Prop S clearly stated that there would be a sunset in 2013. But some of the candidates are right when they say that a previous board signed a unanimous resolution that they would try and expire that debt as quickly as possible. So, in keeping with that spirit, I think we do have to honor the intention of that board. It's going to be a painful, painful process for Crestwood. We need that money. But I think we do need to honor the integrity of that board…"
Duncan said, "The fiscally responsible thing to do would be to retire it. Once we do something as your elected officials, we need to follow through on what we say we are going to do …"
Wallach said, "I would agree that after the debt payment of next year … it should be retired."