Crestwood aldermen eye final approval of incentives for mall project
Roby assures ex-alderman project poses no risk to city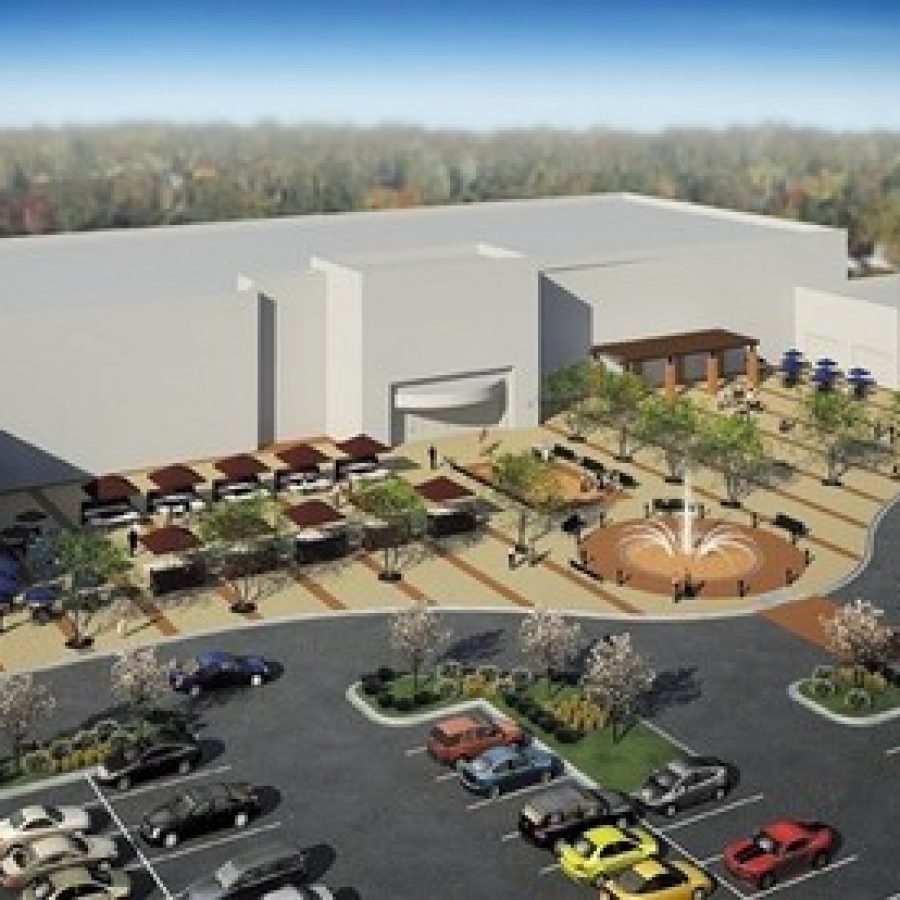 The second and final reading of several measures granting approval to Chicago-based UrbanStreet Group's proposal to redevelop the former Crestwood Plaza are set to be considered next week by the Board of Aldermen.
The Board of Aldermen will meet at 7 p.m. Tuesday, March 22, at the Government Center, 1 Detjen Drive.
UrbanStreet, which purchased the 47-acre mall site at Watson and Sappington roads for $2.265 million in 2014, is proposing a $104.3 million mixed-use redevelopment of the property.
Approval of the redevelopment project poses no risk whatsoever to the city, according to Mayor Gregg Roby.
UrbanStreet's proposal includes one large retail facility that could contain a grocery store, a multi-screen movie theater, a fitness center, two dine-in restaurants, an office building, a 225-unit apartment complex currently envisioned as senior housing and 11 to 13 acres of open space and community gardens.
UrbanStreet is requesting tax incentives totaling $25 million, including $15 million in tax-increment financing, or TIF, assistance, or a Chapter 353 tax abatement; $5 million in Community Improvement District funds; and $5 million in Transportation Development District funds.
The city's TIF Commission voted Feb. 10 to recommend approval of TIF assistance for the project.
Aldermen voted unanimously March 8 to give initial approval to a series of measures to approve the redevelopment project and tax incentives.
City Administrator Kris Simpson cited several key provisions of the redevelopment agreement negotiated between the city and UrbanStreet.
"… We've written into the redevelopment agreement that demolition of the mall must begin within 90 days. So you should all start to see activity there shortly, provided the board approves," he said. "The project must be substantially completed within 36 months. If the developer builds nothing, they get nothing. They've got to demolish the mall and build at least 120,000 square feet (of retail space) before any reimbursement takes place. The developer may only be reimbursed from new revenues generated by the project, and the city's not on the hook for any obligations related to this agreement at all."
In addition, Simpson said, "We successfully negotiated for $1.5 million to be used for the removal of the Watson Road medians. This has been a long-standing complaint from our business community. Removal of these medians will instantly increase the economic potential of the sites all up and down Watson …"
Lindbergh Schools officials have voiced concerns about the apartments proposed for the site, saying they would exacerbate the aggressive enrollment growth that already is challenging the district.
"… Should any non-senior housing be constructed, the agreement requires pass-through of the taxes to the school district …," the city administrator said.
Bob Burk, UrbanStreet managing partner, told the TIF Commission in December that no commitments from potential retail tenants for the proposed redevelopment can be secured until economic assistance is granted for the project. He also said the project will not proceed without the requested economic assistance.
"… We firmly believe that this property defines blight. It defines why we're here this evening discussing and requesting these incentive packages …," Burk told aldermen last week. "As we've stated since the outset, we believe that this site has extraordinary costs to get it into a developable state, starting with demolition of existing buildings and the blighted situation that exists there.
"We've got extraordinary topographical issues over there. Stormwater management that is nonexistent on that site is going to require a massive amount of work …"
Regarding the impact of the incentive packages, Burk said, "It's an incremental package. So the city and the taxing districts that are involved in this are going to give up a portion of potential incremental growth. They're in no worse of a position than they are today, and that's the critical thing …"
But Lindbergh Schools Chief Financial Officer Charles Triplett noted at the Feb. 10 TIF Commission meeting that UrbanStreet successfully appealed the 2014 assessed value of the mall property and is appealing the site's 2015 assessed value.
"Just as a point of fact, that (appeal) will reduce the revenue to the school district from $147,000 to about $52,000 a year," Triplett said. "So that's a $95,000 true revenue loss to the school district through that appeal. So any pass-through that might come to the school district from kids being in the property, $95,000 at least has been financed through the lowering of the assessed value."
In a departure from past practice, speakers at last week's board meeting were limited to three minutes with Director of Public Services Jim Gillam timing them and issuing a warning when 30 seconds remained.
Resident Martha Duchild said, "… When UrbanStreet chose to buy the mall, they were fully aware of all of its challenges. It is not the city's responsibility to mitigate their risk. UrbanStreet has taken care of that by establishing LLCs (limited liability corporations) as owners of the mall. What protections are in place for our taxing districts, including Crestwood? For the record, I am opposed to tax abatement for this redevelopment project, especially given the plan's lack of substance and the inducement this 353 would provide for the developer to flip all or some of the property …"
Paula Ballew, a Crestwood resident for 32 years, said, "I'm concerned about the development. I love the plan. I just think that the developer should take more responsibility for the risk instead of asking us to. I think that the developer should pay for it. We'll come and shop there …"
Former Ward 2 Alderman Tim Trueblood, who served as TIF Commission chairman, asked, "… Is there a risk to the city of Crestwood if the city approves or grants UrbanStreet a TIF or 353? …"
Mark Grimm of Gilmore & Bell, the city's special and bond counsel for the mall redevelopment project, replied, "… The developer has to advance all funds required for construction of the redevelopment project, whether the project is undertaken by TIF or 353. If upon completion of the project, the project presumably would generate increased tax revenues, both property taxes and sales tax. It's from those tax revenues and only those tax revenues that the developer would have an opportunity for repayment of a portion of the costs advanced by the developer toward the project."
Roby said, "… I hope that answers your question, sir."
Trueblood said from his seat, "So there is no risk?"
Roby said, "No."