County auditor's credentials being investigated by Krane
Councilman implies Stenger behind query of new auditor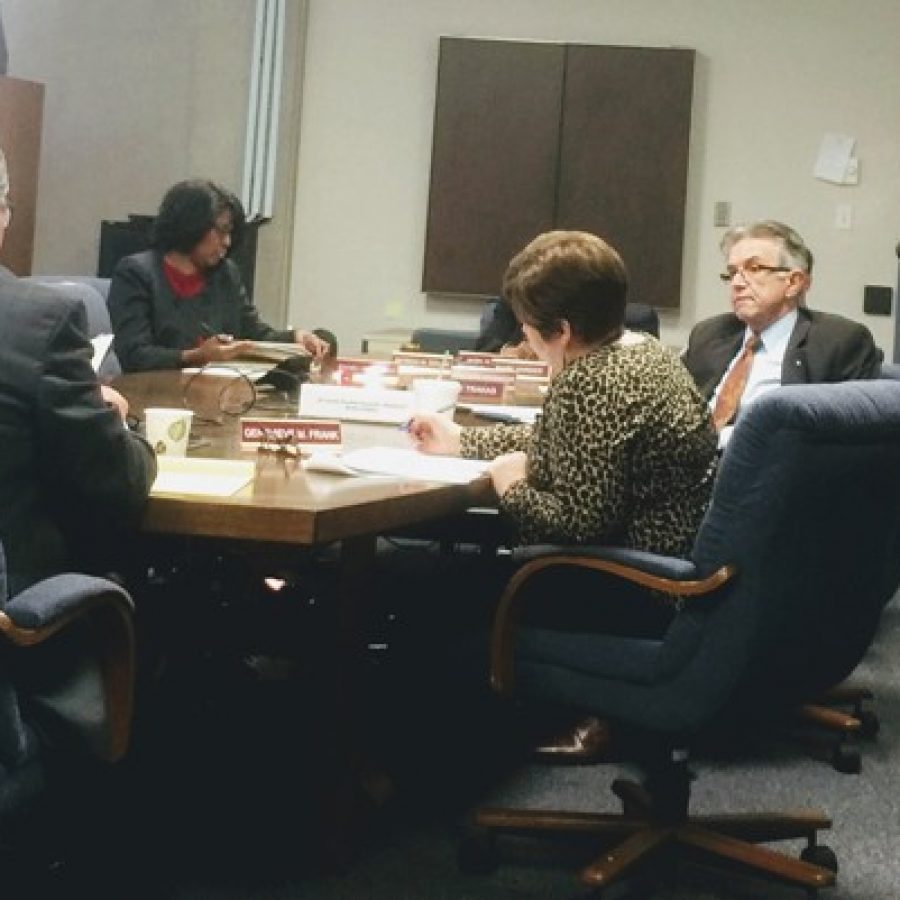 At the request of two of the three Republicans on the County Council, the county counselor is investigating the qualifications of the newly hired county auditor.
Even before Creve Coeur resident Mark Tucker's first day on the job last week, County Counselor Peter Krane's office began looking into his resume at the behest of 3rd District Councilwoman Colleen Wasinger, R-Huntleigh, and 7th District Councilman Mark Harder, R-Ballwin, who say they don't believe he meets the county Charter's requirement of five years of accounting experience for the position.
It marks the first schism among council Republicans since 6th District Councilman Ernie Trakas, R-Oakville, took office in January, as Trakas voted for Tucker and implied that the investigation is a facade backed by County Executive Steve Stenger in a lengthy questioning of Krane last week.
As the county clerk tallied the written votes for auditor at the Feb. 28 council meeting, Wasinger said, "I hope they don't get somebody in there who's not qualified."
The council hired Tucker on a split 4-2-1 vote, with Trakas siding with most of the council's Democrats for Tucker, a lobbyist and, until Gov. Eric Greitens took office Jan. 1, a GOP appointee of Gov. Jay Nixon in the state Office of Administration, or OA. Votes from Wasinger and 5th District Councilman Pat Dolan, D-Richmond Heights, went to Assistant Auditor Inessa Spring, while Harder cast his vote for 6th District resident John Vogel, a former chief financial officer.
Votes for Tucker came from Trakas, Chairman Sam Page, D-Creve Coeur, 4th District Councilwoman Rochelle Walton Gray, D-Black Jack, and 1st District Councilwoman Hazel Erby, D-University City.
Although other candidates have financial experience clearly listed on their LinkedIn profiles, Tucker's profile — which he deleted after it became public that he was a candidate — does not list any financial experience or degrees.
County Clerk Genevieve Frank declined to provide resumes from Tucker or other candidates to the Call, contending they are closed records.
Legislative policy liaison Tucker described himself on LinkedIn as an "Astute relationship manager; adept at identifying, gaining access and connecting with key influencers." He worked for the OA for two years, as a registered lobbyist for Rex Sinquefield-backed Pelopidas LLC for three years, as a pharmaceutical account manager for Roche Labs for five years, and as a district manager for Johnson & Johnson for four years.
The drama dates to the council's first closed session in decades Jan. 10 and a unanimous "yes" vote on a motion from Page to pay then-Auditor David Makarewicz six months of salary and benefits in exchange for his "resignation effective immediately and release of all claims."
Council members said the decision was not necessarily based on Makarewicz's performance, but because his term expired.
Krane details investigation
In response to intense questioning — more than 40 questions in 15 minutes — from Trakas after the March 7 council caucus that resembled a legal deposition more than a typical council conversation with the county counselor, Krane said he had been out of town but had assigned three or four assistant county counselors to look into Tucker's credentials.
Noting that Krane is appointed by the county executive, Trakas implied through a series of questions that Stenger was behind the inquiry.
"If the county executive was opposed to Mr. Tucker as the auditor, would that present a conflict to you in terms of your investigating Mr. Tucker's qualifications?" Trakas asked.
"I had no information about the man's qualifications," Krane said. "I'm not biased in the least."
Trakas told the Call that he believes Tucker will be "totally independent, free of partisanship," a quality certain county officials may not appreciate — including Harder and Wasinger.
"While Peter Krane's looking into it, maybe he can look into their motivations," Trakas said. "This is all about deflection, creating squirrels for the media to chase, and to undermine the will of the majority vote of the council because Harder didn't get his candidate."
But Harder said he has pushed for years for greater fiscal transparency and accountability.
"The big thing — and why it should be important to the people — is that the county auditor doesn't work for the county executive, he doesn't take his orders from the county executive, so he can audit as he sees fit to audit," his legislative assistant Chris Grahn-Howard said. "That's the ultimate check and balance."
The county has just two auditors, with another position unfilled, while much smaller surrounding cities and counties have far more on staff: Jefferson County has five, St. Louis city has nine and St. Charles County has seven.
"We want this to be a very qualified person and not a political appointee, because this isn't a bureaucrat that tells somebody else to go out and audit something. They have to be able to go out and audit as well," Harder said. "It can't just be somebody that tells somebody else, because we don't have that somebody else to tell."
The Charter requirement of five years of accounting experience is "vague at best," Trakas said. And Tucker came highly recommended for his honesty and integrity by former Sen. Jim Lembke, R-Lemay, an opinion Trakas values.
"I think he has significant budget experience," Trakas said. "And frankly, the so-called requirement of five years — does that mean balancing a checkbook for five years? Does that mean running a business for five years? Does that mean being an administrative assistant in charge of a company's checkbook?"
Lembke's former chief of staff, Mehlville school board member Jamey Murphy, serves as chief of staff to Sen. Paul Wieland and worked with Tucker for years. Scanning through past emails from Tucker about state contracts, Murphy noted that many involved requests for proposals, or RFPs.
"I love Mark," he said. "He's a very competent individual, and I don't question his abilities at most things. But I've never seen him audit anything, so I don't know that I could speak to that talent or not of his."
Trakas saw Tucker's resume during their interview, but left his copy in the room.
"The words 'budget' and 'budgetary' were used," Trakas said. "Are 'budgeting' and 'auditing' different? I'm not disputing that. But the job description doesn't say anything about five years of auditing experience, it says five years accounting, whatever that means."
Both Gray and Page are former state legislators, and Gray has known Tucker for years. Although she nominated someone else for the position, she said she supported Tucker because he is qualified and because she wanted to bring more diversity to the office. Tucker is African-American.
"He's well-versed on the ins and outs of government, and looking at his resume, it further emphasized his knowledge of auditing and budgeting," Gray said. "It's not as if he audits the entire county, so it's not as extensive. There's different levels of auditing, and I think he will be fine."