Burton, Heisse face off for the 92nd District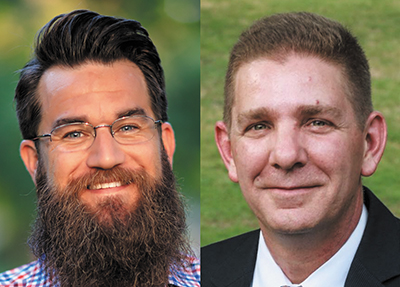 Rep. Doug Beck is not running for re-election for the 92nd Missouri House District seat, leaving the race open this year for two contenders vying to replace him.
Beck's last Republican opponent for the seat, math teacher and Concord Committeeman William "Bill" Heisse, will contend with Lakeshire resident and Tower Tee advocate Michael Burton, a Democrat, for the seat representing Affton, Marlborough, Lakeshire and Concord Plaza in the election Nov. 3.
Heisse lost in 2018 to Beck.
Burton, 38, 10258 Squire Meadows Drive, Lakeshire, is the shop manager for Balloonville Productions.
Burton graduated from Christian Brothers College High School and did some college at Lindenwood University. Burton was an outspoken advocate at the St. Louis County Council over the last several years in his quest to save the Tower Tee Golf Course. He ran for the 5th District council seat in 2018, but then dropped out and supported the eventual winner, Lisa Clancy.
When asked why he was seeking office, Burton said, "Standing up and speaking out for the people."
Heisse, 53, 9835 Arv Ellen Drive, Affton, is a math teacher at Fanning Middle School in St. Louis Public Schools.
Heisse is a former U.S. Marine who received his undergraduate degree in political science from the University of Missouri–St. Louis and is currently working on his master's degree in political science. He is a member of the American Federation of Teachers No. 420 and president of the South County Republican Club.
"Service has been the focus of my life, whether as a U.S. Marine, public school teacher or high school/college hockey coach. It is my priority to ensure people have successful and positive experiences. Now, I wish to have a greater positive impact upon our community," said Heisse on why he is seeking office.
The candidates gave the following responses to The Call's candidate questionnaire:
What is your position on abortion?
Burton: "I believe in a woman's right to choose what she does with her body. Banning legal abortion is not going to stop abortion. This is one of the most difficult subjects I think about and I will always listen and respect all sides but that is my view." 
Heisse: I am pro-life and proud to be endorsed by Missouri Right to Life. I believe that there are instances to include cases of rape, incest or where the life of the mother or newborn are in danger. In these cases, parents should consult with family, medical personnel and others with shared experiences to form an informed supportive decision that families can accept.
Would you support legislation to facilitate a merger between St. Louis County and St. Louis city?
Burton: "Right now, no. I haven't seen a proposal that makes sense for all residents." 
Heisse: "I am opposed to the current proposals of a City/County merger. Residents of the 92nd district should not have to bail out the heavily mismanaged St. Louis City. I would additionally oppose any statewide referendum to merge the two entities. The final decision should rest with the voters of St. Louis County and St. Louis City."
Should there be a statewide mask mandate?
Burton: "Yes."
Heisse: "As responsible citizens we should use our own common sense in regards to mask
requirements. Local officials, business owners and residents should make the decision that is best for their own communities."
Should police departments be defunded?
Burton: "Absolutely not."
Heisse: "No, personal security is one of the basic freedoms guaranteed by our Constitution. It would be irresponsible to defund the police, especially at a time when criminal activity in our community has been increasing. Instead we should support our law enforcement officers and work with them for reforms."
What bill would you sponsor as your first legislation post-election?
Burton: "Renanecting the Missouri Homestead Act. This is my main goal. As a Democrat, if I can get one thing done, this is it. Missourians on fixed incomes who are in retirement are struggling every day to pay for their increasing property taxes and some are losing their homes and that is not right. Giving them a small break on their property taxes would allow them to pay for food, medications and would lower how much they worry every day about their quality of life. I believe I will be able to bring all sides together and get this done." 
Heisse: "I would craft or sponsor a bill which would eliminate restrictions and regulations on small business. I would work to streamline this process to help small businesses recover fro the COVID-19 pandemic. Our district has room for growth and our state legislator should be committed to further economic development in our area. I would also work to lower the barrier for returning to work programs and scholarships for those unemployed or underemployed by the pandemic."
Do you support right-to-work legislation?
Burton: "No. I am the strongest candidate in this race to support and strengthen our unions." 
Heisse: I voted against the right to work proposition. As a member of a union, I recognize the importance these organizations play in protecting workers' rights. Missouri voters spoke loud and clear that they oppose right to work initiatives. As a legislator, I will not support or permit any legislation attempting to subvert the will of Missouri voters."
What do you think of the state's COVID-19 response?
Burton: "It's been disappointing to say the least. It's taken pressure from the people just to get our governor to make some common-sense recommendations, The state seems to be more worried about politics than protecting its people." 
Heisse: "Gov. Parson's plan of allowing local control was the best possible plan during this crisis. He empowered local officials to implement policies that were tailored for their communities. However, County Executive Page has overreached and acted unconstitutionally. The county council has given him unfettered control over federal funds. It is disgraceful the county council suggested to increase taxes in a period of economic depression."
What is your position on the death penalty? 
Burton: "I do not believe in the death penalty. How can we convince people to stop committing murder by murdering other people? Lock them up and don't let them out, but I can't get behind taking someone else's life." 
Heisse: "I support the death penalty for the most heinous of crimes. I believe that the death penalty if properly applied can be an effective deterrent for decreasing the instances of serious crimes."
Read on for web exclusive questions and answers. 
What issue do you consider the single most important issue in this race and why?
Burton: "The most important issue to me is making sure working-class folks in our community are doing well, are safe and are thriving." 
Heisse: "Reestablishing an environment for job creation after the COVID-19 shutdowns and the economic redevelopment of our commercial real estate spaces are the primary issues in our district. We must stimulate economic growth in our community to increase the number of family-supporting jobs, raise the quality of life for residents and make our neighborhoods an attractive location for people to live and work."
Other issues you perceive in your race and your position on each: 
Burton: "Supporting unions, supporting small businesses, providing healthcare for all, funding public education, keeping our communities safe."
Heisse: "Ensuring that our youth return the classroom as quickly as possible. Virtual learning has been shown to not be effective versus site instruction. We must push education which corresponds to employment opportunities. Currently, there is too much emphasis on proficiency testing and college readiness. By taking the necessary steps to revise and reform our educational practices, we can provide students with the necessary skills to increase their marketability to potential employers. Combating the increase of crime in our community. Whether break-ins, vandalism or violent crimes, we must guarantee that our residents are safe and protected. We can achieve this goal by providing our law enforcement personnel with the tools necessary to keep our community secure and our first responders safeguarded both physically and mentally. I am honored to be endorsed by the Missouri Fraternal Order of Police.
What is your position on tax-increment financing?
Burton: "I believe it has its place but I also feel it's being abused. Businesses are just moving around, pretending they are creating jobs and then getting tax breaks by moving down the street. Changes need to be made."
Heisse: "Tax increment funding can be somewhat helpful in restoring blighted areas; however, elected officials should tightly enforce the manner through which these subsidies are applied. Tax increment funding should only be considered when all other options have not produced the desired results. I would rather see the government develop cost effective plans allowing small business to flourish without burdening local taxpayers or harming our communities.
Would you support placing a constitutional amendment before voters that, if approved, would repeal the supermajority requirement for school-district bond issues?
Burton: "I need to learn more before answering this question." 
Heisse: "I would be opposed to a constitutional amendment repealing the supermajority requirement. If a tax increase is necessary, then school boards and local officials should provide the necessary information and communicate effectively with local voters to have their required backing and acceptance.
Are changes to the state's foundation formula for funding education?
Burton: "Yes. 100 percent. Funding schools based mostly on property values keeps the rich, rich and the poor, poor by providing less quality schooling system. This is an issue I will be looking at if elected." 
Heisse: "If Missouri legislators believe all Missouri students should receive a quality education, then reforms to the foundation formula will be necessary to make school districts more equitable. Unfortunately, I believe that too many times, legislators use this issue as an excuse for explaining the failures of many school districts. As a classroom teacher, I see the real problem of funding is how this revenue is applied and whether the programs have any real effect on student learning. Having 16 years working with underperforming students has provided me with the knowledge and experience to push for reforms that will increase academic achievement for all students across the state."
Are changes needed to the law allowing Missouri citizens to carry concealed weapons? If so, why? If not, why not?
Burton: "Yes. Of course. Allowing anyone much less a 19-year-old to walk around carrying a concealed weapon with no training, no certification, no nothing seems irresponsible and dangerous to me." 
Heisse: "Conceal Carry Weapon laws have been effective and no changes need to be legislated at this time. I support the rights of law abiding citizens to safely protect themselves. Stricter punishments for individuals who possess illegal arms and improper use of a firearm in the commission of a crime should be enacted."
Are changes needed to the state's current Open Meetings and Records Law? If so, what would you propose? 
Burton: "I believe we need to do everything we can to get more openness, more transparency in all realms of government." 
Heisse: "Transparency must be a priority for all our elected officials. If we are committed to true transparency and accountability, then voters should be provided access and information necessary to make informed decisions about the effectiveness of their government and elected officials. Given government action during the COVID-19 pandemic, it is clear transparency and accountability are not at the forefront. Many citizens believe the government is not acting in their best interests leading to further erosion in public trust."
What do you propose to generate revenue for road and bridge improvements? 
Burton: "Tax the rich."
Heisse: "Gas taxes are not the only way to fund road and bridge improvement. According to MoDot, only 59% of revenue from user fees, vehicle fees and gas taxes go to MoDot to maintain roads and bridges. I propose increasing that percentage."
Are changes needed to the state's eminent domain laws to prevent abuse?
Burton: "I do not know enough about this issue yet to answer yes or no."
Heisse: Eminent domain should only be used to advance projects that further the public good and as a last resort. Abuses of eminent domain should be curtailed and corporate interests should not be permitted to infringe on the rights of property owners." 
What will you do to improve Missouri's economy?
Burton: "I will do whatever it takes to support our small businesses and I will try to fight to make online sales taxable." 
Heisse: "I would support legislation which would provide initiatives and incentives to encourage and support our local businesses in order to help our community reestablish our economic position that was damaged by the COVID-19 pandemic. I would use my position to seek out and encourage new businesses to utilize current empty retail and commercial space in the Affton Community. The area additionally needs industrial and manufacturing growth, we can not hope that only fast food and entertainment will strengthen our economic situation. I would focus on cutting regulation and help potential entrepreneurs through the process of creating new business endeavors."
Do you support the changes the Legislature made to the Sunshine Law in 2019, including exempting some legislative records?
Burton: "No."
Heisse: "I believe our residents want greater integrity, transparency and accountability from their elected officials. Secrecy is unnecessary at the state and local level with the exception of individual's private information. The public and the press should have as much information as possible so that our citizenry is informed and knowledgeable about the conduct and application of our governmental officials and offices."
What do you think of the leadership of Gov. Mike Parson?
Burton: "He seems like your everyday politician." 
Heisse: "Given the number of hurdles that Governor Parson has faced in his administration, his leadership has been exemplary. Prior to the Covid-19 pandemic, the Governor championed workforce development, eliminated state regulations and kept taxes low. During the health crisis, he allowed local officials to make decisions best for their communities and assisted them with resources. It is easy to play armchair quarterback with decision making; however, his calm common sense leadership has allowed Missouri to weather the COVID-19 pandemic thus far without creating an atmosphere of statewide panic."
What will or have you done to work across the aisle in Jefferson City?
Burton: "If elected, working across the aisle will be something I will be known for. That's what I do. I don't hate Republicans, we are all Americans. We as Democrats, have to realize we are in the super minority and we must work with Republicans to get things done. It's also just what I believe in and the right thing to do." 
Heisse: "I will consider all bills which have merit and make an informed decision based on what is necessary and advantageous for our community. I will be able to craft, sponsor and guide legislation that will be advantageous to the 92nd district and the state, something our community has not had the opportunity to do in many years. I will return the courtesies extended to me. I will ensure that I understand, consider and respond appropriately to all legislation taking into account the wishes of the residents who have elected me."
Should there be a Transparency Division created within the office of the Missouri Attorney General for the sole purpose of prosecuting violations of Public Record and Public Meetings statutes?
Burton: "I believe so."
Heisse: "As a candidate, I have campaigned on holding the government accountable and increasing transparency. If the Attorney General's office believes that the creation of this division is necessary for the office to prosecute violations, we should support efforts to further this policy."
Should the Missouri Attorney General be given subpoena power to investigate Sunshine law violations?
Burton: "I need to learn more about this before I answer yes or no." 
Heisse: "As with the previous question, I would support the Attorney General's recommendations that are necessary for investigating violations of the law."
With fewer than 50 percent of rural Missourians having access to high-speed internet service, should Missouri's newspapers continue to be the medium in which all public notices?
Burton: "I need to learn about this issue before answering yes or no but I would say we need to keep our local newspapers and news sources as they really do hold elected officials accountable more than most realize." 
Heisse: "Yes, all public notices should be published and distributed through both the newspaper and on the internet."
Should members and staff of all public governmental bodies (including state, county and local, and public colleges and universities) be prohibited from downloading or using software designed to send encrypted messages by electronic means that automatically self-destruct on communication devices purchased with public money? In other words, should the Confide app or other such software be prohibited from use because such apps are capable of destroying public records that should be available to citizens? 
Burton: "No. Absolutely not." 
Heisse: "Absolutely. Elected officials should not be in the business of trying to hide or delete information or communications on any device that is paid for with public funds."
What changes should Missouri make to its health care system?
Burton: "I do not know all of the specifics yet but I do know I believe all Missourians should have access to quality, affordable healthcare. Some might think it's extreme but I do believe the greatest and richest country in the world can find a way to provide healthcare for all. No citizen should have to go bankrupt or lose their house just believe they are stuck with a devastating illness."
Heisse: "First, I would make sure that our health care workers and first responders have all the necessary resources and equipment to insure that if our state ever faces another pandemic, we are more than effectively prepared. Additionally, we should reduce regulations, reduce health insurance costs and increase competition. We also need to address the personnel shortages in the health care industry by promoting and supporting workforce development initiatives."
Do you support the changes to "Clean Missouri" that are on the ballot at Amendment 3? 
Burton: "No." 
Heisse: "As with any legislation put to a statewide vote, I'm not going to support overturning the will of the voters. While I was not a proponent of "Clean Missouri", I respect that the majority of citizens in our state favored this proposal and I will not subvert the will of the electorate."