Board lobbies for immediate action to boost Mehlville test scores
District building house from top down, Stormer contends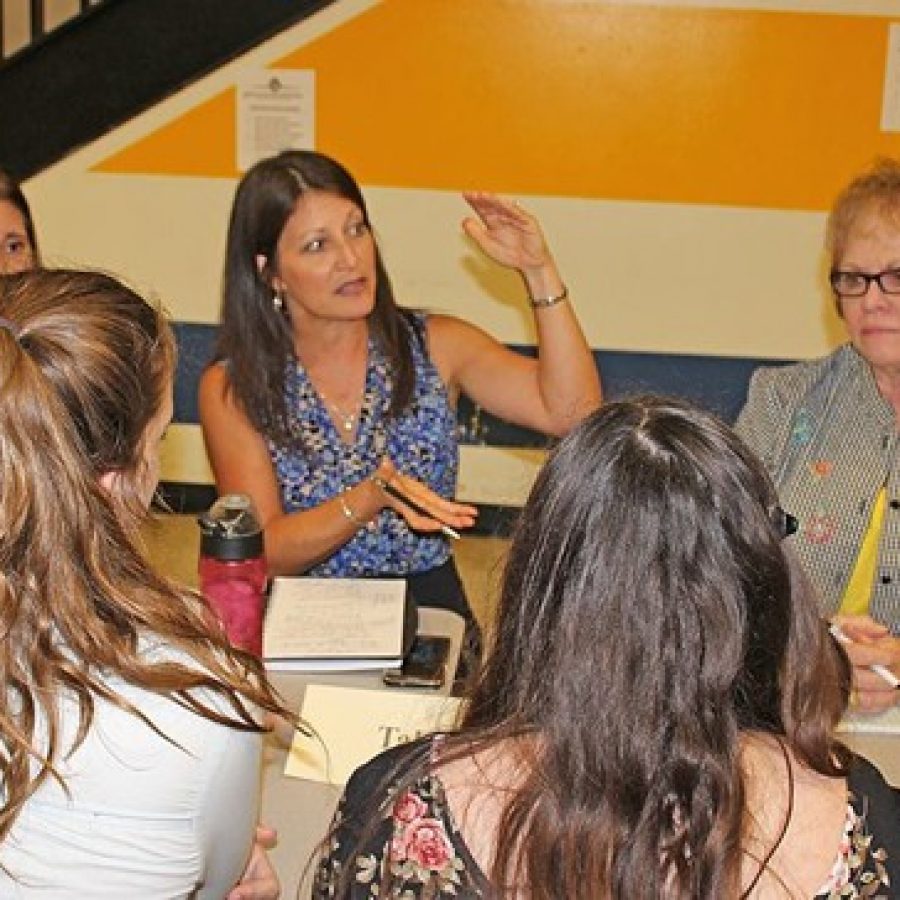 First of two parts
The Mehlville Board of Education is lobbying for immediate action to improve the district's statewide test scores, which are lagging behind comparable districts.
The issue is most noticeable in Mehlville's mathematics scores on the Missouri Assessment Program, or MAP tests, which rank about halfway down the state list.
"We have been aware for the last few years that mathematics has been a concern," Assistant Superintendent of Curriculum Tina Plummer told the board during a recent presentation on the scores.
Noticing a dip in middle school math scores last year, district officials brought in a math expert to provide immediate professional development, or PD, to middle school math teachers, she said.
Despite that intervention, math scores released this fall from standardized tests taken in May showed no improvement in math, with the district below the state average. Mehlville earned 12 out of 16 possible points for the third year in a row, although Plummer cautioned that comparisons cannot be made year over year because the test has changed each of those years.
Last year's math tests were the first held entirely online and were the first aligned to tougher Common Core standards, which caused scores to drop statewide. But in comparison to other districts, Mehlville's scores are "unacceptable," board member Kevin Schartner said.
In contrast, the district earned 16 points in English language arts, or ELA, and science. Another area of concern is social studies, where Mehlville earned five out of eight points. With scores of 30 out of 30 on college and career readiness and graduation, Mehlville earned 129 out of 140 possible points on the overall Annual Performance Report, or 92.1 percent.
Mehlville students' scores on the math tests range from 32.7 percent proficient at Bierbaum Elementary to 65.4 at Rogers Elementary, with only four of the 10 elementary schools scoring above 50 percent: Blades, Point, Hagemann and Rogers.
The year leading up to the May tests, after-school tutoring was slashed as part of millions of dollars in budget cuts leading up to the passage of Proposition R.
Despite a midyear push by board members last year to add more tutors, the tutoring program has not been restored.
Instead of funding tutoring or math coaches, the district has used Prop R money to fund 11 new reading interventionists and five English-language learning, or ELL, coaches, as outlined in the Mehlville Strategic Plan.
Noting that increased academics from PD is a long-term goal, board Secretary Lisa Dorsey asked Plummer what officials plan to immediately do for students who are falling behind.
Along with reading coaches, the district is focusing its annual curriculum revision this year on new reading and writing units, and adding any focus beyond that would be a "monumental task … and overwhelming," Plummer said. Elementary principals are aware of the issue, and "their data teams are looking at data," she added.
"The schools that have the ability, that have the additional resources, are trying to provide tutoring, are trying to provide interventionists," Plummer said. "However, with what resources we have, we do what we can … Beyond that, you know, it takes time."
As part of teacher evaluations, teachers have to develop an annual student learning objective, and many teachers have focused on math as their objective, Plummer said.
"I'm good with everything you said," Dorsey said. "But there's nothing that tells me real time — if I'm not in a school that has the resources — what is my child going to get real time so that when they get to middle school, they're not behind?"
After a long pause in which Plummer did not respond, Dorsey said, "Perhaps I'm missing something, because you're looking at me kind of oddly…"
"I'm not sure I understand the question, because we haven't reviewed math curriculum. I explained that — we have not done that at this point," Plummer said, adding that since the district is focusing on new reading and writing curriculum this year, math curriculum would have to wait for a future year.
"I get what Lisa's saying though — the kids are going to fall through the cracks this year," board Vice President Jean Pretto said, with murmurs of agreement from other board members.
The current scores reflect years of cuts to Mehlville's elementary schools, board President Samantha Stormer said.
"I'll become the bad guy for saying this, but I'm going to," she said. "We spend $2 million for block scheduling in our high schools, but we have kids that can't read or write and can't do math at elementary, and we don't have the resources to help them.
"We're building a house from the top down. We've not built the foundation of the kids being able to have third-grade reading, fifth-grade math, and it's one of those things, much like you, I sit and I look at and I'm like, we need to shift resources. Resources have got to start moving, because if these kids can't read at third grade, can't do math at fifth grade, how are we going to expect them to be successful in middle school and then moving on to our high school? But that's where all of our resources have been."
If Mehlville's students are falling behind due to lack of resources, the district needs to identify how much is needed to get back on track, Dorsey said.
Pressed on what other districts do, Plummer said that higher-performing districts hire math interventionists, coaches, directors of math and other support that Mehlville doesn't have. Several board members emphasized tutoring as a way forward.
High school A+ students who excel at math could work with younger students, board member Larry Felton suggested, as his children once did. In recent years, funding from outside organizations for tutoring has also been cut, he noted.
"I think we need real-time intervention now," said board member Venki Palamand, including recruiting adults to tutor. Officials did not ask the board to hire math coaches in the 2016-2017 budget, he noted.
"The thing with tutoring is, if you rely on tutoring, then you're not going to enhance the classroom instruction," Superintendent Chris Gaines said. "It can conflict, because I rely on the tutor."
"I didn't quite follow your reasoning when you said tutoring could be a hindrance," Palamand later told Gaines.
Even if tutoring is not an optimal solution, Schartner suggested it could be a "Band-Aid to put pressure on this thing to stop the bleeding."
Board member Jamey Murphy asked whether math interventionists could be hired mid-year with the unexpected million-dollar budget surplus. But Gaines rejected that idea, saying that anyone who could be hired now probably didn't get a job last year.
Next week: Deputy Superintendent Brian Lane and Superintendent Chris Gaines outline plans to increase test scores.