Board approves Mehlville redistricting plan; Murphy opposed
Lopsided elementary enrollment spurs Mehlville's first redistricting in 14 years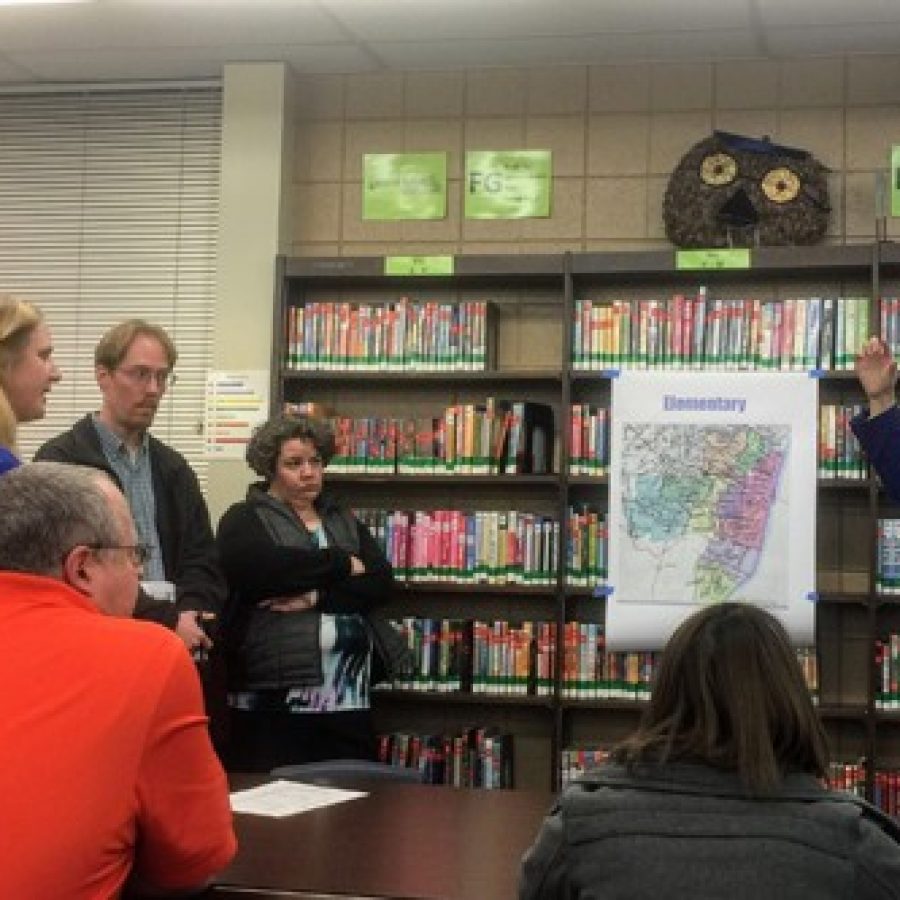 Mehlville School District officials look for smaller class sizes and more balanced elementary schools next year after the Board of Education approved a redistricting plan.
The board approved the final scenario recommended by the Redistricting Committee 5-1 last week, with board member Jamey Murphy opposed and board member Venki Palamand absent due to the illness of a family member.
Residents opposed to where their children were rerouted to in the redistricting plan packed a board listening session March 7 and public-feedback sessions a week earlier, but only a handful turned up at Oakville High School for the March 9 final decision.
"I agree with redistricting, I agree that we probably came up with the best scenario that we could, but I also feel that the people who got moved and complained needed a voice," Murphy said after the meeting about why he voted against the plan, which the committee had worked on since October.
"They had a voice," board Vice President Jean Pretto said.
"I know they had a voice during the process, but I wanted to prove that we were listening to them," Murphy said.
The board answered the initial wave of criticism when the plan was released Feb. 10 by adopting the committee's latest recommendations to grandfather current high-school students, seventh-graders and fourth-graders so that they will not have to change schools next year.
Students whose families submit the online-only grandfathering form before March 17 will be given priority in school choice, with students applying through either method cut off from schools that exceed the 85-percent building capacity that was the goal of redistricting.
Although the district has never officially offered transportation for school-choice students, in response to questions at the March 7 listening session, Superintendent Chris Gaines said if there is room on a bus, the district could transport school-choice and grandfathered children if parents take them to a bus stop for that school.
Overall, 93 percent of students will stay at their current school, the district said when it sent out the final scenario two days before the board meeting.
The redistricting, Mehlville's first in 14 years, was spurred by lopsided elementary enrollment that has classes jammed into hallways at Bierbaum Elementary and empty classrooms on the other side of the district in Hagemann Elementary.
To shift students away from Bierbaum and into Hage-mann, students had to be reshuffled at every elementary school to either add or lose students.
The secondary goal of fixing feeder patterns led the committee to move some subdivisions from an Oakville feeder pattern to a Mehlville feeder pattern of Trautwein/Washington Middle/Mehlville High.
The biggest opposition to the plan came from those subdivisions. King Arthur Estates resident Jennifer Kiphart represented King Arthur and Royal Hills Estates at the meeting to ask the board to reject the scenario and change the boundary so that their 20 students could still attend Blades Elementary and stay in Oakville schools.
"We are the only neighborhood in the district switching all three schools, and the only neighborhood to be switched from Oakville to Mehlville," Kiphart told the board. "What other subdivisions have you seen come out in the quantity we have?"
King Arthur resident and Blades parent Lejla Dudakovic was frustrated with the reception she got at the listening session in the room hosted by board members Pretto and Lisa Dorsey and Bierbaum Assistant Principal Kelly Roberts, who led the redistricting process with Trautwein and Point Assistant Principal Whitney Maus.
"My daughter's not going to know anybody in Trautwein," she said. "My No. 1 thing is I believe I'm probably going to be moving out of the area is my only solution now."
The group of parents from King Arthur believe that the district decision will decrease their property value since their neighborhoods will now go to Mehlville High in-stead of Oakville High, a claim that Gaines — who lives on the Mehlville side of the district — has disputed.
Kiphart contended that with some students from Blades guaranteed to be accepted into the lottery for the school of innovation, Mosaic Elementary, the children from her neighborhood could easily fit into the school and still keep it at 85-percent capacity.
"Why not put those 20 kids back in?" she asked.
Another parent from a different subdivision asked, "But mine is eight kids, why not put my kids back in?"
"Because you're already in the Mehlville feeder system," Kiphart replied.
Like other subdivisions, parents from Providence Place and Mehlbrook Manor packed public-feedback sessions and sent in surveys to ask that their subdivisions be switched, but the committee had already decided last month to make that change.
Providence Place will stay in the Oakville feeder system, while Mehlbrook will stay in the Mehlville feeder system but go to Trautwein Elementary instead of Blades.
The two subdivisions were a perfect swap with almost the same number of students, so no imbalance was created by the switch, Roberts told the parents at the listening session.
The day before the listening session, the committee met to iron out a hybrid that combined most of Scenario A with a few aspects of Scenario B that received positive feedback from the public surveys, including allowing a subdivision directly across from Trautwein Elementary to go to Trautwein instead of Hagemann.
Although the panel could switch Providence Place and Mehlbrook because they were the same size, members hesitated to move King Arthur and Royal Hills Estates because those students would tip Blades over the designated 85-percent capacity they set out to create in the beginning.
"We've set that as a standard, and for us to bend on that before we even begin …," said former board member and committee member Elaine Powers.
"Is not justifiable," finished committee member Will Nunn of Bernard Middle School.
"It compromises one of the very few standards that we've set for ourselves," said Oakville Elementary parent Mike Shaw, who is one of the five parents on the committee who were themselves redistricted.
"We can't put everyone back in Blades, because we won't have anyone going to Hagemann and Trautwein," Maus said.