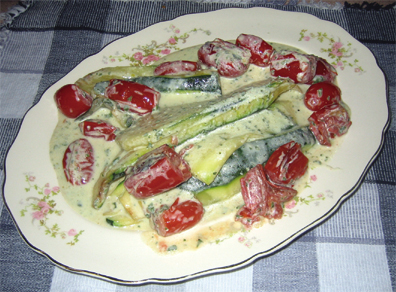 At age 50 it is hard to remember the names of friends you haven't seen in 30 years.
But even though I don't remember the names, I remember the foods they served at my friend's house and their family's Greek restaurant in Columbus, Ohio. At the restaurant they used to serve all the food on large platters, including platters full of flaming shot glasses filled with an alcoholic drink called ouzo. It was quite a thrill drinking something that was on fire. Needless to say I found much to like about Greek culture and cuisine. This wonderful side dish, with in-season zucchini, is an example.
The restaurant served this recipe's tomatoes on the vine — It isn't mandatory, but if your tomatoes aren't big enough they fall through the grate of your grill.
Grilled Zucchini
3 ounces feta cheese
1⁄4 cup sour cream
2 tablespoons water
Juice of one lemon
1 minced garlic clove
21⁄2 tablespoons olive oil
10 fresh basil leaves, chopped
2 zucchini, sliced thin lengthwise
3⁄4 pound cherry tomatoes, on the vine
Salt to taste
Pepper to taste
Prepare the grill.
Puree feta, sour cream, water, lemon juice and garlic in a food processor until smooth. With the motor running, add 11⁄2 tablespoons olive oil in a steady stream. Add basil, salt and pepper, then pulse the mixture to combine.
Toss zucchini and tomatoes with a tablespoon of olive oil then season to taste with salt and pepper. If using loose tomatoes it may be a good idea to put them on skewers.
Place the zucchini and tomatoes on the grill and cook 3-5 minutes or until just tender. Turn once with tongs.
Serve with sauce.