Americans have best of times preparing the 'wurst' this summer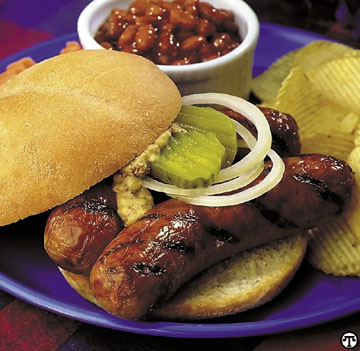 Many Americans profess an attachment to — of all things — bratwurst.
Legions of "brat" fanatics from coast to coast will go to almost any end to enjoy this succulent sausage, one that sports a hearty blend of pork and spices.
Brats — short for bratwurst — are top dog in Wisconsin, where folks have elevated this lofty link to king of the wursts. Much more than simple sustenance, brats are the focus of cultural tradition.
And like the New England fish boil or Texas barbecue, the Wisconsin brat fry is a venerable affair whose sanctioned menu, customs and code of conduct have been handed down from generation to the next.
Eating brats is a birthright of sorts. The first lesson in Brats 101 is to learn the correct way to pronounce the word. "Brat" rhymes with "hot" or "pot," not "hat."
Lesson two is to master the authorized way to "fry" a brat. We're talking about outdoor grilling, preferably over real charcoal. Follow these simple grilling tips to be host of a traditional brat fry:
Low and Slow: Low and slow is the only way to go when grilling brats. Wait until the coals are coated with white ash before placing the brats on the grate. If you are grilling with gas, start the flame at medium, then reduce to low when the brat juices start to flow.
Heat the Meat: Watch the brats closely, turning them every few minutes. Rotate the links from hotter to cooler portions of the grill as they cook.
No Poking Permitted: To retain juices and flavor, always use tongs instead of a fork when turning brats, to avoid piercing the casing.
All Fired Up: Consider brats done when casing is evenly browned and a bit crisp and they've been on the grill for about 25 minutes, or when the internal temperature reaches 180?F.
The final lesson in Brats 101 is to learn how to garnish a brat. Try nestling a link — preferably two for the traditional "double brat" — on a full-bodied crusty round roll slathered with coarse-ground brown mustard and topped with dill pickle slices and thinly sliced raw onions.