2014 Oakville Tigers football team setting its sights on conference title
Oakville football coach says his squad's defense is solid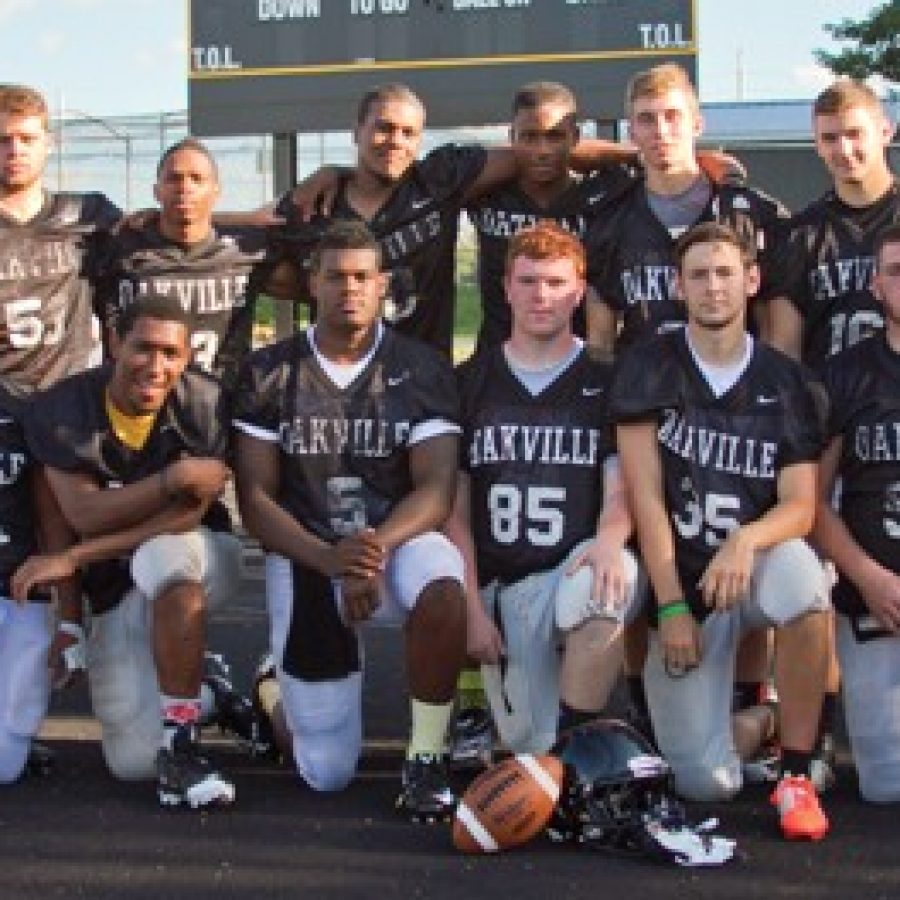 Members of the Oakville Senior High School varsity football team are setting their sights on a conference title in 2014 — something Eureka has had a stranglehold on the past two years.
Even though the Tigers came close last year, they fell short in week 10 of the season with a crushing loss to longtime rival Mehlville in the first postseason district game under the new playoff format that started last year.
That loss left a bad taste in the mouths of returning players, according to head coach Arlee Conners, who believes that it will be a good motivator for the 2014 season.
"Last year we grinded out a lot of games. We won a lot of games at the end. I hope it's the same way for this team, you know, fight, fight, fight, and find a way to win when it comes down to it," Conners told the Call. "And I think we had a chance to go to the playoffs last year and we fell short in the last game.
"It left a bad taste in these guys' mouths, and I think they are hungry to do better and they want to go to the playoffs … It's been awhile since we've been in the playoffs around here.
"That's definitely one of our goals is to make it to the playoffs — and win our division and win our conference and work our way to the playoffs and see what happens when we get there. If we stay healthy, I feel real good about it."
The Tigers return several key players from last season who will help put them in a good position to get things started off on the right foot.
Leading the charge for the Tigers this year will be receiver and linebacker Arsante´ Conners, First-Team All-Conference defensive lineman Qian Johnson, offensive lineman Alec Wallingsford, guard Tyler Burke and defensive ends Matt Heldoerfer and Matt Miller.
Conners told the Call he is pretty confident in his returning cast.
"We've got a lot of guys that played a lot last year. Maybe not all of them started, but a lot of them were here. So I think we don't have the total number that we had last year, but I think the quality is still there," he said.
A gap that needs to be filled will come on the offensive side of the ball, as quarterback Andy Oliver, who held the position for the past three seasons, graduated.
"Andy was definitely real good for us, but we think we got another good one in Carvon Robinson," Conners said. "Last year, Carvon was a receiver for us, a safety for us, but he's also a real good quarterback, and I think people are going to be impressed by the things he's going to be able to do for us.
"He's a very good runner, but his passing is also very good, too. He's definitely a dual-threat guy and he knows our system very well, so we feel confident that he can get it done."
Though Robinson is a veteran player, he will need help from his offensive line, which is fairly new this year.
"We probably won't be as big as we were last year up front, but I think that the quality of the work that these guys do is just as good," Conners said about the offensive line.
While the offense will be somewhat of a focal point as the season begins, Conners believes it won't hinder the team.