Sunset Hills' new city administrator is welcomed to city
Sunset Hills' administrator is nine months into the job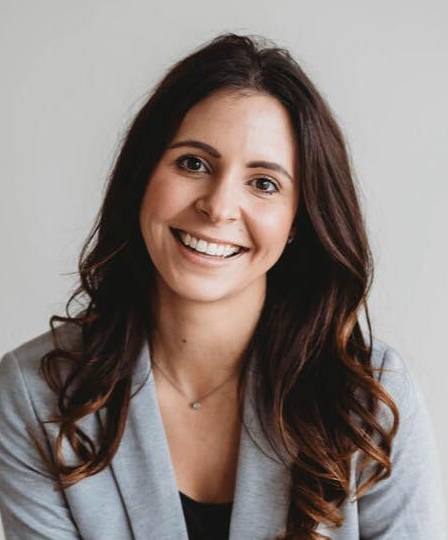 Nine months into the job, Sunset Hills' second-ever city administrator is enjoying getting to know the city and community while overcoming the challenges brought on by COVID-19.
City Administrator Brittany Gillett's first day overseeing City Hall was Sept. 28, after working in the city of Bridgeton for 2.5 years as executive assistant to the mayor. Gillett was a Wentzville alderman when the Sunset Hills Board of Aldermen hired her, but she resigned from elected office last fall before she began the job to prevent any conflicts of interest.
As the second person to ever serve as city administrator in Sunset, Gillett follows in the footsteps of former City Administrator Eric Sterman, who resigned last summer for the same higher-paying role in Ballwin.
"It's very busy and quite a unique experience being a city administrator. You know the processes,what you should be doing, but you're also learning about a new city. and the board. And we tacked COVID onto that, so it's been a little interesting and busy," Gillett said. "Everyone here has been very welcoming. "I think the board is wonderful to work with, the mayor (Pat Fribis, who helped hire Gillett last year) is wonderful to work with, so that certainly helps."
The daughter of a U.S. Navy pilot, Gillett never spent more than six months in any given place while growing up until her family moved to St. Peters when she was 16. She graduated from Fort Zumwalt South High School, before earning her undergraduate degree from Lindenwood University, where she is currently studying for her Master's in Public Administration.
Gillett was selected from a pool of 50 applicants for the position by a selection committee composed of Mayor Pat Fribis, then-board President Thompson Price, then-Ward 4 Alderman Mark Colombo and then-Ward 2 Alderman Steve Bersche.
Gillett's contract was publicly approved at a September board meeting, and she began working three weeks later with an annual base salary of $110,000. She started with 10 days of vacation and, for the purpose of accruing benefits, will be recognized as having five years of service. Additionally, the city pays her a $200 monthly vehicle allowance along with a fuel card and a $50 monthly phone allowance. The contract includes a severance payment worth six months' salary and insurance and requires that, if Gillett wants to resign, she provide at least a month's notice.
Unlike Sterman, Gillett has had to adjust to a new job in a new community during a pandemic, which has forced many municipalities like Sunset Hills to move meetings online and reduced opportunities for community outreach and in-person interaction.
"Creating those relationships with your aldermen is essential to this position, and it has been difficult. So I've been trying to reach out more on the phone and learn to read their facial expressions during their board meetings on Zoom," Gillett said. "Every community has their nuances. It's been different … the residents are a very tight-knit community and they're very involved, which is great."
In Gillettt's brief tenure with the city so far, she has overseen the allocation of $584,000 of funds from the county from the federal Coronavirus Aid, Relief and Economic Security or CARES Act. The money, which must be used on public safety or other items related to COVID-19 such as personal protective equipment, will be used to pay salaries in the Sunset Hills Police Department.
"What the city will be using it for will be to reimburse police work," said Gillett.
Under the new city administrator, Sunset Hills voters in April approved the establishment of a new use tax in the city.
"E-commerce has just escalated at a pace far greater than expectations because of COVID, and the city is feeling the financial impact," said Gillett. "It would be nice to have that (use tax) option out there and alleviate those concerns and loss of revenue."
Additional revenue for the city through new sales taxes could come from the unlikely source of Amazon, after the board in March approved a 40-year Community Improvement District sales tax to fund a new grocery store at the former Toys "R" Us, 3600 S. Lindbergh. Sunset Hills has not had a grocery store in decades.
In addition to investigating additional revenue streams, Gillett also wants to expand the city's social media presence. The Sunset Hills Parks and Recreation department has its own Facebook page to communicate with residents, but the city itself does not have an official Facebook page, unlike neighboring communities such as Kirkwood and Richmond Heights.
"I think right now social media is the way to go" since the city lost a direct connection from COVID-19, said Gillett. "I think there's enough people here at City Hall that can … make sure it's handled appropriately. … We're starting to get all those things in place, and … it opens the door for more opportunities for us."
Negotiations are ongoing to prevent a potential legal battle between Sunset Hills and the St. Louis Bombers Rugby Club after the mayor vetoed an ordinance in December that would have lifted a traffic study rating requirement for the Bombers to construct a new facility in the city-owned Bander Park, a former golf course. The board, which had voted 5-3 to lift the traffic study, failed 4-3 to get six votes needed to override the veto Jan. 12. The city will "work with our attorney and the Bombers. … We are certainly hoping for an amicable outcome," said Gillett.
City Attorney Robert E. Jones said Jan. 12 that he would reach out to the Bombers to see if a mutual agreement could be reached to release both parties from the lease. As of April 20, Gillett told The Call that the city was still working on a resolution to break the lease. 
"As far as rugby in and of itself,  everyone won't end up happy at the end of the day," said Gillett before the veto.
"I think it's important that people know that we're still here (city staff), that we're still functioning. Staff is excellent and they are very concerned about doing their job well … They are fully invested," said Gillett earlier this spring. "There's this level of disconnect that seems to occur because we're all virtual, but we're still here and hopefully we can get out of COVID-19 in the next couple of months."