Vowing transparency, Page will mount bid next year to stay county executive
St. Louis County Executive Sam Page announced last week that he would be seeking election in 2020 to maintain his position as the head of the county, pointing out the work his administration has done since taking office to restore trust in county government.
At the Machinists Hall in Bridgeton Nov. 21, Page repeated an oft-said phrase since he first ascended into the office of county executive after former County Executive Steve Stenger resigned in April following federal corruption charges: Pay-to-play is over in St. Louis County.
"We've made it clear pay-to-play politics is dead forever in St. Louis County," Page said to a crowd of supporters that included Rep. Doug Beck, D-Affton, 5th District Councilwoman Lisa Clancy and former 1st District Councilwoman Hazel Erby, who also sought the position of county executive in the aftermath of Stenger's resignation, before giving up her own seat on the council to join Page's administration.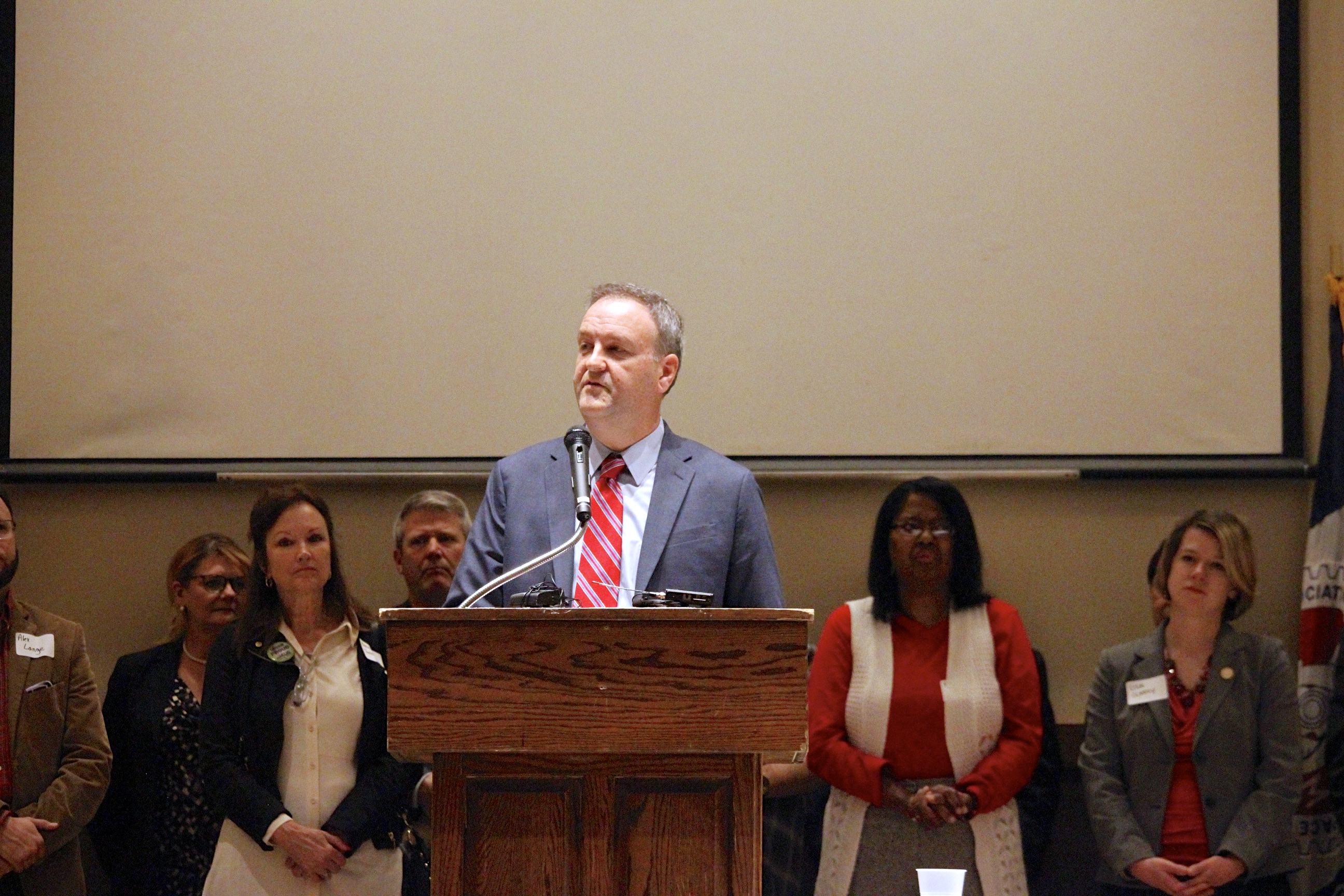 Page was selected by the County Council to take the reins as county executive after Stenger resigned following federal charges for theft of honest services, bribery and mail fraud.
Before that, the anesthesiologist-turned-politician held a variety of public offices including serving as a three-term state representative, two-term Creve Coeur city councilman and County Council member. During his time on the council, Page was selected three times by his fellow council members as council chairman.
"Now if you're a human being and you're sick, would you not want a doctor? St. Louis County is a great place to live, to raise your family and to work. We need great leadership. We need someone who understands St. Louis County, willing to work with all the people in St. Louis County…I think Sam represents the best of those things," said former County Executive Charlie Dooley, who introduced and hugged Page at the kickoff. "How do we move forward as a community with better leadership? I could not think of a better person than Dr. Sam Page to fix St. Louis County for the 2020 election."
Since taking office, Page has passed a series of executive orders he says are aimed at restoring "trust and integrity in St. Louis County government."
According to a first 100 days report on the county's website released by Page's office, his administration has established a policy to turn over any suspected corruption to the U.S. attorney, as well as encouraging whistleblowers to let him or his staff know of any illegal schemes.
"I'd like to see less vaping, less smoking, less prescribing of painkillers. I'd like to see shelters for people to get out of the cold… I'd like the gun violence in St. Louis County and St. Louis city to end… I want new investment in our region. That means a strong and vibrant economic development partnership for small businesses and large employers… And I'd like to see equity and inclusion in all aspects of this for people of color and for women," said Page.
He will face off in the August Democratic primary against county Assessor Jake Zimmerman, the first elected county assessor, who launched his bid in October.
In a statement to The Call from Zimmerman's campaign, Zimmerman said he was looking forward to campaigning and debating the issues.
"We look forward to a vigorous campaign and debate on the issues. We must have higher standards of integrity, fairness and equity — rather than backroom deals that benefit a few at the expense of the rest of us. This campaign will come down to who has the vision and courage to move the county forward on a new path, protect our values, and clean up government."