Voters here could chart course of county government for years
Trakas, Yaeger squaring off for 6th District council seat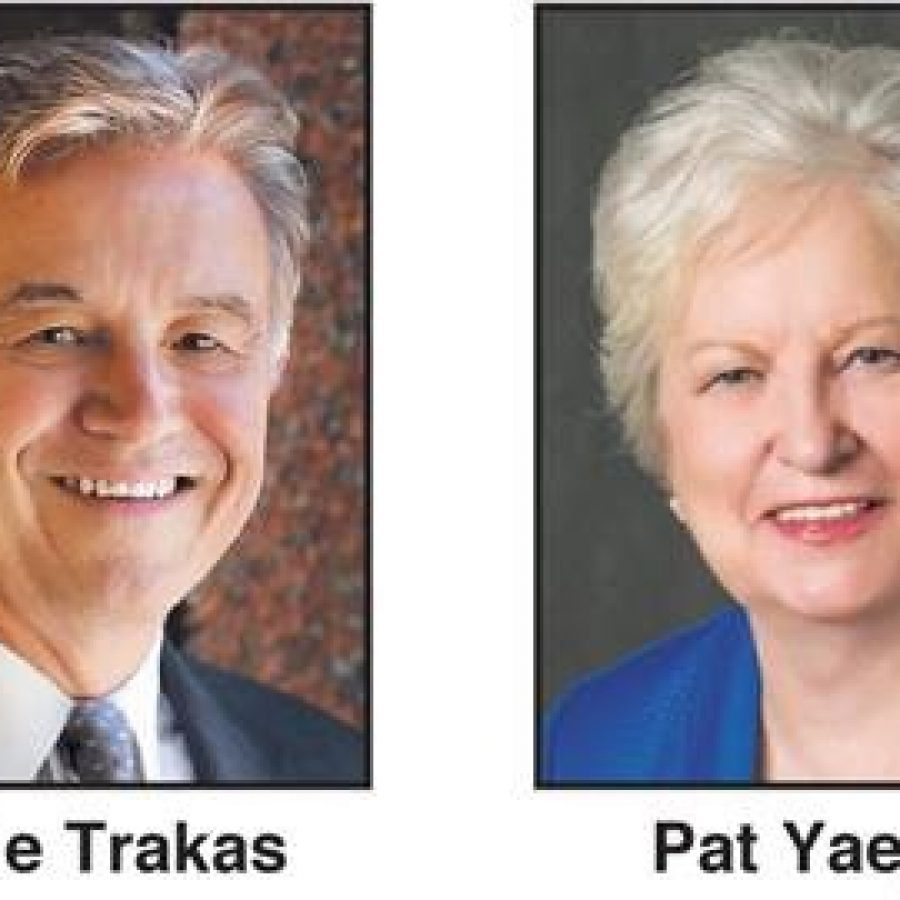 The showdown next week between Ernie Trakas and Patricia "Pat" Yaeger for the 6th District County Council seat, or the "mayor of south county," could chart the course of county government for years.
If Oakville attorney Trakas, a Republican, defeats former Rep. Yaeger, D-Lemay, in the Tuesday, Nov. 8 election, the council's balance of power would decisively shift away from legislators allied with County Executive Steve Stenger toward those more opposed to his initiatives.
The independence of south county's next legislator is the biggest question on the minds of 6th District voters, Yaeger said at an Oct. 20 South County Chamber of Commerce forum in Sunset Hills. She is endorsed by Stenger.
"The most-asked question is: Am I going to be a rubber stamp for Steve Stenger?" Yaeger said. "God knows I love him, but I'm not going to be his rubber stamp, he knows that."
In sharp contrast, Trakas has staked his campaign on opposing Stenger, pledging that he will be an independent and "assertive voice" for south county and capitalizing on widespread opposition among residents to a now-withdrawn 232-unit apartment complex on Bauer Road. He and Stenger already brushed up against each other during public comments at a council meeting in July, when Stenger asked where Trakas lived after the candidate spoke against the "21Bauer" project.
Since the roughly 140,000 residents of the 6th District are mostly unincorporated — far more than any other council district — the south county legislator is involved in not just major county issues but mundane local concerns like street repairs and stop signs that would be handled by municipal officials in areas incorporated as cities.
Both candidates vow to be more responsive to citizen concerns than current 6th District Councilman Kevin O'Leary, D-Oakville. Since 21Bauer was first proposed in June, residents have alleged that O'Leary and his legislative assistant Diann Valenti have repeatedly ignored their phone calls and deleted their emails unopened.
"You deserve a representative that will return your phone calls, a representative that will respond to your emails," Trakas said at the forum. "A representative that if you have a group that needs to meet with him or her is going to meet with you. That's me."
Yaeger, a retired Schnucks night manager and longtime member of United Food and Commercial Workers Local 655 who has lived in south county since 1966, said she would be accessible since she is retired and can devote herself to the job full time.
She perfected a system of quickly getting back to constituents during the eight years she represented the 96th District in the Missouri House, she noted.
"There's no one that can accuse me of not being responsive," Yaeger said. "I'm not even the elected person yet, and people are coming to my house with different issues. So the community knows that I care about the community, and I will do the job for them. I have the time, I have the energy, and I have the experience."
Stenger is already set to lose his majority alliance on the County Council after the primary defeat of one of his closest allies, council Chairman Mike O'Mara, D-Florissant, by Rep. Rochelle Walton Gray, D-Black Jack. With the council's two Republicans and longtime Stenger skeptic Hazel Erby of the 1st District, the council will likely fall 4-3 against Stenger even if Yaeger is elected.
A Trakas victory, however, could cement a 5-2 alliance against Stenger.
Despite the high stakes, the election has taken a more positive tone than O'Leary's contest last year against Republican Tony Pousosa, with no negative campaigning as of the time the Call went to press. The fact that the two candidates sat together to eat lunch at the same table at the Chamber forum is an indication of the unique family atmosphere in south county, Trakas said — something he hopes to preserve with zoning that fits existing neighborhoods.
"That goes to show you how genteel the 6th District is," Trakas said. "South county is a special place … It's important that that be preserved."
Although Trakas is not a native of south county or even Missouri, his wife, former Mehlville Board of Education member Lori Trakas, is a lifelong resident of the 6th District. Trakas once worked for the federal government in Washington, D.C., but is now an attorney at Mickes O'Toole and represents school districts throughout the state.
Former Sunset Hills bar owner O'Leary was elected in April 2015 to fill the 6th District vacancy left by Stenger's election as county executive. But O'Leary announced earlier this year that he would not seek re-election due to health reasons.
For the most part, O'Leary's votes have allied with Stenger, who heavily supported him for election. However, after O'Leary voted against a rental-license bill sponsored by O'Mara last year, public speakers alleged O'Leary had been "strong-armed" by Stenger and O'Mara to vote back in line. Acknowledging the dustup at the time, O'Leary said his two fellow officials were "treating him like a human being again."
If it comes down to it, Yaeger promised to stand up for south county.
"Somebody said, 'What if (Stenger) intimidates (you)?' I said, well, what can he do? Yell? I've been yelled at by better people than him," Yaeger said at the forum. "And he can't fire me — you voted for me. I mean, he can scream till he's blue in the face if we have a difference of opinion.
"I'm not anticipating that, I'm not going in as an adversary wanting to fight with him. I want to work with him. I believe he has good ideas for what he wants to do with the county. And I believe we share that."
Part of the reason the former legislator won't back down, she said, is that she has decades of experience working with a broad range of community groups — from the Jefferson Barracks Community Council to six years on the county Solid Waste Commission to the Lemay Citizens' Task Force, which helped citizens affected by the 1993 flood get help.
Although Yaeger no longer supports incorporation efforts in south county, she noted that one of her first ventures into government came during efforts in 1995 to incorporate most of south county as a city named South Pointe.
"We were trying to incorporate because everybody thought that was the answer, and that got defeated," Yaeger said at the forum. "So that's probably not one of my best things to talk about, but right after that — in fact, the night of that election — (the late County Executive) Buzz Westfall and Debbie Kersting, who was the current council person — asked me to serve on a group called the Lemay Citizens' Task Force."
That's what eventually led to her political career, with some of the more successful programs she worked on in Lemay going countywide, Yaeger said.