VIDEO: Lindbergh principals share ways to have fun while social distancing
Lindbergh Schools principals got together via the videoconferencing app Zoom to share some fun social distancing ideas with district families.
The video includes the head principal of every Lindbergh school, from early childhood through high school.
With the help of teachers and parents, students are learning virtually online through at least April 22 during the COVID-19 extended school shutdown.
The video conveyed an important message: Students should be social distancing due to the spread of the coronavirus, but they can still have fun while doing it.
The video opens with said Director of Secondary Education Ronni Zagora saying, "We are here with your friends, our Lindbergh principals, and just like you, they like to spend time together."
"But since school is closed right now these guys need to stay at home so they can stay healthy and not get other people sick, and that's not very fun," said Director of Elementary Education Craig Hamby.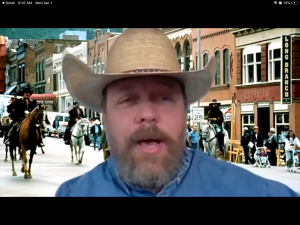 To stay safe and have fun, all of Lindbergh's principals offered a different idea of things students can do in quarantine.
Lindbergh Early Childhood Education Principal Charlene Ziegler offered the tried-and-true blanket fort as an option.
Inside the blanket fort, "I can have virtual play dates with my friends," Ziegler said.
Crestwood Elementary Principal Jodi Oliver had a tried-and-true method of communication that could come back into style: letter writing and mailing.
"I'm going to write a letter, you know, like on paper," Oliver said. "And then you put it in the envelope and send it in the mail with your postman."
To give students something different to do with their friends every day, Dressel Elementary Principal Pat Schoenekase said, "You can start book a day with your friends and share a story with them daily."
The book could either be online or one from your shelf, he added.
Kennerly Elementary Principal DeAndre Thomas showed off some dance moves for students, and said they could join in.
"Let's have a virtual dance party where you can invite your friends, your family can join too," he said.
Demonstrating the moves as he talked, Thomas said, "We can do things like the running man, how about the shopping cart… What about the sprinkler? And there are tons more – we can do the MC Hammer, the Carlton or the Funky Chicken. If you don't know these dances, just look it up – let the parties begin!"
Share in all the fun below:
Long Elementary Principal Christina Phillips suggested that students keep occupied with board games while inside.
"We love to play board games. You can play board games that you have at home or play virtual ones online," she said, noting that one of her favorites is Battleship.
Sappington Elementary Principal Ta'Keshia Parker also suggested that students turn to books while they're home right now.
"Let's start a book club. Right now I'm reading 'Restart.' I would love to have some friends join me," Parker said.
Gifted Education Coordinator Tracy Bednarick said that students can visit places virtually while they're unable to go places physically.
"I think I might go on a virtual field trip with my friends," Bednarick said, showing the sites in her Zoom background. "We can FaceTime or Google Hangout while we're checking out the sites."
Concord Elementary Principal Angie Moehlmann said, "We're going to use our Legos at home and we're going to build lots of really cool structures and things, and we'll share them on Facebook with our friends."
Sperreng Middle School Principal Lauren Boeger said she was going to host a virtual "lunch bunch" and "watch replays of amazing Cardinal games" with her friends.
Sinking a basket, Truman Middle School Principal Mike Straatmann said, "I challenge you to a virtual game of horse."
Lindbergh High School Principal Eric Cochran said he was going to attend a virtual trivia night with his friends.
"You can have one too and show off all your useless knowledge to your friends," Cochran suggested to the high-schoolers watching.
And Cochran, who was the 2011 Missouri Teacher of the Year teaching LHS social studies before he was principal, even had a question to get them started.
"Here's a stumper for ya: Who was the first U.S. president to be born in the 20th century?" Cochran asked.
(Click here to find out the answer.)
In conclusion, Hamby said, "This could be fun. Maybe we can't hang out together, but we can still stay connected."