Two topics contentious at Sunset Hills meeting
Streets measure OK'd over wishes of public works panel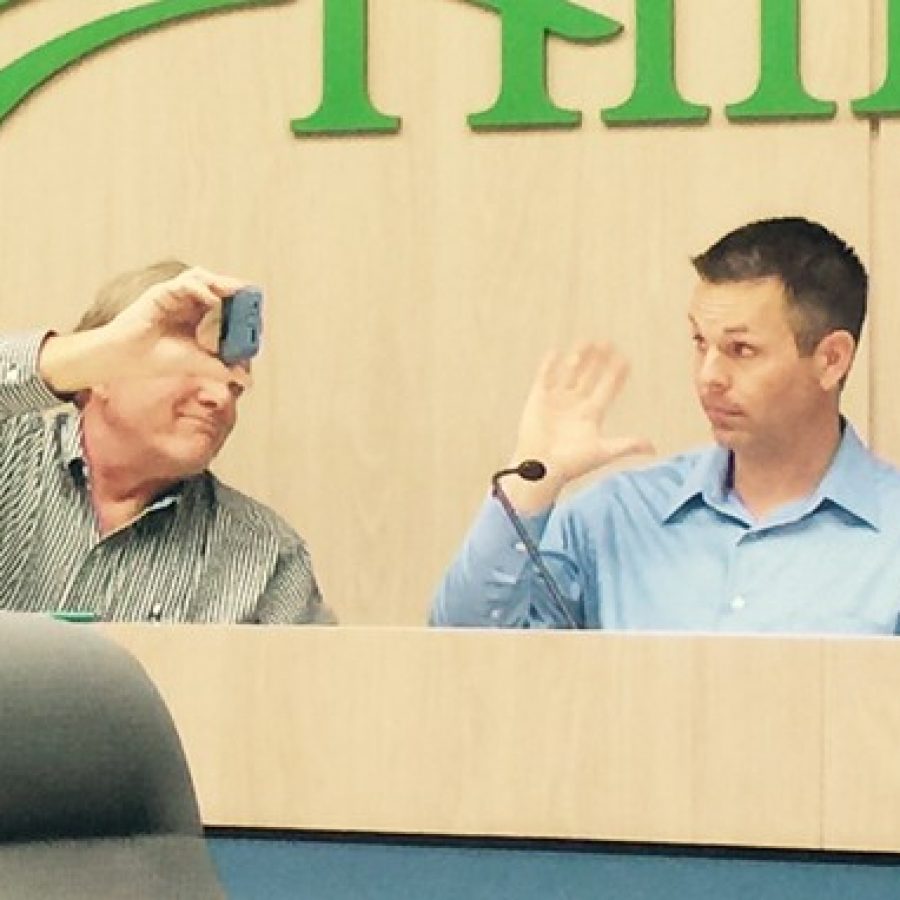 A dispute among members of the Sunset Hills Board of Aldermen last week over private streets and whether they should be allowed to vote by video turned into one of the most contentious meetings since Mayor Mark Furrer took office.
The board voted 5-3 Feb. 23 to allow aldermen to vote through the iPhone video-calling app FaceTime. The move was opposed by the aldermen who called the meeting, Ward 1 Alderman Richard Gau, Ward 1 Alderman Dee Baebler and Ward 4 Alderman Pat Fribis.
Due to a 2013 Sunshine Law amendment, public officials can attend every meeting by video. Ward 3 Alderman Keith Kostial has attended most meetings in the last few months — including last week's — through FaceTime due to a new work project that takes him to Wisconsin during the week.
But that vote — and another approving an ordinance on private streets — came during an hour of infighting in which Furrer and some aldermen repeatedly called for immediate votes and the other half of the board repeatedly called for more discussion.
The mayor noted that City Attorney Robert E. Jones believes state law allows Kostial to vote by FaceTime. Citing guidelines from the Missouri Municipal League's attorney, however, Fribis questioned whether the app counts as a video.
But Furrer threw Fribis' research from the Municipal League over the dais and onto the floor.
"If they don't like it, if Mr. Gau doesn't like it, they can sue the city," Furrer said. "It's not up for discussion."
Almost immediately, Furrer demanded a roll-call vote "on whether Bob's correct."
As some aldermen pushed for an immediate vote on Ward 2 Alderman Steve Bersche's motion to allow FaceTime votes, seconded by acting board President Tom Musich, others preferred to discuss Jones' recommendation that the board set guidelines. After a lengthy discussion about having a discussion, eventually the board tied 4-4 to call the question, with Furrer breaking the tie to end discussion.
"I thought this was a meeting, a discussion," Baebler said.
"You're wrong, Dee," Furrer replied.
At one point, Furrer maintained that aldermen could not discuss anything because they were already in the middle of a vote, which Gau disputed. Another time, Furrer contended that no discussion should happen because he had not received notice of the meeting.
"I never got a notice that this meeting was called," Furrer said. "(Deputy City Clerk) Lori Stone sent nothing to me, and I received nothing that this meeting was being held."
Through a Sunshine Law request, Stone provided an email she sent to Furrer, Jones, aldermen and other city officials at 7:21 a.m. Feb. 19, announcing the meeting with the subject line "BOA work session agenda." The attached agenda outlined the topics: Videoconferencing and private streets.
When Furrer said aldermen could not talk about videoconferencing because it was not on the agenda, Gau replied, "It absolutely was on the agenda."
Talking over each other, aldermen either did not hear or often ignored Kostial trying to speak through Musich's iPhone, so he could not be heard unless another alderman broke in and said he was trying to talk. Finally, Furrer started holding Musich's phone up to the microphone, repeatedly panning it around so that Kostial could see the other aldermen and the audience.
When Furrer said the aldermen were simply trying to keep Kostial from voting, Fribis said, "That is wrong … I just want our city to do it right and do it legally."
"It's 2016, for God's sake," Furrer said. "If this isn't adequate for these people, let's go back to the 1880s."
Bersche "respectfully disagreed" when Ward 3 Kurt Krueger said, "I think unfortunately, the quality and the capabilities that we have right now (for video) are a disservice to the citizens because the people that are making a vote don't have the ability to see presentations."
After the vote, Furrer said, "Kurt must have voted by mistake — he said 'aye.'"
"Sir, I have never voted by mistake," Krueger replied.
Moving on from videoconferencing, Furrer next immediately called for a vote on the second reading of an ordinance that sets a process for the city to accept private streets for public maintenance. He allowed aldermen to talk, however, after Baebler made a motion to allow discussion, seconded by Fribis.
At the Feb. 4 meeting of the Public Works Committee, members Gau, Fribis and Krueger said they had just received a copy of a new version of the bill and wanted another month to examine and refine it. The committee voted 3-1 to table it to the next meeting, with Chairman Musich opposed.
Bypassing the opposition of the committee, Musich took the bill to the entire board Feb. 9 for a first reading. Furrer broke a tie after aldermen deadlocked 4-4, with Gau, Fribis, Baebler and Krueger voting to abide by the committee vote. Although the ordinance was not listed on the agenda of last week's meeting, Musich read the bill in its entirety and motioned for final approval, seconded by Bersche. The bill passed 6-2, with Gau and Baebler opposed.
"I would like to say for the record … This is over the wishes of the Public Works Committee," said Gau, who preferred a newer "red-lined" version of the bill that incorporated suggestions from him and Public Works Director Bryson Baker.
"I think we've waited a decade for this," Ward 4 Alderman Donna Ernst said.
"Everybody here is well aware of what's going on at this point in time," Musich said.
"Enlighten me," Gau responded.
"It was not going to go anywhere in Public Works because you have an absolutely polarized version of this bill than I do," Musich told Gau. "It's framed like a house of cards with no foundation in codes or standards — that's the difference between the two bills. Whenever you remove standards and codes, what are you going to base your variances on, other than the person asking you for the variance, eye winks or handshakes? The amended bill that Alderman Gau wrote has crossed out on multiple occasions wherever it says street standards and codes."
Although no alderman opposed to the red-lined bill said it directly, they hinted — and Furrer said outright on Facebook — that they saw it as a thinly veiled way to accept subpar Tapawingo streets. Asked what section he objected to, Musich said, "The entire bill in its entirety."
But while some officials noted throughout the night that they see Jones' legal prowess as irrefutable, the same aldermen resisted the Jones-written red-lined bill.
Earlier, Furrer said of Jones' opinions, "If you don't like it, hire an attorney — he is our final counsel, he is our answer … Bob, I feel bad that you have to explain yourself. Are we going to question everything Mr. Jones does, or just what you don't like?"
Later, Jones said he did not believe the red-lined bill was "watered down" or preferential to any resident or ward.