Sunset Hills budget includes 3-percent employee pay hike
Projected '15 budget deficit similar to this year's shortfall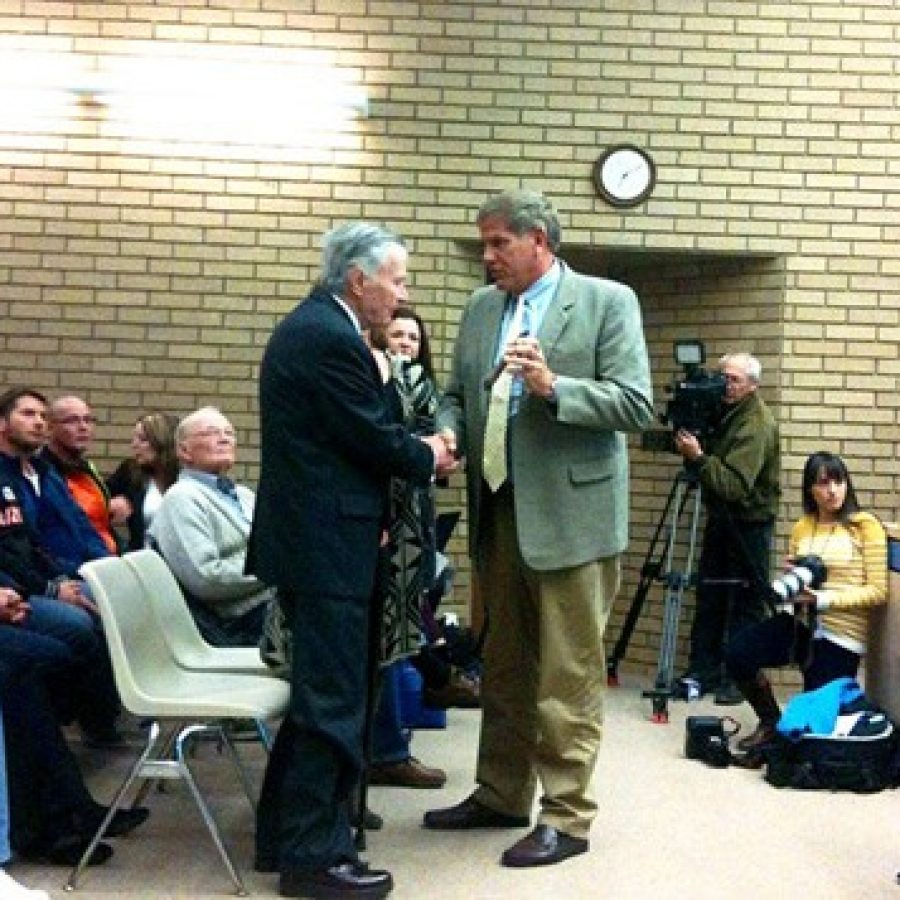 Although the Sunset Hills Board of Aldermen split down the middle on impeachment-related measures at its December meeting, the board unanimously agreed on a $9.2 million budget for 2015 with a $198,000 deficit and a pay raise for employees.
"We're in very good financial shape, so we did go ahead and give increases to our employees because we certainly do appreciate them," said Ward 4 Alderman Pat Fribis, chairwoman of the Finance Committee. "We do have a little bit of a deficit budget, but when things go out for bid it seems like they're always coming in lower than what we anticipate, so we'll pick up a little there."
The 3-percent pay raise was recommended by the Personnel Committee, which conducted a study of the salaries of surrounding cities and found that salaries in Sunset Hills fall right in the middle of salary ranges.
"We're right in line — I think we're lower than a couple, higher than a couple," Fribis said. "And if we're lower, we give more benefits."
The 2015 budget projects a deficit of $198,000, similar to this year's budget deficit of $195,000. Mayor Mark Furrer did not take comments from the public, so no one spoke about the budget.
To reduce spending, the Finance Committee requested that Parks and Recreation Director Gerald Brown cut $50,000 out of his parks budget, which is now at $885,000.
Without grants, expenditures in 2015 are projected at $7.3 million compared to $7.2 million this year, but the city is expecting nearly $1.5 million more in public-works grants next year, which will boost total expenditures to $9.2 million.
With the $198,000 deficit, the general fund is projected to start the year with a $6.37 million balance and end with a balance of $6.18 million.
Besides the 2015 budget, the board approved two budget amendments at its Dec. 9 meeting to bring the 2014 budget into line to reflect a donation and a grant the city received for a potential new park and the dog park, which opened in July.
The first budget amendment concerned a 15-acre land donation from longtime Sunset Hills resident Walter Eschbach, who wanted to make a land donation to the city that could eventually be used as a park in memory of his late wife, Nancy.
Eschbach allowed the city to select what land to purchase, and Furrer said he suggested that the city use the donation to purchase property at 12720 Alswell Lane from Ron Emmenegger, who is a cousin of Furrer's wife, Kim.
"I immediately thought of the perfect location," Furrer said. "It's a beautiful piece of property."
The property is the last parcel available along the Meramec River in Sunset Hills, and the city hopes to eventually use it as part of a three-mile trail from Tapawingo to Minnie Ha Ha Park, Brown said. Emmenegger agreed to sell the property at a reduced rate after meeting with Eschbach.
"It was all donated, we just had to do the budget amendment to show it on the books," Fribis said. "It didn't cost the city a dime."
The 15-acre vacant parcel shares an address with a house on Alswell Lane, but the donated property does not include that house and is not accessible from Alswell Lane. Eventually, the city park will be designated by a separate address.
At the November board meeting, Furrer presented plaques to Eschbach and Emmenegger for their efforts to bring the park to the city, along with plaques to the Sunset Hills Foundation and the Open Space Council for their assistance.
Although there are no immediate plans to open the park, when the park opens it will be named the Nancy Eschbach Forest River Trail Park, Furrer said.
The board also unanimously approved a $224,000 amendment to the 2014 general-revenue fund for Kitun Dog Park.
The dog park was primarily funded through a grant from the Municipal Park Grant Commission of St. Louis County, with some donations from the Sunset Hills Conservation Foundation, which has so far contributed $24,000 and plans to contribute another $33,000 this year from three 2015 fundraisers already planned.
The board also unanimously passed a resolution to hire a consultant to look into surveying and planning for a potential new park in the former Rock Alva area.
The board unanimously approved a series of variances that will allow Barbara Lotz of 15 Roosevelt Drive to build a private driveway to her house.
The board also unanimously passed a measure for a boundary adjustment plat that could allow a development of three new houses on Maret Drive by Vanderbilt Homes. Jim Keller, one of the subdivision trustees on Maret Drive, spoke extensively on problems he and the neighbors sense with the proposed project. However, Scott Powell of Vanderbilt Homes said the developers have considered and addressed all the issues Keller raised.
"I have walked the property and I agree with you, I don't think it's buildable," said one of Keller's aldermen, Ward 1 Alderman Dee Baebler.
Still, Powell said he would be able to develop the property and has worked with the neighbors to resolve their concerns.
"Seven years ago, back in the heyday, we were developing 3,500 lots a year — this is a challenge, but this is not new to me," he said.