Sunset Hills aldermen united in denial of Despotis' proposal for Court Drive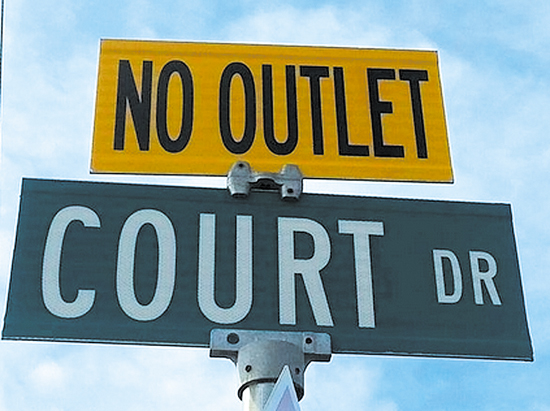 By Gloria Lloyd
Staff Reporter
news3@callnewspapers.com
As a court reporter typed away, the Sunset Hills Board of Aldermen unanimously denied Dr. George Despotis' latest request to rezone Court Drive from residential to commercial last week.
In the past, Despotis' legal team has hinted that he could take his fight to rezone the tornado-ravaged area as commercial to court, but no official action has ever been taken.
The court reporter captured "nay" after "nay" as all eight aldermen rejected the plan for 15 attached villas on 2.46 acres along Court Drive. The plan also called for the corner of Lindbergh and West Watson to be rezoned commercial for development that could include a credit union.
The plan is similar to one for 20 villas on 4 acres that, like the latest proposal, was rejected by the Planning and Zoning Commission last year and ultimately dropped earlier this year after residential homebuilder Pulte Group pulled out of the St. Louis market.
A Court Drive resident, a former alderman and a current alderman all asked Despotis to take the hint that city officials do not want to approve commercial development at the site and stop trying to come back with new plans.
Former Ward 1 Alderman Frank Hardy, who represented Court Drive at the time of the tornado, compared Despotis to a child in a grocery-store checkout line who keeps asking for candy even when their parents have repeatedly told them no.
"You're the parent," Hardy said. "Straighten this out."
One of the current representatives of Court Drive, Ward 1 Alderman Dee Baebler, asked Despotis not to come back again and to take down the "potential commercial" real-estate signs that have been on the property for the last several years.
"And please talk to one of the residential developers and allow this neighborhood to rest easy," Baebler added. "Please let this be your last petition to convert these properties commercial."
Although some of the latest hearings on Court Drive commercial plans have brought out a few residents who favor the plans, all the speakers last week asked to keep Court Drive residential.
Like other Court Drive residents, Ann McMunn has been going to city hearings on commercial proposals at the site since 2011 and read emails from residential developers interested in building single-family homes on the disputed sites.
"If you vote no tonight, is that it?" she said. "Are we done with this? Can we get back to our regularly-scheduled lives?"
Residents' opposition to commercial development next to them will never change, resident Pat Peterson said.
"We're still against it, we'll continue to be against it, and you cannot use our street, our private street, to put in attached houses," Peterson said.
She referred to the plan's idea, which was not discussed with the residents of privately-owned Court Drive, to divert their street to West Watson Road and build the 15 villas along that new Court Drive extension.
One aspect of the plan rejected by alderman was a zoning change that would allow some of the setbacks to be 10 feet rather than 20 feet, which Hardy compared to "cramming 10 pounds in a five-pound bag, and you know that."
City Attorney Robert E. Jones has said in the past that he believes the city would win if Despotis took the zoning to court.