Students defend Mehlville teachers, clubs, activities against budget cuts
Fowler says a tax-rate hike must be 'reasonable' to pass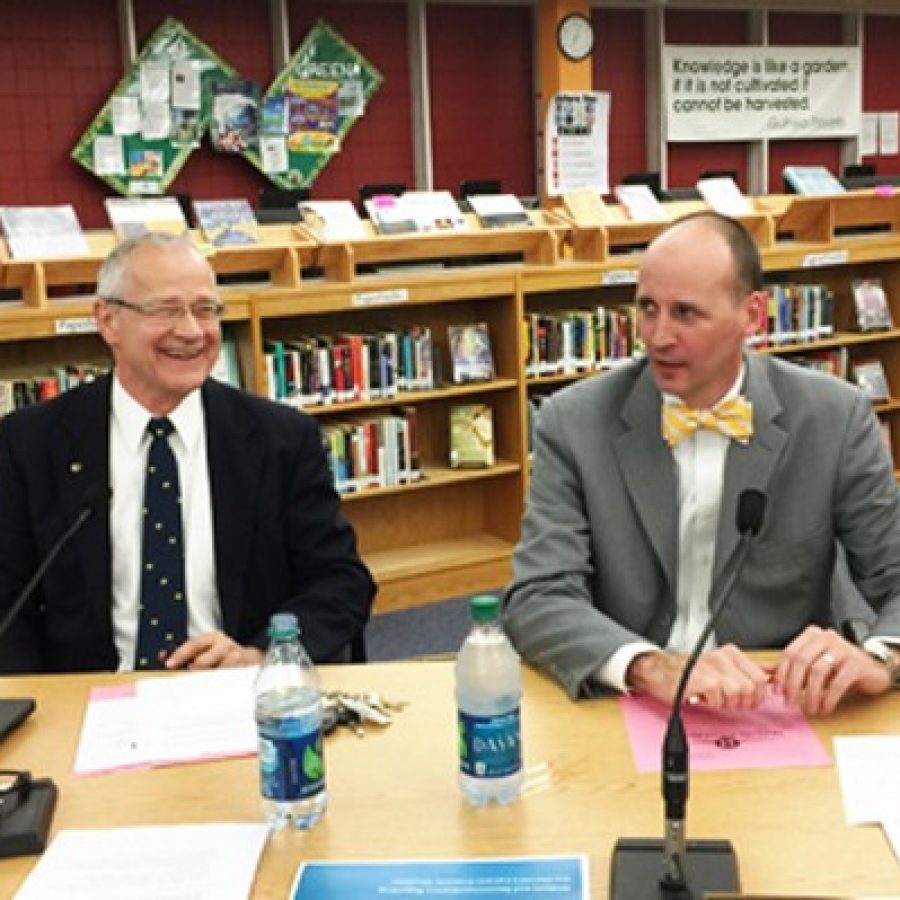 When students spoke to the Mehlville Board of Education about proposed budget cuts last week, they passionately defended their teachers, clubs and activities against budget cuts and asked the board not to take anything away from their schools.
But board members getting their first look last week at what $4 million in budget cuts could look like said their hands are tied with no new revenue coming in and, since there is no waste to cut, few options to balance the district's finances other than slashing programs students cherish.
"We're like people arguing over the bar bill on the Titanic — we're arguing over the wrong things," board member Jean Pretto said. "We have nothing left, nowhere left to go, so we need our community at this point."
With several rounds of millions of dollars in unrestored budget cuts over the past dozen years — and as costs rise for essential services and no new tax dollars come in to pay for them — the list of cuts that can now legally be made in Mehlville are deep, painful and often in the classroom.
Students rallied against the cuts after all first-year teachers were given notices March 9 that their contracts may not be renewed, but Superintendent Norm Ridder said he believes the needed staff cuts can most likely be achieved through attrition from teacher retirements.
Red was the order of the day in the Mehlville High School Library at the March 11 meeting where the board and 400 residents in the audience first saw the cuts — from the sea of teachers and students wearing red in support of the district's teaching staff to the years of red ink the district could face to the dire picture Finance Committee Chairman Charlie Fischer painted of the district's "bleeding" reserve fund, which is now paying recurring expenses like salaries and will dwindle to nothing in a few years without cuts.
The $4 million list is a starting point for a monthlong discussion on what cuts to make, Ridder noted. It was the first Mehlville board meeting for incoming Superintendent Chris Gaines, current superintendent of Wright City, who sat next to Ridder and will oversee the implementation of the cuts after he takes the helm here July 1.
"I look forward to getting to know folks over the years," Gaines said, joking that everyone came out because they heard he was coming. "It's great to see a community who's passionate about their district."
To start the budget conversation early, Ridder made the call to present the cuts before spring break, during the one meeting a year board President Ron Fedorchak has to miss for a business trip to a trade show.
He is seeking re-election next month and participated by phone. Board member Katy Eardley, whose seat is up for election but declined to run again, was home with her week-old child and did not attend by phone.
With Fedorchak on the phone, Vice President Venki Palamand — who has served two terms as board president —chaired the meeting and opened the floor to candidates. Lisa Dorsey introduced herself to the crowd through a short speech, but Fedorchak was still dialing in and candidates Jamey Murphy and Kyle Haubrich were not there, although Haubrich came in later. Murphy and Haubrich have attended previous school board meetings during election season, and last week was Dorsey's first appearance. Fedorchak has been the only candidate present at several of the meetings this election season.
The 27 speakers were evenly split among parents and students against the cuts and residents who blamed the deficit on rising teacher salaries.
"These students are the future leaders of our corporations, cities and communities — some of them may someday sit in the seats that you all hold so comfortably tonight while robbing them of the benefits that could one day allow them to hold such positions," said Mehlville Drama Parents Organization member Andrew Bitter.
Bitter's wife, Richelle Bitter, noted that for the past 20 years, valedictorians at both high schools have been involved in the arts.
Mehlville High School teacher and coach Ernie Perrica was the only teacher who spoke, linking the cuts to the financial debate over the expansion of the days in the district's calendar. In this year's salary negotiations, Perrica serves as the chief negotiator for the Mehlville National Education Association, or MNEA.
"I can go to five different people and get five different answers on why we are in this deficit and what's causing it — greedy teachers, bad board members, no tax levy, dropping attendance rate, but the most common answer is 'I don't know what's happening,'" said Patrick McKelvey, vice president of the Oakville High School senior class.
Hours into public comments, three-term former board member Dan Fowler told board members that he knows from sitting in their seat that there are no good solutions.
"I didn't even hear many tonight," he said. "I heard about a lot of things that people don't want cut, and I heard from some community members that they don't want to raise taxes. In the short term, both are going to have to be done. There will be cuts, and they're going to be painful because the board has to put some teeth behind it. And quite frankly the community, in my opinion, needs to come forward with a reasonable tax levy — reasonable. What that is, I don't know, you have to do a little bit of polling … Mehlville is tough to pass a tax levy in — I've been there."
Fowler was involved in the last three successful ballot measures in Mehlville. Prop T for Teaching passed in 1998 when Fowler was board president, and he led the campaign to pass Prop P, a tax-rate increase for facilities, in 2000. He also was involved in Proposition T in 2008, when voters agreed to transfer 31 cents from the district's debt-service fund to the operating fund.
The students applauded every speaker no matter what they said, but the only speaker to get boos from the back of the audience where teachers clustered was Lemay Republican Committeeman Alan Leaderbrand, who alleged the MNEA caused the budget problems. A 3.5-percent increase in teacher salaries accounts for half of this year's $5 million deficit.
"A sad truth is we have sacrificed the quality of classroom instruction and squeezed every category of expense. Why? At the behest of the MNEA, all the money has to go to salary and benefits," Leaderbrand said. "We have never had an administration willing to impose rational limits on their constantly escalating demands. What has this gotten us? Forty-four percent not proficient (in math), an $8 million deficit coming and major infrastructure needs."
"Is the deficit to blame on teachers who earn their steps, or is it time to hold the taxpayers accountable for not passing a levy?" McKelvey said. "I don't think teachers earning their steps are to blame for the deficit … I'm tired of hearing that we are like Bayless like it's a victory."