St. Francis of Assisi is site of Worley, Bernasco vows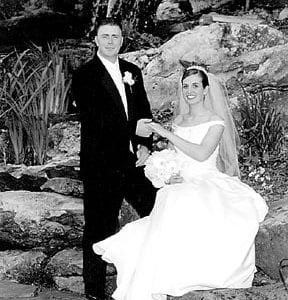 Cherie Worley and Adam Bernasco were married April 26 at St. Francis of Assisi Catholic Church in St. Louis.
The bride is the daughter of Fred and Virginia Worley. The groom is the son of Nancy Roberts and Carl Bernasco.
The matron of honor was Cecilia Shea.
Bridesmaids were Kristy Niedbalski, Brandi Kujawa, Judy Baldus, Joy Ku-jawa, Lori Worley, Jenny Kraus and Nikki Ablen.
The flower girl was Brooke Bernasco.
The best man was John Hoef.
Groomsmen were Keith Bernasco, Chris Roberts, Ben Roberts, Brian Hoef, Scott Worley, Ryan Shea and Eric Niedbalski. Ushers were Jeff Zmudzin-ski and Chad Kujawa.
The ringbearer was Connor Worley.
Breanna Schneider and Casey Odum served as junior attendants.
After a wedding trip to the Bahamas, the couple reside in Millstadt, Ill.