South county citizens prepared for flooding
Lindbergh Schools misses three days; Mehlville calls off classes for two days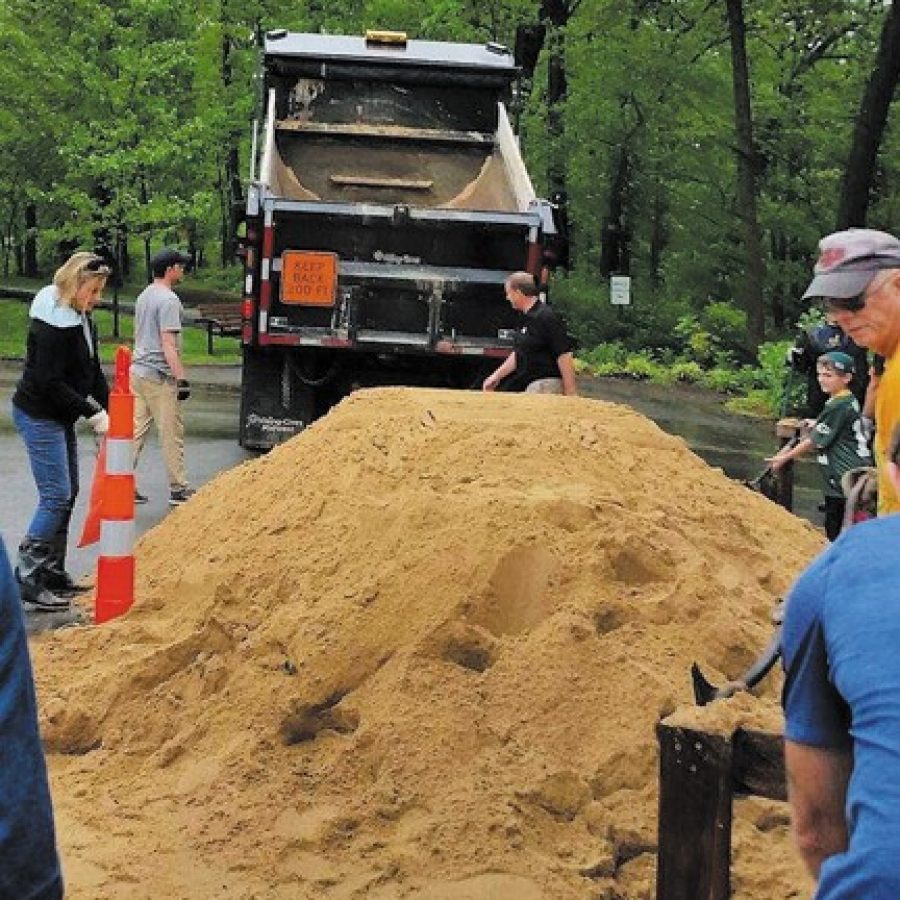 The Meramec River reached near-record levels last week after hitting new highs in December 2015, but this time south county residents were more prepared.
For the second time in 16 months, residents and businesses in Sunset Hills, Arnold, Fenton, Valley Park and Eureka fought off flood waters, but with several days' notice before the May 3 crest, sandbagging and other efforts were more successful at keeping the rising river waters away than in the past.
As soon as the National Weather Service released the predicted crests, people knew what was coming and mobilized, said Rep. David Gregory, R-Sunset Hills, who lives near the areas in Sunset Hills most prone to flooding, West Watson Road and the Tapawingo Golf Club.
"It's really cool to see what a community we have," he told the Call. "We had volunteers from all over, all over south county, all ages, younger people, older people, kids. It was really amazing to see everyone rallying around and helping each other. It was a far better experience than 2015 because we were so much more The county and state came through with every resource that cities and residents needed, from sandbags to the National Guard, Gregory said.
The local response to the flood, led by county Emergency Operations Center Director Mark Diedrich, was "phenomenal," he said.
County Executive Steve Stenger missed last week's County Council meeting to work on the flood response.
He was a frequent sight in Eureka and Valley Park throughout the week, along with the members of the County Council who represent the most flooded areas, 7th District Councilman Mark Harder, R-Ballwin, and 3rd District Councilwoman Colleen Wasinger, R-Huntleigh.
Locally, "Sunset Hills was really on it, they did an incredible job," Gregory said.
City Administrator Eric Sterman agreed that everything seemed to go smoothly in Sunset Hills. City workers had enough notice to be able to come in over the weekend and evacuate equipment out of the parks like Minnie Ha-Ha that always go underwater.
The houses in Sunset Hills that flooded in the New Year's Eve 2015 floods have mostly been unoccupied since that flood as their owners waited for insurance money or tried to get the Federal Emergency Management Agency, or FEMA, to approve buyouts.
With the lowest-lying West Watson houses not recovered from the previous flood, sandbagging efforts this time concentrated on Tapawingo and the Forest Path subdivision.
Many businesses on the Old Gravois Road industrial corridor were flooded, but not as badly this time.
The Sunset Hills Board of Aldermen agreed April 25 to buy a house on West Watson that was approved for a FEMA grant, which it will raze and could use as a community garden. But that same night in a closed session, aldermen rejected a request to buy out another homeowner who had not been approved for a grant.
County officials pointed to several success stories as some places that flooded last year were able to stave off waters this year with sandbagging.
Heavy preventive sandbagging saved the St. Louis County Police Department's 7th Precinct in Valley Park from flooding as it did in the last flood, Chief Jon Belmar said.
The Metropolitan St. Louis Sewer District's Fenton Wastewater Treatment Plant and Grand Glaize plant at Valley Park were undamaged this year. Both went underwater last year and pumped raw sewage into the Meramec for weeks.
And while businesses in downtown Fenton had no hope of staying dry despite the heavy sandbagging efforts, thousands of volunteers sandbagging prevented Old Towne Eureka from flooding for the first time ever with the Meramec so high.
National Guard units out of Jefferson Barracks were invaluable to saving Eureka, said Brett Cox, a Eureka resident and president of the St. Louis Gateway Chapter of the Association of the United States Army.
The National Guard groups included the 131st Bomb Wing of the Missouri Air National Guard from Jefferson Barracks, the 1175th Military Policy Company, the 375th Forward Supply Company and the 3175th Chemical Company — companies which include many "south county citizen soldiers," Cox noted.
"One of the volunteers commented, 'We were moving bags behind Sarah's (Cake Shop) and failing miserably until the arrival of the real heroes,'" Cox said. "The National Guard with the trucks they brought in and the number of people they brought in really made it happen."
Gov. Eric Greitens also sandbagged in Eureka in advance of the flood.
The Meramec crest had observers predicting that Jefferson County would be cut off from the rest of the St. Louis region with Interstate 55 and all its bridges closed.
But while access between Jefferson and St. Louis counties was severely limited, residents never had to pick a side and stay there as they were advised by the Missouri Department of Transportation, or MoDOT.
With access from Jefferson County still limited, however, the Mehlville School District called off two days of school and Lindbergh Schools missed three days.
With as much as 20 percent of the Mehlville work force coming from Jefferson County, the district felt that enough teachers, bus drivers and other workers would not be able to show up to have a normal school day. The only problems Mehlville experienced directly from the flooding were lengthy school bus delays in Oakville as buses drove around flooding on Baumgartner, Meramec Bottom and other low-lying roads completely covered in water.
Lindbergh was more directly affected by the floods since some of its students come from Fenton, and some Concord Elementary students have been flooded in the past.
Both districts applied for waivers from the state to try to not have to extend the school year beyond Memorial Day, but waivers have rarely been granted in the past unless a district's facilities are directly affected by a disaster.
"We're going to make an argument, and we'll see what they say," Mehlville Superintendent Chris Gaines said.
Gregory said he would ask Greitens to intervene to make an exception for the many school districts affected so that they don't have to make up days or extend the school year into June.
The Sunset Hills state representative, who replaced Rep. Mike Leara Jan. 1, also submitted a request to the state for a waiver for residents in the Sunset Hills, Concord and Fenton ZIP codes who were not able to renew their license plates before the April 30 deadline due to the flooding.
He also said he would look into other waivers he could try to obtain to help flood victims.