Small living spaces are big in home design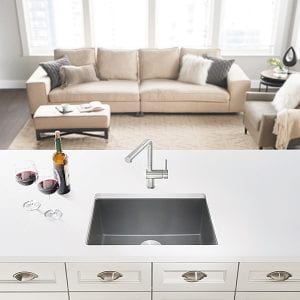 With the average American household at about 2.5 people, according to research by the Census Bureau, there's an increased desire for downsizing.
Many people — students, millennials, empty nesters and seniors — are now living in small apartments and tiny houses.
In addition, in homes of any size, the lines between the kitchen and other living areas are blurring as the family is coming together to entertain casually, eat and prepare in one space.
If you're looking into cooking up a small kitchen for your household, here are four hints that can help:
• Work with your designer to define what is important to you in a kitchen. Do you want a larger refrigerator? Many burners on the cooktop? What can stay and what can go? Take a lifestyle approach to your design project for how you cook, entertain and live every day. Don't design around a specific holiday or special occasions.
• Look for smart storage solutions. Think about installing lazy Susans or spice racks.
Store pots under a cooktop where they're easier to access.
Don't skimp on storage organizers — they're worth their cost to avoid your having to crawl into hard-to-reach places. Use clever pullouts to make use of dead cabinet space. Let your utensils hang — from the ceiling, on hooks behind cabinet doors or on a pegboard on the wall.
• Never sacrifice the size of the sink, as you will need the space for pots and baking sheets. Keep your sink from 26 inches to 28 inches, at a minimum.
A variety of undermount sinks come in a sleek modern single-bowl design; you don't have to sacrifice style for small spaces.
• To maximize counter space, look for appliances, furniture and sinks with built-in accessories.
One brand of stainless steel sinks, for instance, come with built-in cutting boards, colanders and magnetic caddies for cleaning tools. They come in compact sizes and are the same size top and bottom to maximize the bowl.