Operation Food Search, a nonprofit hunger relief organization, has received two Flex Farms, which are fully self-contained hydroponic growing systems that will enable OFS to grow fresh, affordable produce.  The vertical indoor farms cost $5,000 each and were donated to the nonprofit by UnitedHealthcare Community Plan of Missouri and Fork Farms, an agriculture technology social enterprise based in Green Bay, Wisconsin.  OFS is the first St. Louis organization to receive Flex Farms, which are currently located in 26 states and Canada.
Flex Farms create 25 pounds of produce per month based on a 21- to 28-day harvest cycle.  The harvest — ranging from nutritious leafy vegetables to herbs — requires a minimum of only two hours of care per month.  The energy-efficient Flex Farms operate with a standard electrical outlet, occupy less than 10 square feet of space and use zero pesticides and herbicides. Each farm can serve up to 1,900 families per year with a harvest of nearly 3,400 plants.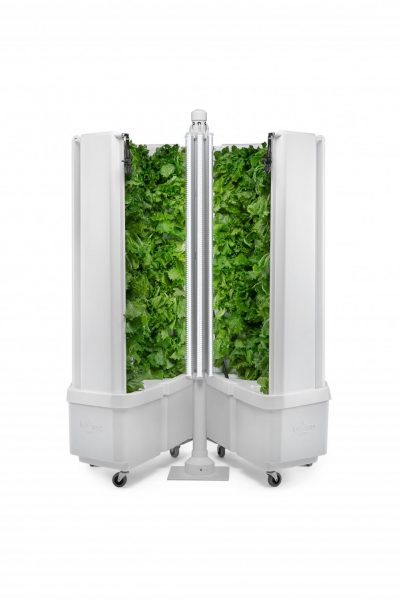 "Having access to fresh foods is vital to a healthy lifestyle and combating chronic disease.  That is why we invented the Flex Farm, to break down the barriers to healthy food and empower people, organizations and communities to unleash the power of fresh food production," said Fork Farms president Alex Tyink in a news release.  "As part of our mission, we seek to develop strategic partnerships with organizations that share our values and work to create happier and healthier communities.  We are thrilled for the opportunity to call Operation Food Search and United Healthcare Community Plan of Missouri partners in change."
"We know that non-medical factors, including access to nutritious affordable food, safe housing, and transportation have an enormous impact on a person's health," said Jamie Bruce, CEO of UnitedHealthcare Community Plan of Missouri, in the release.  "We are proud to support an innovation like Flex Farms, that makes it easier for our communities to access healthy foods and live healthier lives."
"These donated Flex Farms are extremely convenient, cost-saving solutions that allow us to grow fresh produce for those who need it most," said Operation Food Search Executive Director Kristen Wild.  "We appreciate the generosity and support of UnitedHealthcare Community Plan of Missouri, as well as Fork Farms, for their commitment to answering our region's long-term demand for nutritious food."  Wild added that "we are both honored and excited to be the first in St. Louis to experience the benefits of Fork Farms' unique systems."
Founded in 1981, Operation Food Search is a hunger relief organization located at 1644 Lotsie Blvd. in St. Louis that provides free food, nutrition education and innovative programs proven to reduce food insecurity. This past year, Operation Food Search has been one of the organizations that was given federal coronavirus relief funds from St. Louis County to combat greater food insecurity during the COVID-19 pandemic.
With a strategic focus aimed at ending childhood hunger, OFS empowers families and increases access to healthy and affordable food.  The agency provides food and services to nearly 200,000 individuals on a monthly basis – one-third of whom are children – through a network of 330 community partners in 30 Missouri and Illinois counties.  For more information, call 314-726-5355 or visit Operation Food Search.