Simpson to build on Lindbergh's 'tradition of excellence'
District's goals are rigorous, new superintendent says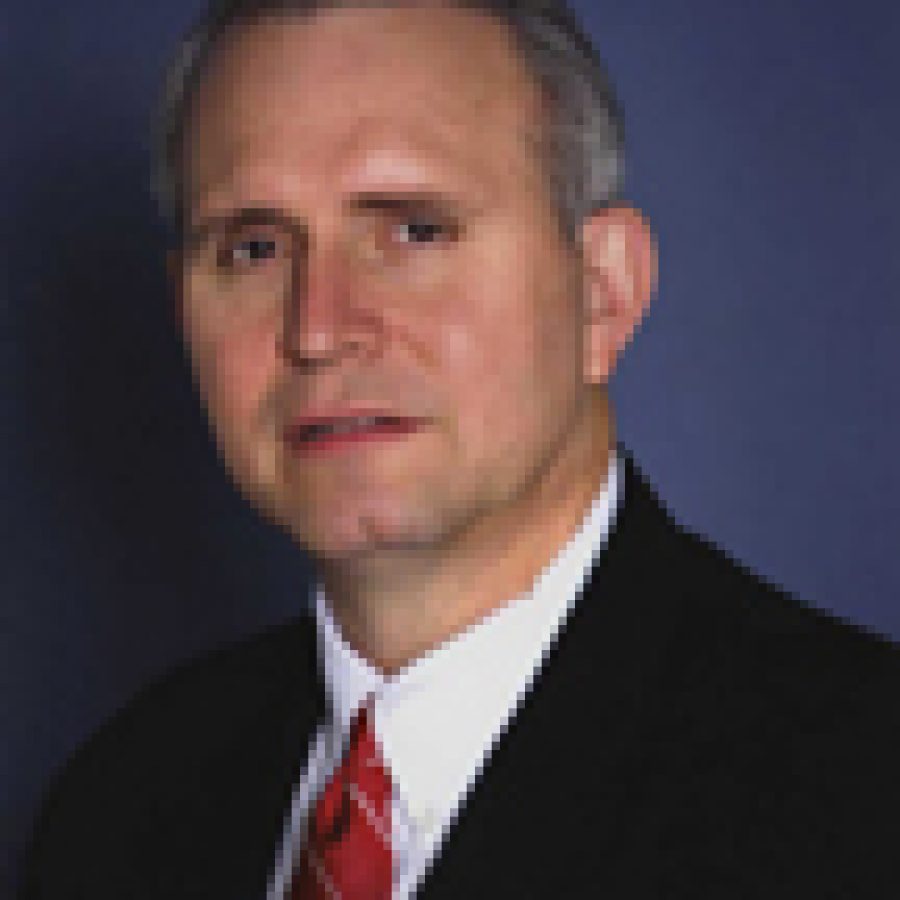 Jim Simpson says he plans to build on the Lindbergh School District's "tradition of excellence" during his first year as superintendent.
During a Board of Education meeting last week, members voted unanimously to approve the district's goals for the 2008-2009 school year. The goals seek to take achievement to the next level, develop good citizens and "become truly exceptional in all we do."
"… It's all based on a theme that I've chosen after talking and listening to people in the Lindbergh district," Simpson told board members at the July 8 meeting. "I've decided after much thought that the theme that I would like to start my first year with is 'Building on a Tradition of Excellence.' And that really says it all, I think, about this district. As we've heard and witnessed here, there's such a tradition of excellence and what I intend to do is lead to build on that excellence and maintain that excellence. And these goals certainly do that …"
Simpson began his duties July 1, succeeding Jim Sandfort, who retired June 30 after serving as superintendent for 17 years.
Simpson, an educator for the past 19 years, served as superintendent of the Joplin School District for seven years before coming to Lindbergh.
Among the goals approved by the school board are meeting all Department of Elementary and Secondary Education Annual Performance Report indicators, improving Missouri Assessment Program performance, meeting federal No Child Left Behind mandates, improving the district's ACT average to 24, improving International Baccalaureate/Advanced Placement scores, increasing IB/AP enrollment, maintaining the graduation rate at current or better levels, maintaining the attendance rate at current or better levels and improving college placement/scholarships.
Among other goals are improving citizenship at the middle school and high school, maintaining/increasing "givebacks" to the community, increasing the number of students earning Presidential Service Awards, completing Proposition R 2006 projects, implementing the Demographic Task Force solutions to ease space concerns at Sperreng Middle School and improving safety preparation.
Discussing the goals, Simpson told the board, "… Something that really stands out in my mind is that we are already a strong district academically. We would be the envy of many, many school districts in the state of Missouri for our scores. What we have to do and what I have to do and what our team has to do is make sure we keep that and then we build upon that where possible and we don't get complacent.
"If you've got great things, it's easy sometimes to get complacent and we've got to keep focusing because this comes back every year … This isn't you did well in '07 and '08 or '08 and '09 and now you're off the hook. You're on the hook every year …," he added.
Board member Mark Rudoff later said, "I commend the administration because … I believe I only saw four or five goals that talked about maintaining. And when you looked at the things that jump out at you — maintain the graduation rate, maintain the attendance rate and maintain the 'givebacks' to the community — those are at such an exceptionally high level it's really hard to expect, realistically expect to improve or increase what you've accomplished or results of participation there. But I'm very pleased that we're continuing to look to build on our success …"
During an interview with the Call, Simpson elaborated on some of the comments he made at the board meeting, saying he intends to build on Lindbergh's foundation of excellence.
"… Excellence is a foundation of Lindbergh schools, and that's there as I enter and so that's my foundation now as a leader. That foundation is there and it's now my foundation to try to do all I can to build on top of that and meet the challenges that Lindbergh schools will undoubtedly face as all schools will through the times ahead …," he said. "For me, it's an acknowledgment to the patrons of Lindbergh, the staff of Lindbergh and to the students of Lindbergh that I recognize that they are an outstanding school district with a strong track record of excellence. It's my promise to them that I will use that as a foundation to try to in every way build upon that foundation where possible."
The new superintendent also noted that the board-approved goals are rigorous, specifically citing improving the district's ACT average to 24.
"… We're accountable to ourselves in our goals. As you look at our goals, they're laid out and they're actually more rigorous than the state of Missouri's goals or even the federal government's goals. The federal government or the state government would never ask a school to make 23 on an ACT as an average. They would not ask such a thing. They would think that is too high.
"That is unreasonable. And yet, our goal is we've got to go to 24 because we've just achieved our 23. So not being complacent, we raised the bar to 24," he said, calling 24 an "ambitious" goal.
"For us to make 24, which we are going to try very diligently toward, that means many, many of our students are going to make 30 or above because it's an average … For us to get 24 by the very mathematical calculations there must be many students who are doing much better than 24 to balance the students who may not meet 24," the superintendent said.
Simpson and his wife, Carol Ann, have purchased a home in the middle of the school district and are very pleased with the reception they have received from everyone throughout the district.
"The transition is going exceedingly well and again, Lindbergh School District is a school district that has a long track record of excellence and I'm seeing that everywhere I'm going in terms of the learning curves I'm having. I met with gifted parents today. We talked about our gifted programs and, of course, they were just ecstatic about our programs and wanted to tell me how proud they were of those programs, which I was proud because a lot of times people will come in and say: 'Here's what I don't like about your programs and you're the new person, change it.' And here they are saying: 'We like everything about our program and you're the new person, don't change it.'
"… The transition's going very well. It's such a great team here. They know in and out how to run a school district at the highest level, so it's a great honor for me to just be with this team … On another note, for my wife, Carol Ann, and I, this is the most hospitable and welcoming school district that I think I've been around. The people of the Lindbergh School District, every one of them has just reached out and made our time of transition very, very easy.
"The school board has been very gracious and accommodating, and again I think that all comes to the fact that it's not about me, it's how they do business here. They're just a classy group and they know how to be very welcoming and how to make people feel at ease and so I think that's something great."