Simple maintenance can save money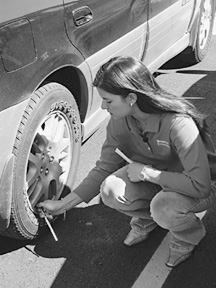 When it comes to saving money, prolonging the life of a car can be a great place to start.
There are a few simple steps that can preserve your car while keeping money in your pocket.
First, check your tire pressure. Tires lose an estimated one- pound per square inch (PSI) of pressure each month under normal conditions. Additionally, tires can lose one PSI for every 10 degrees the temperature drops.
Experts claim properly inflated tires can also save up to $150 a year in fuel. It's also important to remember that proper tire rotation, alignment and balance will help your tires last longer and prevent early replacement.
That's a lesson Karen Speer learned the hard way. "My tires had to be replaced prematurely because I did not regularly check my tire pressure," said Speer, a communications professional in Washington, D.C. "Now I make sure to get routine check-ups."
Another easy way to cut costs is to get regular check-ups. There are six main vehicle fluids that are essential in keeping a car in good condition-window washer fluid, engine oil, radiator coolant, brake fluid, transmission fluid and power steering fluid. By keeping these fluids at their recommended levels, your car is more likely to avoid unnecessary problems in the future. Consumers can find when and how to check fluid levels in their vehicle owners manual.
"One of the most important things you can do to keep your car running smoothly and trouble free is to take it in for the vehicle manufacturer's recommended scheduled maintenance services, found in the owner's manual," said Bob Armstrong, master technician with BFS Retail & Commercial Operations, which owns Firestone Tire & Service Centers. "It will save money in the long run."
Any time of year can be the right time to begin a regular maintenance routine with your car. Start by getting a copy of your vehicle manufacturer's scheduled maintenance program. Firestone Tire & Service Centers offer these schedules for free and also host free Car Care Academies. These interactive educational workshops are held at locations around the country.
To learn more, or to sign up for free maintenance reminders, visit www.MasterCareUSA.com.