Shocking, stunning victory: Mehlville community OKs Prop R with nearly 73 percent of the vote
Trakas works polls against Mehlville's tax-rate increase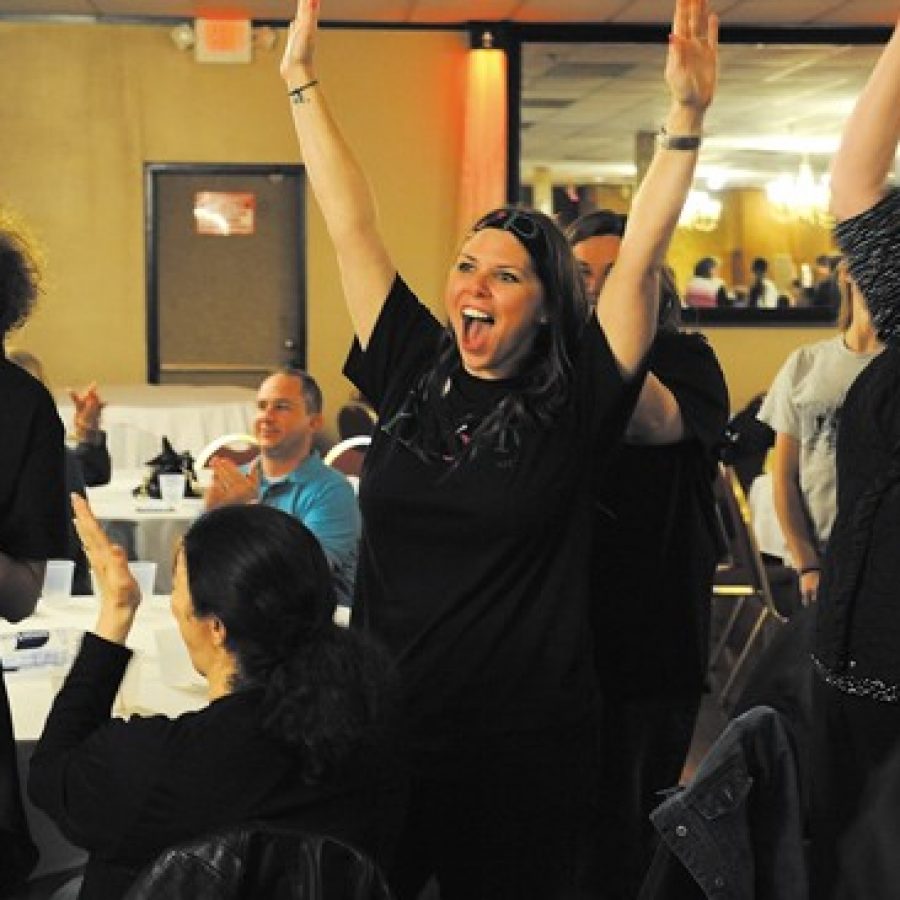 In a historic victory that shocked even those who expected it to pass, the Mehlville School District community approved Proposition R last week with nearly 73 percent of the vote.
The 49-cent tax-rate increase passed on a one-issue ballot Nov. 3 with 17,905 "yes" votes — 72.53 percent — and 6,783 "no" votes — 27.47 percent — according to unofficial results from the county Board of Election Commissioners.
Campaign organizer Kimberly Hanan-West said through tears at the victory party at Andre's South, "We didn't just pass Prop R — we changed the culture of this community."
Oakville Elementary Principal Chad Dickemper called the nearly 3-to-1 landslide the "Mehlville Miracle." Prop R is historic in more ways than one — it is Mehlville's first tax-rate increase in 15 years, with the largest margin of victory since 1984.
The district only keeps records dating back to 1970, and in the 45 years leading up to Prop R, no tax-rate increases for operations ever broke the 60-percent mark. Two-thirds of voters rejected the last two tax-hike attempts, in 2006 and 2010.
Board member Lori Trakas was the sole dissent on the 5-1 vote to place Prop R on the ballot Aug. 17. Jamey Murphy was absent due to a work commitment.
In an unusual move for a sitting board member, Trakas worked the polls against Prop R the day of the election, according to a Facebook post by former board member Drew Frauenhoffer. Trakas was unavailable for comment before the Call's press time.
But last week's margin of victory ends detractors' ability to criticize current district officials for decisions made by long-gone board members and administrators, the "ghosts of Mehlville past," board President Venki Palamand told the Call.
"The past is truly the past, and the voters are ready to move forward toward a brighter future," he said. "It's morning in the Mehlville-Oakville community."
Prop R stands for Restore, and the campaign committee, Mehlville-Oakville United, or MOU, maintains that the future of the district, its education and residents' property values hinge on its $8.3 million in additional annual revenue.
Without Prop R, Mehlville faced a "financial cliff," Superintendent Chris Gaines said — cuts of up to $5 million to an already-lean budget, on top of the $3 million that went into effect this year.
Gaines, who came to Mehlville from Wright City July 1, said in his victory speech that he will seek suggestions from the public on how to save money just as he would if he had to slash programs — but with Prop R's passage, he can focus on saving, not cutting.
"We're going to show the community that we're going to spend the resources they give us effectively and efficiently on behalf of the 10,500 kids and 1,300 employees that come through our doors every day," he said. "And those employees spend their money locally — the district is an economic driver for the community. It has been, and it will continue to be."
With a historic win at the polls only three months into his tenure as superintendent, Gaines ended the night with his own version of a "mic drop."
"If this was a concert, I'd just grab the mic, say, 'Thank you,' drop it and walk away," he said.
Both MOU and the group that led the campaign against Prop R, Secure Mehlville Oakville Future, were active on social media — a key factor in the nearly 40-percent voter turnout, Palamand said.
Secure MO Future's Linda Bowen posted a flurry of videos and updates to Facebook the days before the election, including an open letter from Trakas asking residents to vote against Prop R. In a statement on its website, Secure MO organizers said they see positives in the defeat.
"Although our opposition to the tax increase failed, it was hugely successful in engaging the community and drawing attention to the need for improvement in the district," the group wrote. "For that we are very pleased."