U.S. Senator Josh Hawley subpoenaed in Sunshine Law case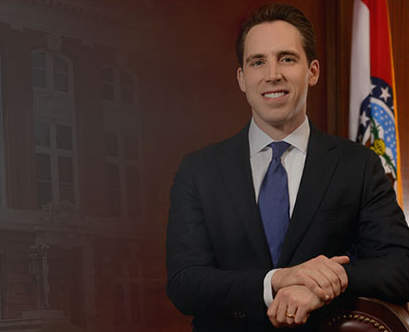 By Brennan John
Columbia Missourian
Missouri's U.S. Senator Josh Hawley has been subpoenaed in a case involving possible violations of the state's public records law when he served as Missouri attorney general.
The subpoena came from Missouri's 19th Circuit Court in Cole County. Hawley is ordered to give depositions and bring all documents and notes involving his campaign donors, consultants and state employees.
"This is a political stunt by a political candidate," said Kelli Ford, spokesperson for Hawley, via email. "It's unfortunate that Democrat operatives continue to misuse our courts of law for political purposes."
Ford went on to say that Hawley isn't a party to the lawsuit, which she described as "frivolous."
The subpoena was issued after a former assistant attorney general of Missouri, Elad Gross, began investigating anonymous political donations, or "dark money," in Missouri in 2017. According to a news release from Gross, who has announced he is running for attorney general in 2020 as a Democrat, when the nonprofit, A New Missouri, ignored multiple requests for records, he filed a lawsuit arguing that the organization had to release its records to the public.
Gross' lawsuit was dismissed, but he is appealing. He also filed a request for public records under Missouri's Sunshine Law in August 2018. The request, directed to Gov. Mike Parson, asked for records of communication between former Gov. Eric Greitens' office and 27 groups or individuals identified in Gross' dark money investigation.
The governor's office responded that it had 13,000 documents that could be relevant to the investigation, but it would take six months to release them, according to Gross. Gross would also have to pay a $3,600 fee for the documents. Gross asked if the fee could be waived given the public's "significant interest" in seeing the records and citing precedent. When the governor's office refused, Gross stated that he filed a lawsuit.
Part of the lawsuit alleges that Hawley and Parson cooperated to prevent the release of public records that could have damaged Hawley's 2018 Senate bid.