School officials concerned over revised Crestwood mall plan
First of two parts: Superintendent questioning how TIF debt will be retired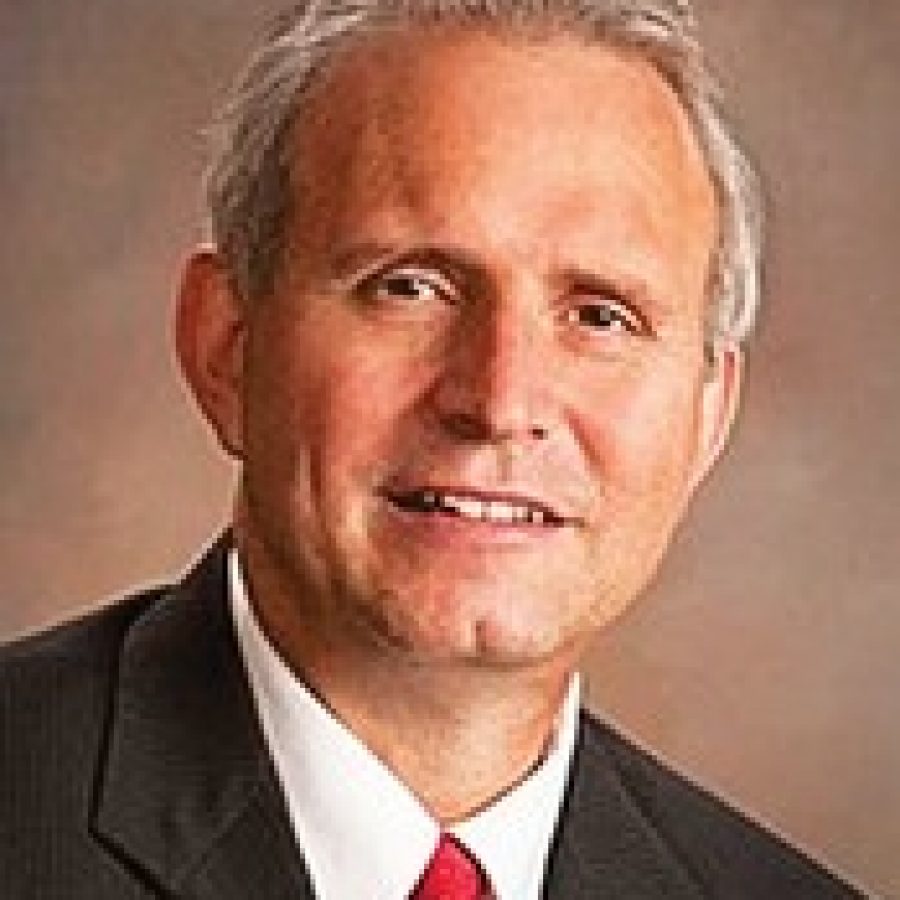 UrbanStreet Group's recent presentation of a revised proposal to redevelop the former Crestwood Plaza did little to assuage the concerns of Lindbergh Schools officials, according to Superintendent Jim Simpson.
Bob Burk, managing partner of the Chicago-based UrbanStreet Group, presented the revised redevelopment proposal for the mall property last month during the first meeting of the Crestwood Tax-Increment Financing, or TIF, Commission.
The TIF Commission, which is chaired by former Ward 2 Alderman Tim Trueblood, will meet at 7 p.m. Wednesday, Jan. 20, at the Government Center, 1 Detjen Drive.
UrbanStreet Group, which bought the mall last year for $2.625 million, submitted the only response to the city's request for proposals to redevelop the 48-acre site at Watson and Sappington roads.
The mall owner originally requested nearly $28 million in economic assistance, including TIF, for a roughly $99.5 million mixed-use project.
UrbanStreet now is requesting about $25 million in economic assistance for a $104.3 million mixed-use project, Burk told the TIF Commission. UrbanStreet is seeking $15 million in TIF, $5 million in Community Improvement District, or CID, funds, and $5 million in Transportation Development District, or TDD, funds for the redevelopment project. As proposed, the TIF would be retired in 23 years, the maximum period allowed by state law.
UrbanStreet's proposed mixed-use development for the mall site, most recently called Crestwood Court, includes one large retail facility, a multi-screen movie theater, a fitness center, two dine-in restaurants, an office building, a 225-unit apartment complex currently envisioned as senior housing and 11 to 13 acres of open space and community gardens, including stormwater management.
Burk told TIF Commission members last month that no commitments from potential tenants for the proposed redevelopment of the former Crestwood Plaza can be secured until economic assistance is granted for the project.
Simpson told the Call that he considers Burk's contention "unusual."
"… The concern would be that you're asking for multi-millions of dollars from us and you're not showing us any kind of retail whatsoever — no confirmed retail," he said. "But you're saying you have to have the money first or I can't show you retail, that's a very unusual way to run a tax abatement.
"It leaves the city in the position of faith only. They must have faith that UrbanStreet will deliver quality retail because they've already given the millions of dollars to the developer. So if he doesn't deliver the retail, they have no recourse."
Lindbergh Chief Financial Officer Charles Triplett, who serves on the TIF Commission, asked Burk if he could secure any contingency agreements with potential tenants.
"We're about as far along as we can get," Burk replied.
Without any specific retailers, Simpson questions how an accurate assessment can be made of UrbanStreet's proposal.
"The whole idea of analyzing a TIF plan is based on those contingency retail agreements, and to decide … do those new retailers who have agreed to come in strengthen the community or do they weaken the community? Do they duplicate services? Do they not duplicate services?" he asked. "And also — this is key — it gives you some basis to estimate revenue to pay your TIF back."
UrbanStreet's proposal provides no way to do that, Simpson said.
"… You say I don't know what tenants I have, so I'll list some here that I hope will come in and then I'll try to estimate off of those the average supermarket, the average movie theater, the average whatever you have, but without solid contracts then, those numbers become extremely unreliable," he said.
Given the lack of any specific retail tenants, the superintendent also questioned how the TIF obligations will be retired.
Instead, city leaders will have to put their "faith" in UrbanStreet's ability to deliver.
"… I know that UrbanStreet leadership knows this, but the only way that TIF's going to be paid back, the only way the TDD's going to be paid back, the only way the CID's going to be paid back is if there's a lot of cash registers and they do a lot of sales," he said. "Right now, you have zero cash registers — zero …
"You're giving your money and you've got zero cash registers on your side of the fence. That's called pure faith, and with pure faith you can just hope. But I can't believe that many tax abatements have been made on pure faith … It's very concerning that there's not a folder full of retail contingency contracts that assure a government entity like the aldermanic board of Crestwood that they're going to have a selection of retail and they can sort of bank on how much that retail normally throws off in revenue so they can actually make a good decision on whether they think this thing will succeed or fail."
Since UrbanStreet's proposal was unveiled, Simpson has voiced concerns about the proposed apartments, saying they would exacerbate the aggressive enrollment growth that already is challenging the district.
UrbanStreet's revised proposal states that if the apartments are not developed as senior housing, "The developer proposes that the Lindbergh School District and the other applicable taxing districts receive the real-estate tax revenues from the project's residential component …"
Of the developer's revised proposal concerning the 225 apartments, Simpson acknowledged UrbanStreet's "reaching out" to address the school district's concerns, but wondered how the developer will be able to retire the TIF obligations.
"… I live personally in Crestwood, so I've got that part of the resident's hat on," he said. "I really have concerns that apartments — senior or other — can't do anything to pay that kind of TIF money off. In other words, so now you've got five apartment buildings five stories high and they're senior apartments, but that doesn't pay your TIF off … The numbers don't add up. No cash registers, we're going to go residential.
"The reason that TIF and residential aren't supposed to be in the same sentence is because they make no sense in paying back the TIF. As a matter a fact, a pure residential TIF has no possibilities of paying itself back. The reason that the Gravois Bluffs TIF paid back was because there's hundreds of cash registers going every day down in Gravois Bluffs …"
Next time: Simpson outlines other concerns district officials have, including his belief that Crestwood's first-ever citywide comprehensive plan should be completed before a decision is made on UrbanStreet's plan for the mall.