Retired St. Louis County Police Chief Jerry Lee dies; funeral set Friday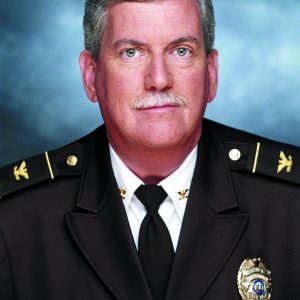 A retired St. Louis County police chief's funeral services will be held Friday at the Cathedral Basilica, with visitation Thursday in University City.
Retired St. Louis County Police Chief Jerry Lee, 71, died Nov. 22 after a  battle with medical issues. He served as chief of the St. Louis County Police Department from 2004 to 2009, spending a total of 39 years with the department before serving three years as Missouri's statewide public safety director.
His funeral and mass will be held at 10 a.m. Friday, Dec. 6, at the Cathedral Basilica in downtown St. Louis, 4431 Lindell Blvd.
The visitation for Lee will be held from 4 to 8 p.m. Thursday, Dec. 5, at the Lupton Chapel, 7233 Delmar Blvd. in University City. An hour was added to the visitation to accommodate expected callers.
Parking at the Lupton Chapel is limited, and uniformed police officers will be on hand to guide visitors with parking on Delmar Boulevard, Midland Boulevard or Overhill Drive.
Interment will immediately follow the mass Friday at Calvary Cemetery at 5239 W. Florissant Ave. in St. Louis. In lieu of flowers, the family instead asks for memorials to the BackStoppers nonprofit organization that assists police and firefighter families.
Lee is survived by his Christopher Lee, his brother John Lee (Sophie), his many adoring nieces and nephews, his loving friend Mary Catherine Sack and her daughter Christina, with whom his beloved dog Jack will live. He was preceded in death by his siblings Joseph "Joe" Lee (Isabel surviving), Mary "Joy" Lee and James "Happy" Lee (Leah surviving).
The former chief's obituary noted that "he knew as a young man he wanted to serve in the police force and never wavered."
Lee joined the St. Louis County Police Department in 1970 as a police recruit. As a patrol officer, he was assigned to the Affton Southwest Precinct, the West County Precinct and the Office of the Chief of Police. He served as a sergeant in the Tactical Operations Unit and the West County Precinct.
Lee then served as the commander of Staff Services, Criminal Identification Unit and the Bureau of Drug Enforcement. On his promotion to Major, Lee served as the commanding officer of the Division of Patrol, the Division of Operational Support and the Division of Criminal Investigation.
In 2004, he was appointed to serve as the chief by the county Board of Police Commissioners. After serving the citizens of St. Louis County for 39 years, Lee retired in 2009.
After he retired from the St. Louis County Police Department, Lee served on the Board of Police Commissioners for the St. Louis Metropolitan Police Department for one year. He was then appointed as the Missouri public safety director, a position he held for three years. Lee also served as a board member of BackStoppers and Guns 'N Hoses.
Lee was a graduate of the FBI National Academy and held a bachelor's degree in criminal justice from St. Louis University.
St. Louis County Police Chief Jon Belmar stated, "We are saddened by the death of retired Chief Jerry Lee. Chief Lee was deeply committed to the men and women of this department and the citizens of St. Louis County. His years of dedicated service represent the genuine character Chief Lee possessed. Our deepest condolences go out to the many people who loved him."