Republicans take majority on council, elect Trakas as chair
By Gloria Lloyd
News Editor 
glorialloyd@callnewspapers.com
Under the continuing fallout from the downfall of former St. Louis County Executive Steve Stenger, Republicans gained the majority on the County Council for the first time in 13 years.
And last week, the council unanimously elected 6th District Councilman Ernie Trakas, R-Oakville, as its stand-in chairman or "presiding officer."    
The usual seven-member council is down to five members after the council chose new County Executive Sam Page to succeed fellow Democrat Stenger, and Page then hired 1st District Councilwoman Hazel Erby to serve as head of his diversity efforts.
With Erby's departure, the council is now 3-2 Republican, the first time since 2006 that the GOP controls county business. A special election will likely be held in August to fill the seats. Erby leaving also makes 7th District Councilman Mark Harder the most senior member of the council with four years of experience.
But the Republicans don't have as much control as they would if they had an outright GOP majority. Attorneys in the county counselor's office have ruled that since the council normally has seven members, any decisions will still need a majority of seven, or four votes, to go through. So the GOP members will need at least one Democratic vote to pass  legislation.
"Any break along party lines will effectively prevent anything from passing," so bipartisanship on the council is more important than ever, Trakas said.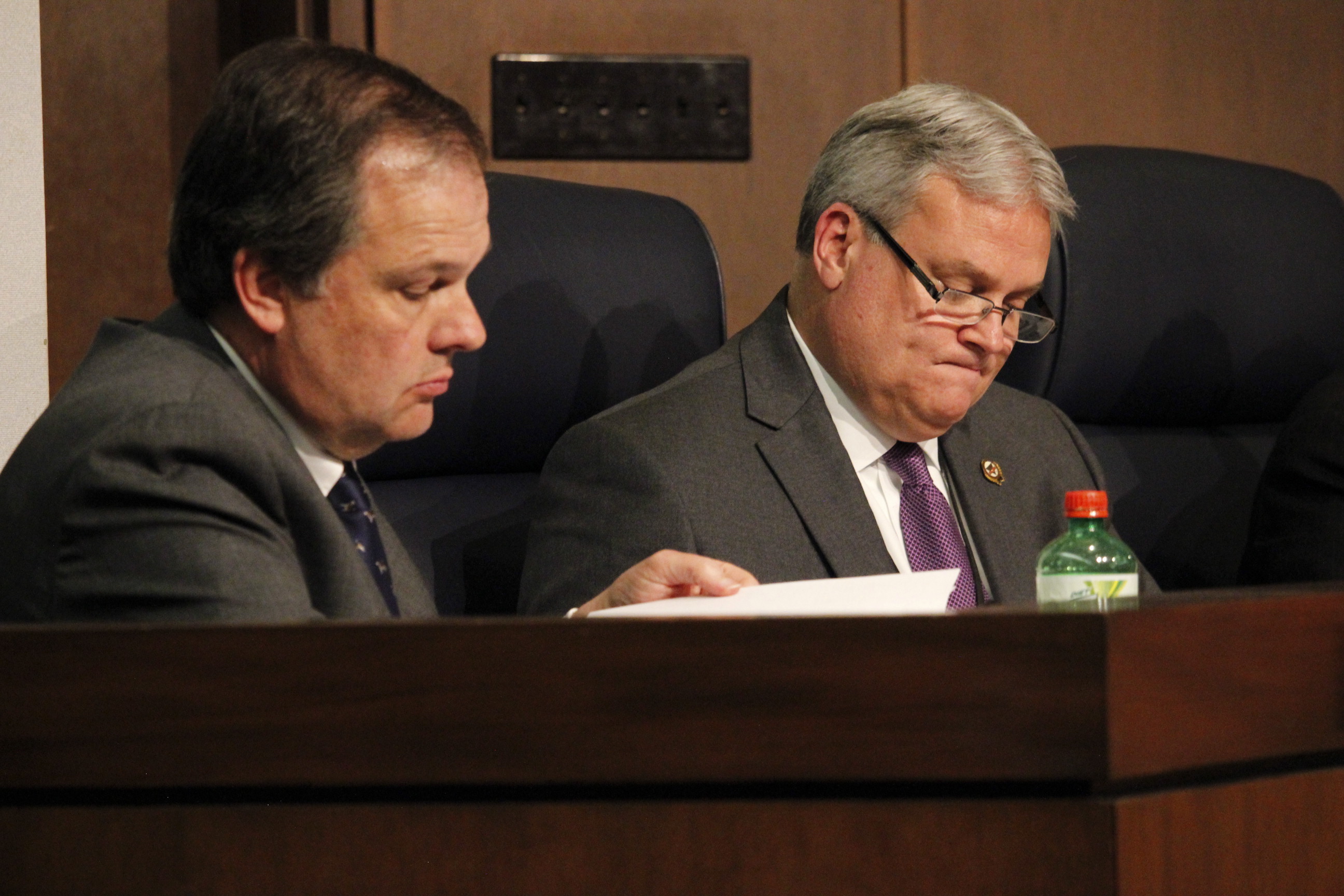 How things will operate
The vacancies of Erby and Page leave the council without a chair and vice chair. Under the charter rules, those roles cannot officially be elected until January 2020, so Trakas is "presiding officer." He will chair the council for the rest of the year.
Trakas said he has "all the same responsibilities as the chairman, just not the compensation or the title." The chair typically is paid $5,000 above the $20,000 council salary.
"I'm already saving the county money," he joked.
But more importantly, Trakas said he will continue the style of leadership displayed the last two years by Page, who was elected an unprecedented three straight times as council chairman.
"I think Sam set a good model in terms of patience and temperance," Trakas said.
The 6th District councilman suggested rules on public speakers that were adopted by Page two years ago, including allowing speakers a minimum of three minutes to make their point. Past chairs, including Page, had sometimes held speakers to a single minute to speak.
But the council under Trakas will continue to allow speakers three minutes, plus a bit more if they need it to make their point. On nights with more than 40 speakers like last week, the council will probably be more likely to hold speakers to three minutes, Trakas noted.
"If they're still in the heart of what they're trying to say, I'm going to let that go until it becomes unreasonable," he said.
It had been so long since Republicans controlled the council that the only member who had any memory of it was Erby.
She once mentioned her experience under Republican leadership in the context of the time when she felt shut out of the Democratic leadership of former council Chairman Mike O'Mara, D-Florissant.
"When I came on, Republicans were the majority, and there was much more respect than we have now. Much more," Erby said. "This is the worst ever, and the citizens lose because they get together and do what they're doing."
Regaining full council majority
The 1st District seat is solidly Democratic, but Trakas believes Republicans have a chance to pick up Page's former seat in the 2nd District since it has part of West County and because it's a special election, and voter turnout should be lower.
Current Creve Coeur Mayor Barry Glantz may run as a Republican for Page's seat.
The Republican and Democratic township committees in that district will decide on a candidate, just as they did in the special election for the 6th District after Stenger resigned his council seat to become county executive.
"I think he'll have a chance," Trakas said. "It's going to take all hands on deck for this one. I'm planning on volunteering and knocking on doors for the guy.. because it's that important: If we were able to grab that seat, it would be the first time a Republican held that seat in 13 years."
And the GOP would control the agenda for the first time in a long time.
After holding at two Republicans for years, Republicans cut the Democratic majority to 4-3 with Trakas' election. But they still don't have the power that comes with that one extra seat, Trakas said.
"I can't tell you the importance of that," he said. "That means we would have a Republican chair and a Republican vice chair, Republicans would control the agenda just like any other legislative body. So it'll be a big deal, and we've got a chance, but it'll take an all out effort in everything from the Central Committee on down to the local clubs."