Pousosa, Stream vying for GOP nod in Aug. 5 primary for county's top post
Republican candidates give their views on county issues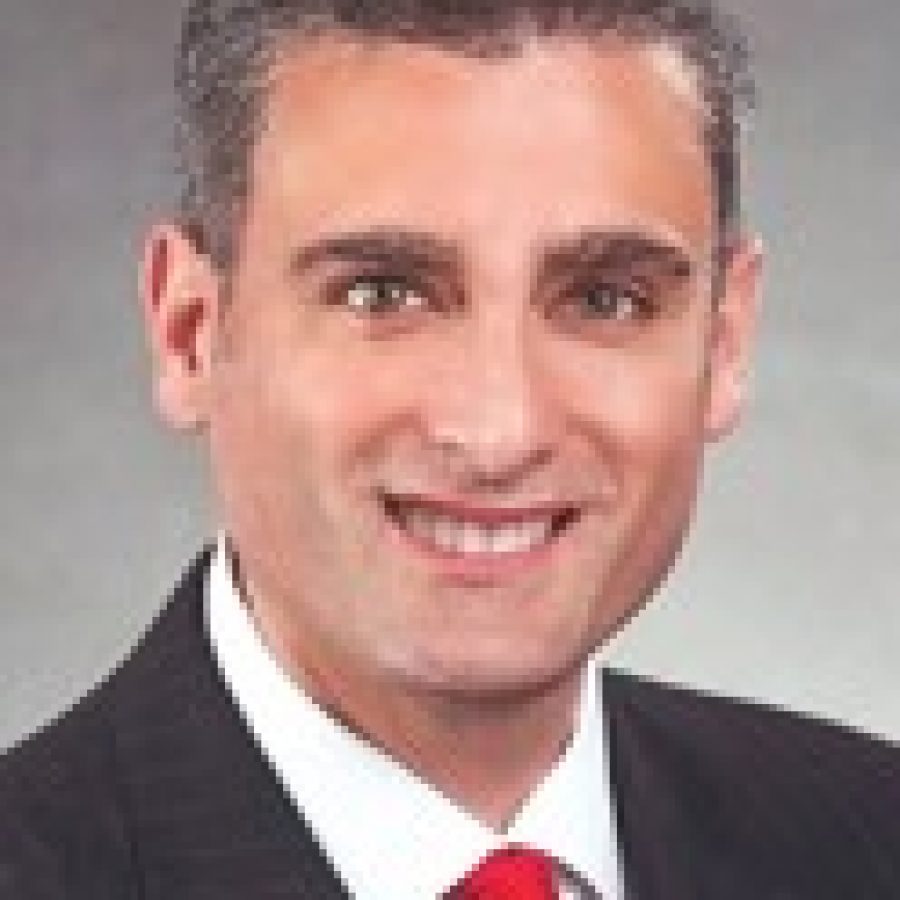 A Green Park alderman and a state representative are vying for the Republican Party's nomination for county executive in the Aug. 5 primary.
Tony Pousosa, who represents Ward 1 in Green Park, and Rep. Rick Stream of Kirkwood are vying for their party's nod for the county's top post.
• "Stopping the St. Louis city-county merger because it is a taxpayer bailout of the fiscally mismanaged city," Pousosa said.
• "Job retention and creation is the most important issue in this race. In the last 10 years, St. Louis County has lost 55,000 jobs. This is unacceptable. My highest priority includes creating an environment that fosters entrepreneurialism and attracts new businesses and jobs to St. Louis County …," Stream said.
Pousosa, 43, of Green Park, is an operating-room surgical assistant at Barnes-Jewish Hospital Center for Advanced Medicine. He and his wife, Regina, have two children who attend Lindbergh schools.
Pousosa, a Green Park alderman since 2007, unsuccessfully challenged Democrat Steve Stenger for the 6th District County Council seat in November 2012. He said he is seeking his party's nomination "to end the corruption and fiscal mismanagement within St. Louis County."
Stream, 65, of Kirkwood, is retired from the U.S. Department of Defense. He and his wife, Ellen, have four grown children.
Stream served on the Kirkwood Board of Education from 1992 to 2004 and has represented District 90 in the Missouri House since 2007. He said he is seeking his party's nomination because "I want to help people improve their lives and make St. Louis County a better place to work, live, do business, and raise our families. I have the leadership experience our county needs."
The candidates gave the following responses to a Call questionnaire:
Pousosa said, "Yes, but I would take it a step further and move the meeting to 7 p.m. so that more working residents could have the opportunity to participate."
Stream said, "Yes. One of our goals in bringing transparency to county government should be to conduct open meetings at more convenient times for the public to attend should they want to."
Pousosa said, "No, the trail of scandals speak for themselves — FBI investigations into the health department embezzlement, along with mismanagement of the Children's Service Fund and quid-pro-quo dealings in the crime lab contract."
Stream said, "No, I believe our county is on the wrong track, especially with regard to job creation and spending our taxpayer dollars efficiently and effectively."
Pousosa said, "No, it is a monopoly and takes away consumer choice … It should have been a vote of the people. Instead, Mr. Dooley strong-armed his illegal agenda, which … now costs St. Louis County residents millions of dollars. The council and Mr. Stenger could of also challenged Mr. Dooley by passing a bill to stop the trash district monopoly. Both Mr. Dooley and Mr. Stenger failed the people … Secondly, I believe that consumers should always have the choice to make personal decisions for themselves."
Stream said, "No, I do not support the county's trash district program as it is.
"Yes, I do believe its implementation could have been communicated in a much better manner to county residents."
Pousosa said, "No. Input was not received from the residents of the community. Our tax dollars were diverted into pockets with a sweetheart real-estate deal. As alderman, I fought the move of the Tesson Ferry Library because even the traffic concerns of the residents were not properly addressed."
Stream said, "No, I do not believe it was handled properly. Residents' concerns were not considered. Changes need to be made, starting with the library board."
Pousosa said, "No, because this project was built right on top of the Goddard School. This project was placed so close to the school that it actually obstructed the gardens that the children plant each year.
"The trash bins are in such close proximity that during the summer months the children now get to experience a great stench while playing outside. Councilman Steve Stenger and Executive Charlie Dooley both rubber-stamped this project in direct violation of the people's will …"
Stream said, "Clearly, the Oakville residents did not support this project. This is another example of lack of transparency and connection to the people of our county."
Pousosa said, "No. The Oakville HUD (US. Department of Housing and Urban Development) project is the perfect example of the disconnect with the people. Instead of placing the notification of the proposed site in the St. Louis Countian, which is a publication for attorneys, we should be placing the notification in a mainstream publication read by the people like the St. Louis Post Dispatch or local publications like the Call. More importantly than how long they serve should be the special financial interests in matters that come before them. The people are losing while the elite are gaming the system."
Stream said, "As county executive, I would conduct an extensive review of not only the Planning Commission, but all county boards and commissions to identify ways we can improve services to residents."
Pousosa said, "I am against tax-increment financing — TIF — abuse. Municipalities and St. Louis County luring businesses from one side of the street to the other is a lose-lose for our community. TIFs also create scenarios for eminent domain abuse. Our property rights are being usurped by governmental land grabs. The people need to call on the state Legislature to reform TIFs and CIDs (Community Improvement Districts)."
Stream said, "We need to conduct a thorough review of all TIFs and our county's economic development tools to identify the ones that have been successful. I am in support of creating jobs in St. Louis County and willing to support programs that will result in long-term job creation."
Pousosa said, "I oppose any tax increases, as tax increases stifle economic development. One of my opponents, Mr. Stream, served as chairman of the Missouri Budgetary Committee. Under his leadership just within the last year, he increased the budget by $1.5 billion. He then put the largest sales-tax increase in the state's history on the ballot. If passed, this sales-tax increase will hit every household from the poorest to the richest within St. Louis County. As … county executive, measures like these would be met with a veto by me.
"Businesses should have a simplified permit process to reduce steps needed between St. Louis County and municipalities to help foster business growth. Ending the pay-to-play environment will give new startups a chance to compete and new jobs for the community."
Stream said, "St. Louis County is at an economic crossroads. We are falling behind other counties throughout our region. We can continue to fall behind, or we can begin to remake our economy. With the right leadership and economic revitalization plan, I believe we can implement the right policies to create jobs and build long-term sustainable growth. I would look at measures that promote and drive long-term and sustainable private sector investment, identify innovative ways to build our venture capital infrastructure, and establish partnerships with our region's world-class universities that encourages and offers opportunities to our best and brightest college graduates. My administration would also work to streamline the permitting and regulation process to help our local companies."
Pousosa said, "I oppose the expansion of the MetroLink to south county. The people just passed a sales-tax increase in 2010 for that purpose. MetroLink just raised their fares on July 1. It seems that the taxpayer and the rider are both being gouged enough."
Stream said, "While I believe transportation infrastructure should be one of our most important economic development tools, I would have to see a viable MetroLink expansion plan that serves the best interest of the taxpaying public as well as our economic development priorities before encouraging any expansion to south county. MetroBus expansion is much less expensive and has greater flexibility."
Pousosa said, "I am supportive of all groups' efforts to make the decisions that are right for their own community. St. Louis County has not addressed the needs of the people, so they are looking for other solutions."
Stream said, "If elected county executive, I would immediately reach out to the group and identify ways to work better in collaboration. I do not believe it would be in the public interest to form a new county, nor would I believe it would be helpful in achieving what should be our main priority, which is to move our county forward and help people improve their lives."