Photos by Gloria Lloyd.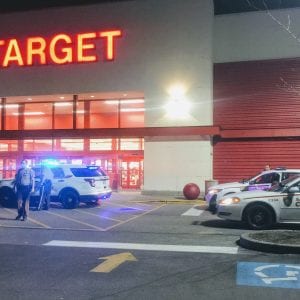 Police officers swarmed the south county Target store Wednesday night, but they were responding only to a fairly routine shoplifting call.
At least eight police cars and an ambulance from the Mehlville Fire Protection District were parked outside the Target store, 4250 Rusty Road, around 8 p.m. Wednesday.
Police took a pair of shoplifting suspects into custody at the scene, St. Louis County Police Department spokesman Sgt. Shawn McGuire said.
Shoplifting is fairly common at Target, the spokesman noted.
The large police response was not necessarily out of the ordinary since both the Affton Southwest and South County precincts are nearby, and the call probably went out to all cars so the police could bring the shoplifters into custody before they left the store, McGuire said.
"When it's an active stealing in progress, a lot of officers head that way to flood the area just in case the suspects make a successful escape," McGuire said. "So I have a feeling it was a perfect storm of time, location and other cars were available to head that way."