Planning panel recommends denial of Despotis' Court Drive proposal
Eight residents urge panel to reject Despotis' proposal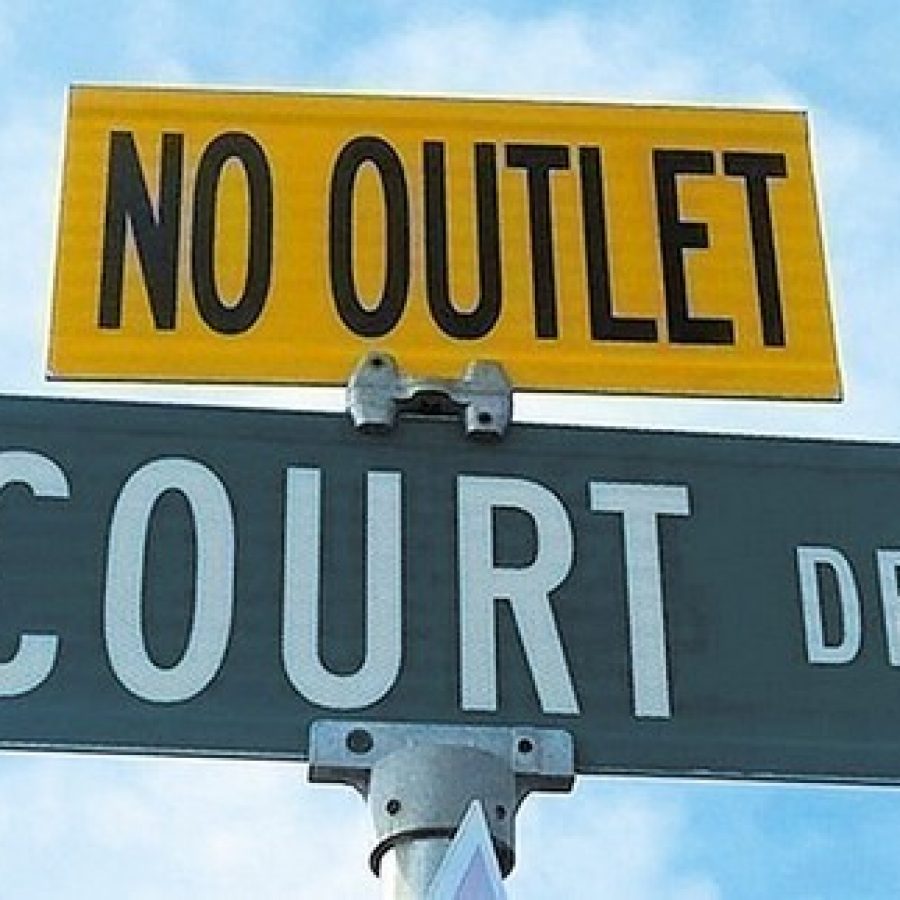 The Sunset Hills Planning and Zoning Commission voted last week to recommend the Board of Aldermen deny a proposal to construct attached homes and rezone 1.22 acres as commercial near Court Drive.
The commission voted 8-0 Aug. 2 to recommend denial of the proposal submitted by Dr. George Despotis of Des Peres. Commission members Brian VanCardo and Steve Young were absent.
Since 2011, Despotis has made several commercial and residential proposals to redevelop the Court Drive area that was ravaged by a category EF3 tornado with winds near 150 mph that ripped through the city on Dec. 31, 2010. All of Despotis' proposals have been rejected by city officials.
For his latest plan, Despotis is seeking a zoning change to PD-LS Planned Development-Lifestyle from R-2 Single-Family Residential 20,000-square-foot minimum lot size at 12471 W. Watson Road, 12406 Court Drive, 12412 Court Drive and 3851 S. Lindbergh Blvd. The rezoning request also includes parts of 12411 W. Watson Road and 3863 S. Lindbergh Blvd.
Despotis proposes to construct 15 single-family attached townhouses on 2.46 acres in a similar layout to the 20 attached duplexes and three-plexes previously proposed by Pulte Homes, which has pulled out of the St. Louis market. That proposal, which included a request for commercial zoning for a credit union, was rejected by the Board of Aldermen last spring.
In his current proposal, Despotis is seeking a zoning change to C-1 Commercial District from R-2 Single-Family Residential for 1.22 acres at the intersection of West Watson Road and South Lindbergh Boulevard for an unspecified commercial use.
Despotis owns parcels on South Lindbergh Boulevard and also has other parcels under contract.
At the commission meeting, the doctor was represented by Jim Hall of Hall + Associates, who said the credit union still could be the commercial tenant for the intersection at West Watson and South Lindbergh.
"We're still talking to them," he said. "We have a letter of understanding with them, but they may not be able to wait for us to get this zoning intact, so we're having to look for, again, more flexibility with the development of this piece and asking for just straight C-1 zoning …"
Regarding previous proposals for the area, Hall said, "… We acknowledge that the previous petitions for a solitary commercial use that we tried originally at the corner and for the combined residential and commercial property were denied by the city. But however, since we have had to re-evaluate how this property might be developed now in light of not having a comprehensive development partnership, we felt that we had to at least propose one more time for the sake of the alliance and for the sake of the other owners that are represented by Dr. Despotis — for Paul and Karen Cardwell, Harlan and Catherine Gast, Randy Gast (and) Lawrence and Janet Gnojewski — we felt we needed to make one more attempt to seek approval for what we feel is the highest and best use for this corner. Rather than a 20,000-square-foot single-family (lot) right at this intersection, we feel this would be the highest and best use and still give control to the city for how it's developed and protection for the existing residents …"
Given the city's previous denials of Despotis' proposals for the site, Vice Chairman Thomas Ortmann asked Hall, "I see what you want to do, I still don't understand why. What's wrong with what we have there now?"
Hall replied, "… This is all zoned R-2. It can only be developed with 20,000-square-foot single-family lots. We don't feel that's the highest and best use for the property. We feel that trying to put homes of that size and that price range right on Lindbergh Boulevard, we have an opportunity now through God's grace and will — the tornado came through and took those existing homes down — we didn't want to go back in and try putting back homes right on Lindbergh Boulevard …"
Despotis proposes access to the townhouses off West Watson Road and Court Drive, and Ortmann asked if permission had been obtained from Court Drive residents for that access.
Hall replied, "We would have to get approval from the trustees for Court Drive to actually make the connection … We feel that the connection would be a great planning opportunity and give the residents of Court Drive access to the signalized intersection here with directional turn lanes, as opposed to trying to pull out there on Lindbergh Boulevard every morning …
"If however, though, they did not want us to make that connection or would not approve that, then we would have to either have to provide a T-type turnaround here or a cul-de-sac in this area and not make that connection to Court Drive …"
Chairman Terry Beiter recounted that after the tornado, then-Mayor Bill Nolan established the Residential Recovery Task Force in mid-2011 to study the residential development of Court Drive and West Watson Road. After a series of meetings, the task force voted unanimously to recommend the Planning and Zoning Commission vote to amend the city's comprehensive master plan to allow for both single-family residences and attached housing on Court Drive and West Watson Road.
In November 2011, the Planning and Zoning Commission voted unanimously to accept the task force's recommendation, rejecting two proposals, including one by Despotis, that involved commercial uses for the area.
The chairman also noted that the city's comprehensive plan that was adopted last year calls for the Court Drive area to remain residential.
Eight residents voiced their opposition to Despotis' proposal during a public hearing, including former Ward 4 Alderman Robert Mayer, who served on the Residential Recovery Task Force.
"… The history says that should be residential. We told the people that we would fight for them for residential," he told the commission. "We have made their lives absolutely miserable over the last six or seven years by constantly coming back with programs to make that commercial.
"It does not deserve to be commercial. I encourage you gentlemen, please do not allow it to become commercial because if you do, it's going to make it easier in the future for other people to encroach in a similar manner. These people need to get on with their lives and they do not need any more of this that's been going on for the last five years …"