Passage of Mehlville School District's Prop R makes history, defies experts
Everybody will benefit from Proposition R, Haefner says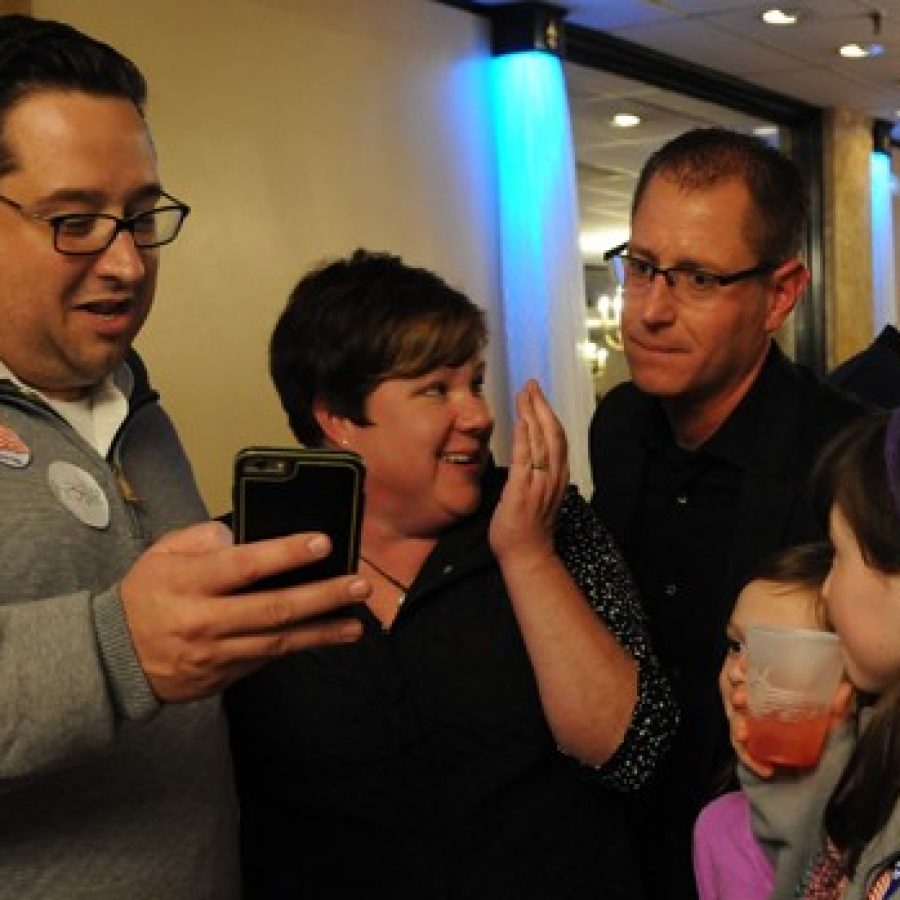 Experts said it couldn't be done, but a committee of volunteers made Mehlville School District history with last week's passage of Proposition R.
The 49-­cent tax­-rate increase passed on a one­-issue ballot Nov. 3 with 17,905 "yes" votes — 72.53 percent — and 6,783 "no" votes — 27.47 percent — according to unofficial results from the county Board of Election Commissioners. Campaign committee Mehlville-Oakville United, or MOU, raised more than $50,000 and scored one of the biggest victories in Mehlville history using only volunteers, organizer Dan Fowler said Nov. 3 at the Andre's South victory party.
"This committee did something that experts said could not be done," Fowler said. "The experts in the Mehlville School District that were consultants in the past had given up on Mehlville and said it couldn't be done. Tonight, without experts, we won this. We won it."
The decisive vote totals indicated that every district demographic voted yes — including senior citizens, Fowler added.
"And we let go of the myth that seniors in our school district do not support education," he said. "It is obvious tonight that they do. History was made tonight as our community said 'yes' to our schools."
As Oakville Elementary Principal Chad Dickemper left Andre's on election night, he said he couldn't wait to see his teachers' faces the next morning. OES teachers started a trend Nov. 4 when they lined the school parking lot at parent pickup holding "thank-you" signs. Hagemann Elementary teachers followed Nov. 5, and teachers at Wohlwend Elementary and Oakville Middle School joined forces Nov. 6 to stand along Telegraph Road and the driveway leading up to their schools with "thank-you" signs as parents arrived.
Students districtwide showed their appreciation at voters saving their schools from millions more in budget cuts in a thank-you video, and students at Point Elementary and Blades Elementary posed holding "thank-you" signs, along with Blades Principal Jeremy Booker.
Before the vote, Superintendent Chris Gaines outlined two paths for the district to take, and said he didn't want to take the second one, where he would have to make budget cut after budget cut.
With the $8.3 million from Prop R, Mehlville will hire 16 reading coaches, bring back tutoring and student clubs, buy new library books, textbooks and computers for the 1:1 laptop program that was cut this year.
Mark Haefner — son of Rep. Marsha Haefner, R-Oakville — was the most prominent Republican to endorse Prop R, and the veteran of south county elections said the "beyond believable" vote totals left him speechless.
"Let me tell you who won today: The 'no' voters won today. The 'yes' voters won today. The private school parents won today. The elderly won today. The parents of the district won today and, especially, our students won today," Haefner said. "Everyone is going to benefit from the passing of Proposition R."
Fowler and Gaines both credited the win to Joplin Superintendent Norm Ridder, who telephoned supporters at Andre's to congratulate the district and the crowd of roughly 300 on the win. Ridder served as the interim superintendent for Mehlville last year after the departure of former Superintendent Eric Knost, now at Rockwood.
Fowler also read a series of text messages from Knost, who texted "Two words: Slam dunk" when the first wave of precincts reported and then later added, "Three words, not two: Slam freaking dunk. Absolutely awesome. Very proud of the Mehlville community."