Parson appoints Schmitt to replace Hawley as attorney general
Gov. Mike Parson is appointing state Treasurer Eric Schmitt as Missouri's next attorney general, to replace Josh Hawley when he moves to the U.S. Senate in January.
Parson said in a news release after a press conference in Jefferson City Tuesday morning that he is "incredibly proud and pleased" to appoint Schmitt.
Hawley will resign office as attorney general effective Jan. 3.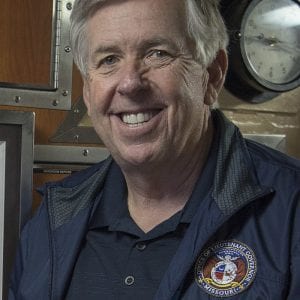 "It was important to appoint someone who has already been thoroughly vetted by the people of Missouri," said Parson, a Republican who took over as governor in June after former Gov. Eric Greitens resigned. "Eric is someone who I highly respect, personally trust and have full confidence to serve as Missouri's chief law enforcement officer."
Schmitt, a Republican from Glendale in St. Louis County, was elected state treasurer in November 2016 after being term-limited out of his seat in the Missouri Senate, where he represented a west county-based district that includes Sunset Hills. The district is currently represented by Andrew Koenig, R-Manchester.
The incoming attorney general said in a statement, "I want to thank Gov. Parson for the opportunity to continue serving Missourians as their attorney general and chief law enforcement official. Gov. Parson has been a truly outstanding governor for the state of Missouri who is moving our state forward on so many important areas for Missouri families.
"It is an incredible honor to be named the lawyer for six million Missourians, and I promise to fight each and every day so that the next generation of Missourians have the same opportunities I've enjoyed in the greatest country on earth. I believe everyone is granted the right to be treated equally under the law.  No matter who you are, what race or religion you are, your background, your creed – every single person is entitled to equality of opportunity and a fair shake under the law," said Schmitt.
Attorney General Josh Hawley showed his support and said in a statement, "Over the past two years, the men and women of the attorney general's office have taken on some of the most powerful forces in Missouri and across the country to defend the people of this state. We filed one of the largest lawsuits in Missouri history to hold accountable opioid manufacturers, fought the federal government to undo burdensome regulations on Missouri farmers, executed the largest human-trafficking raid in Missouri's history and launched investigations of the country's most powerful big tech companies. 
"The attorney general's job is to fight for Missouri families regardless how big or powerful the opponent may be, and I know Eric Schmitt will continue this important work," Hawley continued. "He is a constitutional conservative and has a proven record of standing up for taxpayers in the treasurer's office. I applaud his willingness and commitment to fight for Missourians as the next attorney general."
Schmitt was sworn in as the 46th treasurer of the state of Missouri Jan. 9, 2017. During his time as state treasurer, Parson's office said in a news release that Schmitt has protected Missouri taxpayers, supported small businesses, and empowered individuals and families while overseeing the state's $28 billion budget.
Schmitt attended DeSmet Jesuit High School and continued his education by graduating cum laude from Truman State University, where he founded a Habitat for Humanity chapter. After graduation, he attended law school at St. Louis University where he received his J.D. and served as an editor of the Law Review.
Schmitt's record of accomplishments serves as a reflection of his values and leadership. During his time as an alderman for the city of Glendale and his two terms in the Missouri Senate, he worked to cut taxes for working families, improve educational opportunities for Missouri children and advocate for those with special needs, the governor's news release stated.
Schmitt and his wife, Jaime, have three children: Stephen, Sophia and Olivia.