Panthers falter against Eureka in 57-33 loss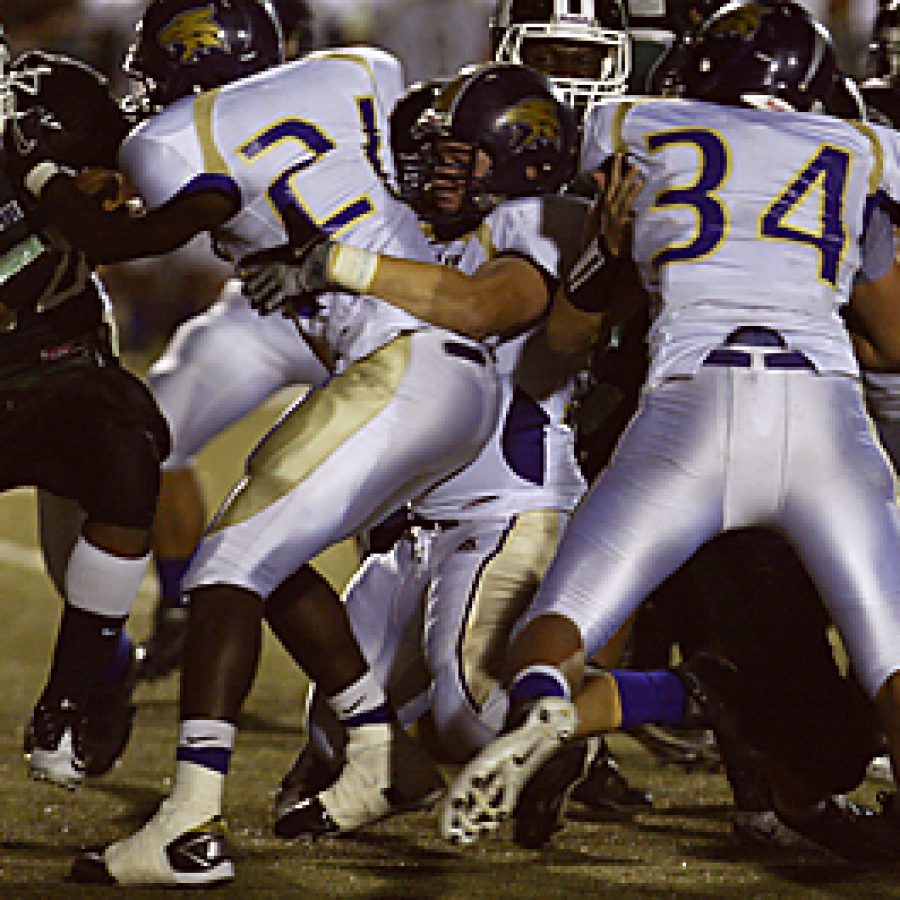 The Mehlville Senior High School football squad fell 57-33 to Eureka in its home opener Friday despite coming off a strong win in the season opener against Northwest.
"We played a good football team in Eureka," Mehlville head coach Eric Meyer told the Call. "We got worn down a little bit. They did a real nice job. We had some good performances … We just have to come back next week and get better."
Offensively, the Panthers (1-1) were outmatched as Eureka racked up 299 yards rushing and 274 yards passing.
"They made some plays," Meyer said. "That's just the way it works sometimes."
Scoring for the Panthers were Michael Sulya with a 19-yard reception in the first quarter, Chase Brown with a touchdown run and Brandon Zufall with two field goals in the second quarter. Then it was Brown again with another in the third quarter with a 13-yard reception.
Meyer said his offense handled the ball pretty well, but it wasn't enough to bring home a victory, citing the field goals as a missed opportunity.
"We made some mistakes and we had to kick too many field goals. We kicked two field goals. That's eight more points," he said.
Mehlville did get things rolling with its passing game as quarterback Jeff White completed 6 of 14 attempts for 78 yards — an average of 13 yards per reception. But the Panthers' ground assault still was the predominant method of attack with 43 plays for 289 yards — an average of 6.7 yards per carry.
"Overall, I think we ran the ball pretty well," Meyer said.
Brown leads the Panthers in rushing yards this season with 236 on 24 plays — an average of 9.8 yards per carry.
Defensively, Meyer said, the Panthers will have to look at the game film and take a closer look to see what opportunities can be identified.
The Panthers will need to be ready when they go head to head against Lafayette (2-0) Friday night. The Lancers beat Eureka in their season opener and finished off Lindbergh in overtime last week.
"They beat Eureka (Aug. 26), so we know they are good," Meyer said of the Lancers. "We'll evaluate the film and go from there. I know they are a good football team."