Panthers defeat Parkway South 30-10; Mehlville notches third straight victory
Mehlville High football team to tackle SLUH Friday night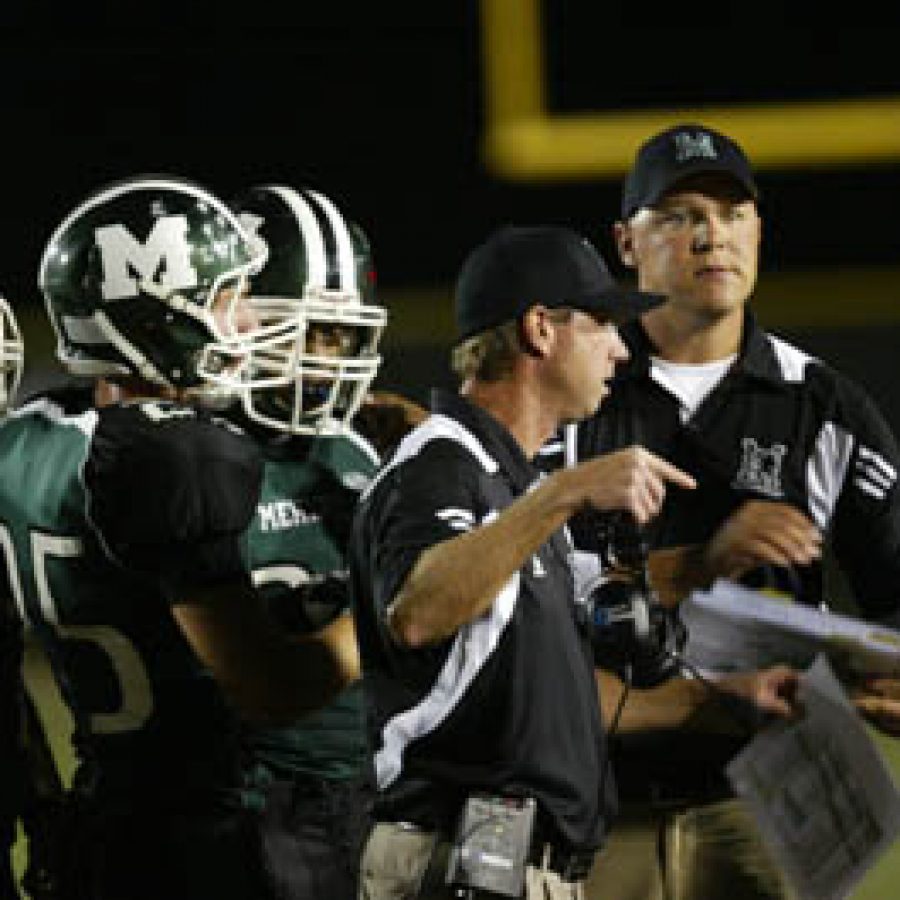 The Mehlville Senior High School football team extended its winning streak to three games as the Panthers defeated Parkway South 30-10 Friday night in their homecoming game.
The 4-3 Panthers were fired up as they tore through the homecoming banner when they took the field. It didn't take long for that fire to turn into a blaze as Mike Sulya scored a touchdown in each of Mehlville's first two drives.
Mehlville head coach Eric Meyer said he was happy with the turnaround he got from Sulya after Sulya suffered a minor injury in last week's game.
"Mike Sulya had two short passes that he turned into huge plays," Meyer told the Call. "The second one he broke two tackles. That was just will. Then he just took off like a jet. So I'm really proud he was able to come back after his injury and make plays for us.
"I think it set the tone for the whole game. I think it kind of caught them off guard a little bit. It's tough to come back after two big plays like that. You feel like you're doing your job and they take you for a touchdown," he added.
Mehlville quarterback Jeff White, who threw for 153 yards with eight completions in 12 attempts, agreed that getting ahead early was a major factor in the contest.
"It was big plays early definitely, because we broke a couple plays. We all have our heads up and everybody's confident," said White, a senior.
That scoring started for the Panthers early in the first quarter after a quick three and out against the Patriots, who received to start the game. Sulya had his first touchdown on a 68-yard pass from White at 8:55 in the first quarter.
Sulya followed with his second touchdown on almost identical play — a 53-yard pass from White at 3:21.
In the second quarter, Mehlville's Brandon Zufall kicked a 34-yard field goal at 6:34.
The Patriots then tallied their own field goal as Eric Laurent kicked one for 20 yards at 1:52.
Mehlville's Patrick Partee had an exciting 89-yard kickoff return to start the second half at 11:30 in the third quarter.
The Panthers were silenced for the rest of the quarter, but added another touchdown in the fourth quarter by Dwayne Lewis on a 1-yard run at 10:13. The Patriots answered that when David Olderman brought in an 84-yard pass from Laurent at 9:00. That was the last score of the night.
The offense certainly had a big game, but the defense — with exception of a couple nail-biting situations in the third quarter —had a pretty good night as well.,
"The defense played well," Meyer said. "Dan Kerckhoff had a real good game and I think our linebackers really stepped up later on and really made some big plays and shut down the offense."
It was a good night for the whole team, which is what the Panthers need as they head into district play this week against St. Louis University High School.
White said the win was a huge boost for the team.
"This is awesome going into districts like this," White said. "You know, it's homecoming and everybody is here and it's just so cool going into districts. It couldn't happen at a better time."
The Panthers have faced plenty of adversity this season with injuries, according to Meyer, but they haven't let that get in their way of a having a winning season.
"We're banged up, but you know what, we've been banged up all year and we'll just keep working at it and put some other guys in positions and just keep going," he said.
Panther fans also will keep an eye out for star running back, linebacker and kicker Zufall, who was injured late in the third quarter Friday.
"I don't know. It didn't look very good," Meyer said of Zufall's injury. "He's been banged up every week for the last three weeks. If there is any way he can play, he'll be out there."