Page: Stenger staff out, Dooley's back in
By Gloria Lloyd
News Editor
glorialloyd@callnewspapers.com
New County Executive Sam Page started his first day in office last week by asking nearly all of former County Executive Steve Stenger's employees to resign by the end of the day.
He also pledged to appoint entirely new members to the board of the St. Louis Economic Development Partnership, which featured heavily in the federal corruption charges Stenger admitted to. The council already created its own Port Authority with a new board.
Although the county executive doesn't directly appoint the county police chief, Page will appoint the Board of Police Commissioners, which hires and fires the chief. He and Police Chief Jon Belmar have disagreed since last year's budget cycle how to spend Proposition P funding, but Page said last week of him and the council, "Being police chief is a very difficult job, especially in St. Louis County. I think he's done a good job with some very difficult situations…. I think that we've all had a good relationship with the chief."
As for county Auditor Mark Tucker, who Stenger accused of not knowing how to audit and not completing a single audit in two years, Page said the council will decide whether to keep him on, but "he still has my confidence."
Page's new staff did not provide an official list of resignations from Stenger's staff or Page's new hires by The Call's press deadline.
Among those forced out were County Counselor Peter Krane, Chief of Policy Jeff Wagener, Chief of Operations Glenn Powers, county Communications Director Cordell Whitlock — who Stenger called the "face of St. Louis County" — and advisers Tom Malecek and Michael Benoist. Two advisers, Chief of Staff Bill Miller and Director of Strategy Lance LeComb, had already resigned in the days before the indictment. Attorney Patti Hageman, who served as an adviser since February, resigned 20 minutes before Stenger Monday morning.
Parks Director Gary Bess resigned Friday, and parks employee Lou Aboussie was fired. He had been named in the subpoena.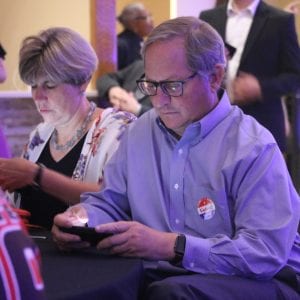 Stenger's longtime assistant Linda Henry and longtime Director of Intergovernmental Relations Tom Curran were already planning to retire before the indictment.
To keep county government running, Page said he brought in Dooley's former Chief Operations Officer Garry Earls on an interim basis, along with former St. Louis City Counselor Winston Calvert as chief of staff and, as director of operations, Mike Chapman — who once held that role for Stenger and was named in the indictment as leaving over disagreements with how Stenger was operating county government. Chapman, a Republican who had served as the legislative assistant for former 3rd District Councilwoman Colleen Wasinger, R-Huntleigh, before taking the job with Stenger, returned last year as Wasinger's assistant before she left office Dec. 31.
Earls didn't leave his position with Dooley universally loved by St. Louis County residents, and Page emphasized that Earls will be working on an interim basis to help transition to a new COO because "he's good at what he did. He did ruffle some feathers, but I think he'll be good in a situation where we need to get the county government running again in the right direction."
He added as a response to any Earls detractors, "Some of the people that were critical of him have seen what's happened since he's been gone and said they wish they had him back."
Some department heads appointed by Stenger like Human Services Director Andrea Jackson-Jennings and Director of Revenue Gregory Quinn survived until Wednesday, when they attended the county Charter Commission, of which they are members. Wagener resigned his seat on that panel in addition to his county job and Partnership seat. And Budget Director and acting Administration Director Paul Kreidler appeared to still be on the job.
The lone survivors among Stenger's cabinet were aide Paul Hampel, who worked in communications for Stenger and will now be part of Page's team, and communications coordinator Ellen Lampe, who just took the job in February. Heading up communications for now will be Doug Moore, a former Post-Dispatch reporter who took a position as the council's policy adviser a month ago, just a day before the subpoena was delivered to the county. Hampel is also a former Post-Dispatch reporter.