Page appoints two new police board members after $20 million discrimination verdict
By Gloria Lloyd
News Editor
glorialloyd@callnewspapers.com
St. Louis County Executive Sam Page promised all week that he would appoint new members to the county Board of Police Commissioners Friday, and he followed through by announcing two new appointments, including a former Missouri Supreme Court chief judge and an attorney.
Page nominated Judge Ray Price and Michelle Schwerin, who will still have to be confirmed by the County Council. Pending approval, they will fill the vacancy created by former police board Chairman Roland Corvington's resignation Monday and replace current board member Laurie Westfall, the widow of the late County Executive Buzz Westfall. Both Dooley and Westfall had been appointed to the board by former County Executive Charlie Dooley. As of Friday, all the current four members of the five-member board are serving on expired terms.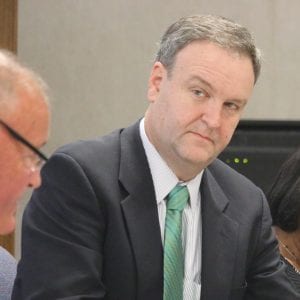 The nominations capped a week in which a jury handed down a $20 million verdict against the St. Louis County Police Department after a five-day trial in which Oakville resident Sgt. Keith Wildhaber alleged that he was discriminated against by top brass in the force because he is gay.
Over the weekend, Page first signaled that he was looking to make changes to police leadership "at the top," implying Chief Jon Belmar, by appointing new police board members. But a few days later, Page said that he expects that Belmar will be around to lead the change at the Police Department.
The civilian-led police board's most important duty is to hire and fire the police chief. In the past, that has led to discord over appointments to the board, when a series of proposed appointments by Dooley fell through because former County Executive Steve Stenger, then a councilman, said that Dooley hoped to fire then-Chief Tim Fitch, who is now a councilman.
Laurie Westfall is only the third member in the more than 50-year history of the police board who is a woman, according to the photos of past members posted on the wall of the police board room. If approved, Schwerin would be the fourth woman to ever serve on the board.
"These selections were made with great care and consideration over the course of several weeks," Page said in the announcement. "I am confident Judge Price and Ms. Schwerin will help lead the department toward an even safer and more inclusive St. Louis County."
Asked after the County Council meeting Tuesday what qualities he was looking for in new police board members, Page said, "I think that they should have experiences that are important for people to be on the police board. They should reflect the diversity of our community and diversity of experiences."
But he said that didn't necessarily mean that the current board does not reflect those qualities, just that it's time for new blood: "I think that the current police board has served, a lot of them for many years, a lot of them on expired terms, a lot of them over five or six years, and it's always a good idea to think about bringing new ideas and new talent to any organization."
Price is a partner at Armstrong Teasdale LLP. He served the longest term of any judge in Missouri Supreme Court history, serving two terms as chief justice. He championed the development of drug courts and criminal sentencing reform. Price also served on the Kansas City Board of Police Commissioners.
Schwerin is an attorney and certified public accountant. As a shareholder at the Capes Sokol law firm, Schwerin specializes in complex civil tax examinations, appeals, litigation and criminal tax investigations. She is an adjunct professor at Webster University, where she teaches in the Master of Forensic Accounting program. Schwerin also serves on the St. Louis Jewish Community Center's Board of Directors.
"These appointments are the beginning of a critical transition period," Page added in his news release. "We will continue implementing serious and thoughtful changes in coming weeks."