Oakville's Pressler goes the distance in 7-4 win over Lindbergh High School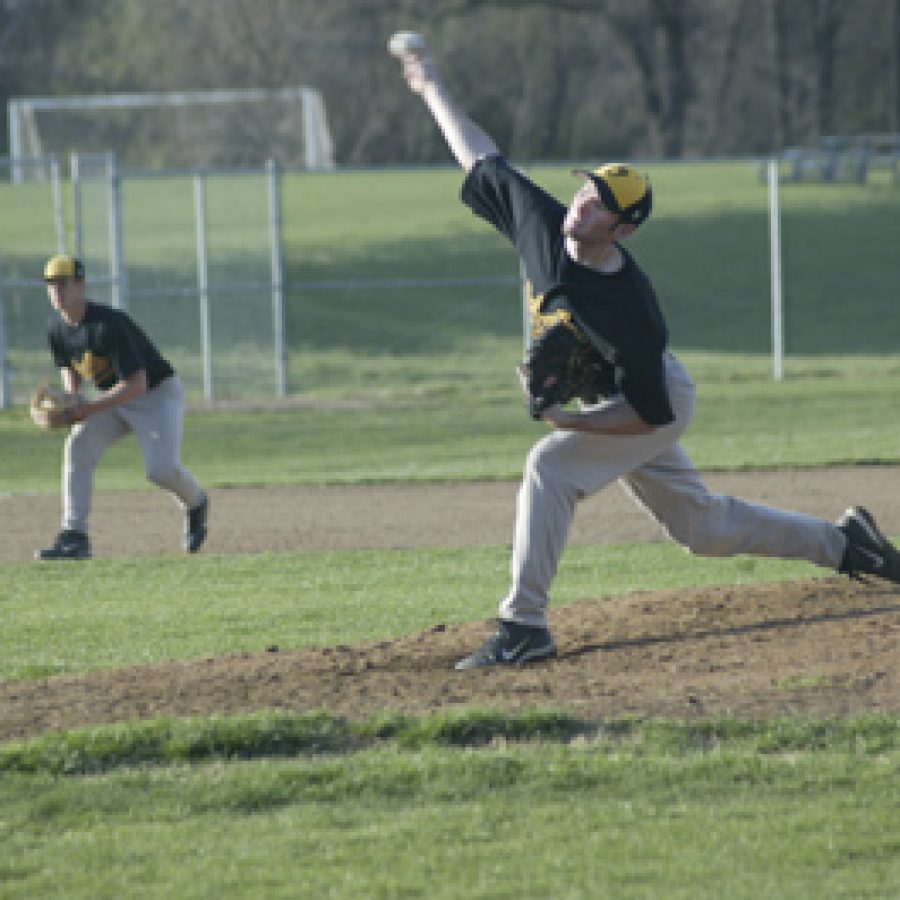 When the Oakville and Lindbergh high school baseball teams faced each other Friday afternoon, much more than bragging rights were on the line.
The meeting between the two schools also would decide which team would move into the third place in the Suburban West Conference.
Oakville (2-4, 2-1 Suburban West) opened the season with a three-game losing streak, dropping four of its first five games.
Lindbergh (4-2, 1-1 Suburban West), on the other hand, was riding a four-game winning streak and was looking to stay atop the conference standings.
But one run in the bottom of the fifth inning and two runs in the bottom of the sixth inning sealed the deal for the host Tigers as they defeated Lindbergh 7-4.
"It was a good win for us," Oakville head coach Rich Sturm told the Call. "We were trying to right the ship against a formidable opponent and I think that we're getting better. That's the key in that we've been staying positive."
Oakville starting pitcher Matt Pressler went the distance, giving up four runs on six hits in seven innings pitched. The senior hurler also walked one and struck out five in his first win of the season.
"The first three batters up got on base, but Matt did a good job at settling down," Sturm said. "It's what you would expect a senior to do."
The loss for Lindbergh was tough to take after suffering from errors and not being able to drive in runners who were in scoring position.
"We've had a pretty good start to the season," Flyers head coach Darrin Scott told the Call. "We had a lot of timely hitting and we had guys executing with runners in scoring position. The Oakville game boiled down to us not executing with runners in scoring position."
Lindbergh starting pitcher Bryce Snelson took the loss, giving up seven runs on 10 hits in five innings pitched. The sophomore also struck out six and walked one in his first loss of the season.
"This was Bryce's first start in the conference and it's going to be a learning experience," Scott said. "He's got a lot of tools to be a dominant pitcher and he pitched well enough to win. We just didn't have enough timely hits and didn't play good defense."
Oakville center fielder Adam Boyer had the strongest day at the plate with three hits in four at-bats. The senior brought up his batting average to .318 and also stole his fourth base of the season.
"Adam is locked into our leadoff spot because he can really work the count," Sturm said. "Friday was by far Adam's best game of the season."
Lindbergh outfielder Jon Meyer nailed down two hits in three at-bats, recording one double and one run batted in. The junior is holding a stout .500 batting average with five runs batted in.
"Jon's one of our most consistent players at the plate this year," Scott explained. "He's done a really nice job at executing and we're looking for him to continue that for the rest of the season."
The Tigers are back in action at 4:15 p.m. today — April 13 — when they play host to St. Mary's in a non-conference game. Both St. Mary's and Oakville are in the same district this season.
The Flyers also are back in action this week as they play in the Midwest Classic at C&H Park in O'Fallon. The Flyers will take on host Francis Howell at 10 a.m. Friday and then Truman High School of Independence after the Francis Howell game.