Oakville Tigers seal playoff spot by rolling over Seckman 48-21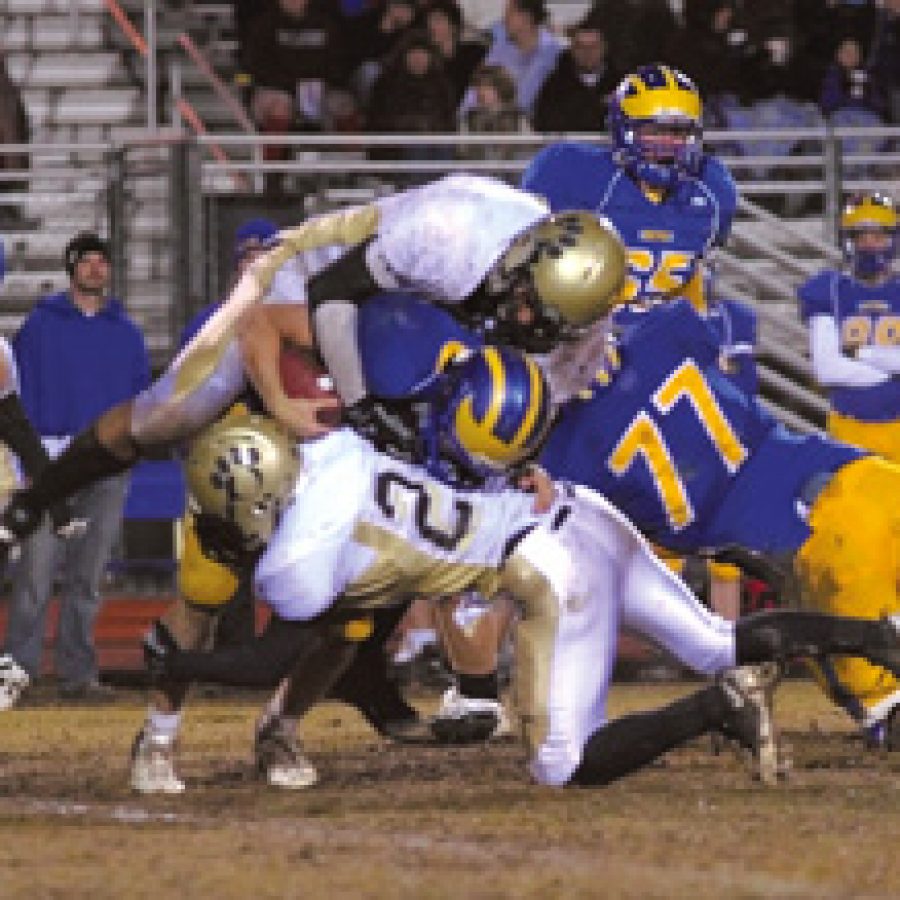 Over the past two weeks, the Oakville Senior High School Tigers have proved that only the final three weeks of the football season matter and the regular season means absolutely nothing.
Oakville (2-7, 1-6 Suburban West) sealed its bid for a spot in the Missouri Class 6 football playoffs with a 48-21 win Friday night over Seckman (0-9, 0-6 Mississippi Area Red) in District 1 action. The Tigers have benefited from playing in possibly the weakest district in the state with a combined record of 10-26 and Fox being the only school with a winning record at 7-2 overall.
"This was a game that I thought we should win, but we had to come out there and play well," Oakville head coach Arlee Conners said.
The Tigers jumped out to a 7-0 lead when quarterback Joe Plassmeyer connected with Paul Taylor on an 81-yard pass with 5:36 left in the first quarter. Kicker Ben Hoffmann recorded the point-after touchdown, or PAT. Plassmeyer completed nine of 13 passes for 332 yards and three touchdowns.
"Joe continues to pretty much carry this team," Conners said. "To his credit, he's stayed focused and is turning into a pretty good quarterback."
Taylor recorded three receptions for 131 yards and one touchdown in the win.
Oakville extended its lead to 14-0 on a 68-yard pass from Plassmeyer to Lavelle Boyd with 4:30 left in the first quarter. Boyd led the Tigers with three catches for 148 yards and two touchdowns in the victory.
"Lavelle's another guy that we use all over the place," Conners said. "What we need out of Lavelle now is a little more consistency. He's just got to be more consistent."
Seckman got onto the scoreboard late in the first quarter when Tyler Fisher grinded in a nine-yard run. Kicker August Burgert recorded the PAT to trim Oakville's lead to 14-7.
The Jaguars tied the score at 14-14 when quarterback Kyle Fisher hit Tyler Fisher for a 26-yard pass with 5:15 left in the second quarter. Burgert racked up the PAT on Seckman's second touchdown of the game.
Oakville regained the lead nearly four minutes later when Plassmeyer blasted in a one-yard run. Hoffmann's PAT gave Oakville a 21-14 lead.
The Tigers extended their lead to 27-14 when Taylor intercepted a pass by Kyle Fisher for a 55-yard return for a touchdown with :03 left in the first half. Oakville went up 29-14 when Mike DeGuire hit Drew Schmidt for a two-point conversion.
"That was an interesting play because we were surprised that they threw the ball that late in the half," Conners said. "Paul was at the right place at the right time."
Darrion Moore gave the Tigers a 35-14 lead when he busted out a 50-yard touchdown run with 10:46 remaining in the third quarter. Moore carried the ball 15 times for 167 yards in the win.
"Darrion's starting to come along, too," Conners said. "I think he's starting to grow up and right now, the sky's the limit for him."
The Tigers extended their lead to 41-14 when Plassmeyer hit Boyd for a 35-yard pass with 2:39 left in the third quarter.
Moore tallied his second touchdown of the evening midway through the fourth quarter when he scored on a two-yard run.
Hoffmann's PAT gave Oakville a commanding 48-14 lead.
But the Jaguars would not be silenced in the fourth quarter as Tyler Fisher rocketed to a 60-yard touchdown run with 7:47 left in the game. Fisher burned the Tigers for 23 carries and 217 yards in the loss.
The Tigers return to action at 7 p.m. Friday evening when they play host to Fox (7-2, 6-0 Mississippi Area Red).
"Fox is a very confident team right now," Conners said. "They've got a good group of kids up front and play real solid defense. They've been playing well all year long."