Oakville Tigers overwhelm Panthers 63-14
Oakville High football team will face Flyers Friday night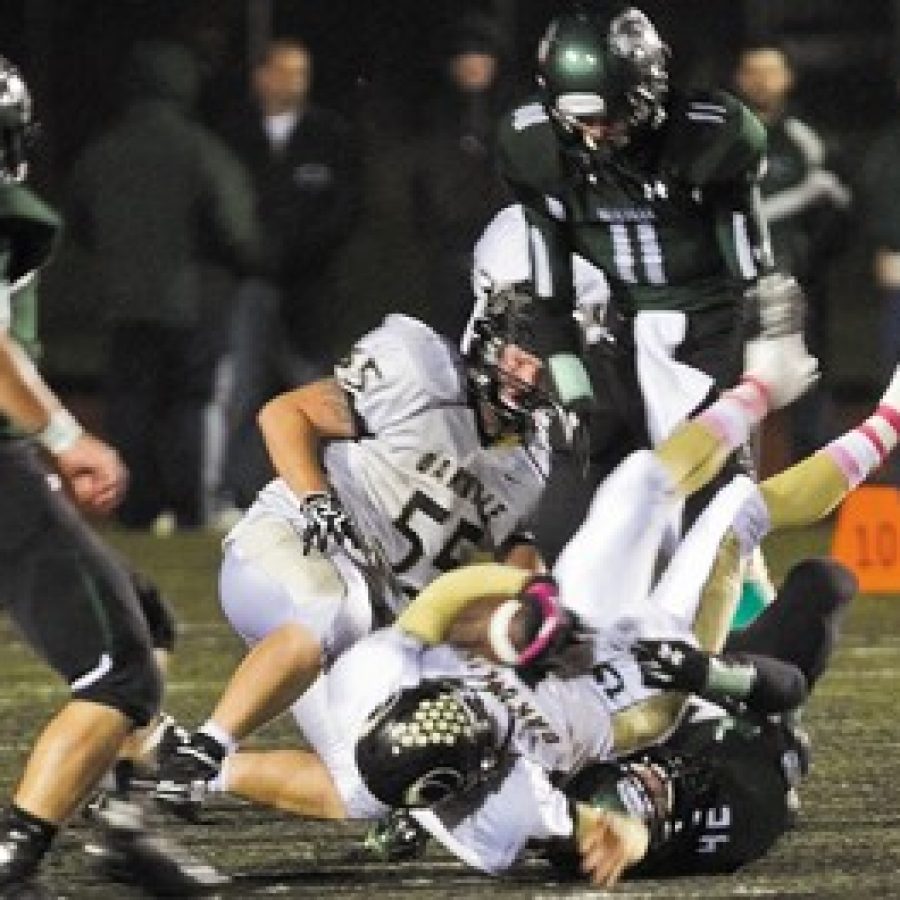 Friday's Suburban West N Conference varsity football matchup between rival high schools Mehlville and Oakville proved to be a mismatch as the Tigers knocked the wind out of the Panthers, defeating them 63-14.
Oakville, now 4-4, has been on a roll lately, winning four of its last five games.
Oakville head coach Arlee Conners said his team's success against Mehlville, now 2-6, was a result of contributions from the entire team.
"We were pretty much clicking on all phases as far as offense, defense and special teams," he told the Call. "We got a good contribution out of every unit. Special teams pinned the ball inside the five-yard line a few times and got a kickoff return for a touchdown.
"Defensively, we intercepted about three or four passes and got a couple fumble recoveries … Offensively, we were able to capitalize on those opportunities that the defense and the special teams created."
The recent success the Tigers offense has been enjoying, after a slow start to the season, is because of teamwork, according to Conners.
"We've been harping on guys to execute their assignments and that the guys have got to trust one another, and we are starting to see that," he said. "We are starting to see guys going out there and making plays and doing things they weren't doing earlier in the year.
"And that's been a big difference — guys making a total commitment to team effort and just trusting one another."
The Panthers have been struggling this season and were looking for a victory against their biggest rival, but costly mistakes and a potent Oakville offense provided a different result.
"We gave them a short field pretty much all night," Mehlville head coach Kent Heinemann told the Call. "We didn't punt the ball very well. We didn't field punts very well. We made mistakes back on our own end.
"They are super athletic — more athletic than I had thought they were even from film. They are a pretty impressive team."
Heinemann believes the No. 1 lesson his players should take away from the loss is the need for consistency.
"… The kids at some point need to realize that these mistakes are costing us. "We've got to be more consistent," he said. We'll come out and do some good things, and it's one blown coverage or one missed tackle or one missed block that seem to just kind of kill their momentum.
"Like I said, there's times where we do things pretty well, but we're having a hard time throwing the ball right now … That's making teams load up the box, which makes it a little more difficult to run, but we just got to fix mistakes and be more consistent."
Oakville will face the Lindbergh Flyers Friday night. The Flyers have the same 2-6 record as the Panthers, but Conners said he expects it to be a tough game.
"They are a good team," he said of Lindbergh. "I know their record doesn't show that, but they've played some tough teams … They have some good players that can do good things for them, and it will definitely be a hard-fought battle for us."
On Friday, Mehlville will travel to Pattonville for a matchup against the 5-3 Pirates.