Oakville spikes Mehlville in volleyball contest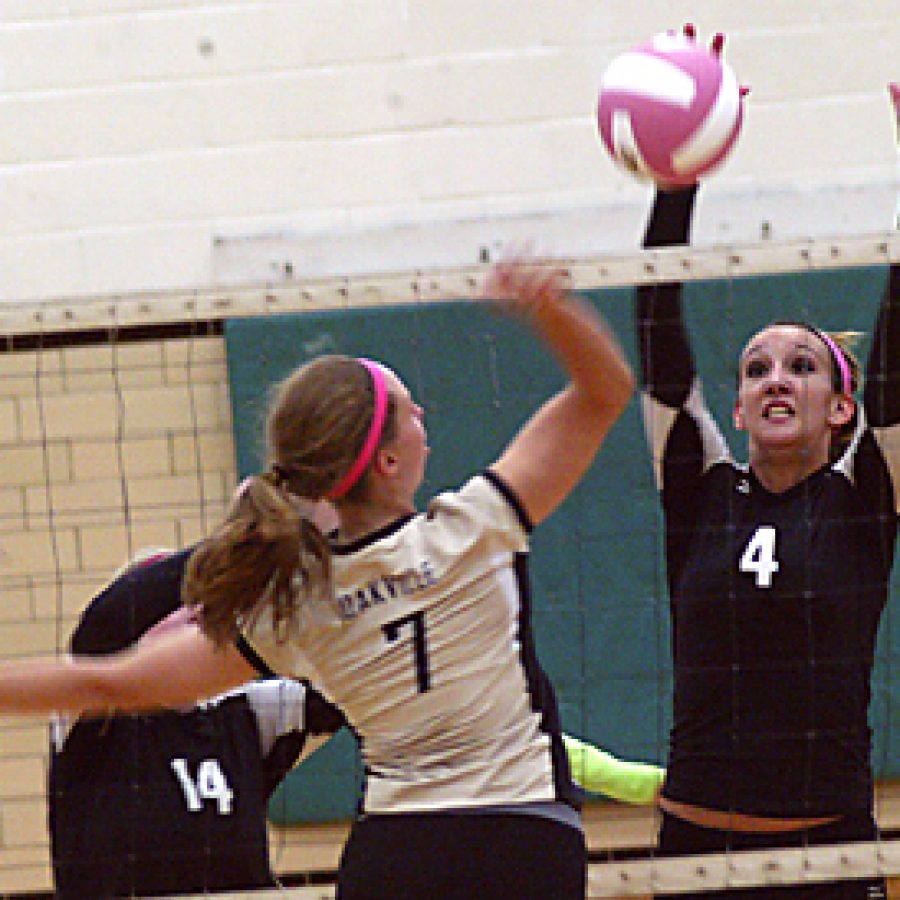 The Oakville and Mehlville senior high school volleyball teams both warmed up in pink and sold T-shirts to support breast cancer awareness during their matchup last week at Mehlville.
This tradition, started by the two teams last year, did not stop the Tigers from drawing blood as they defeated the Panthers 2-0 — 25-12 and 25-10 — in the Sept. 22 contest.
The Tigers, now 11-3 — after going on to take out Lafayette Friday — executed their game plan, according to head coach Morgan Lucas.
"Overall, I'm very happy … We tried to work on running some different things after that first game," she said. "So we worked on that the second game. We looked good.
"We were running some quicker plays, mixing it up. So I was happy about that."
The Panthers, led by head coach Susan Hurt, are 4-10-1 on the season. She said her squad just couldn't get in sync during the contest.
"We were off. We were a step too slow defensively," Hurt said. "We weren't getting to the blocks fast enough. My centers weren't getting to the ball quick enough.
"We just weren't there. We've been playing day after day. We play Tuesday, Wednesday and Thursday with no practice. You can't really work on stuff. You can only work with them so much timewise … We were not in sync tonight at all."
The Tigers have had success all season long and Lucas attributes much of that to depth and experience.
"Not only do we have a talented group of kids, we have experience," she said. "I only lost one senior last year. We lost three games this year. We need to learn to finish and we wouldn't have had three losses, but definitely experience is huge for us this year. I think it's a big asset having kids that had varsity experience when they were sophomores and juniors last year."
Passing also is a big component of the Tigers' success and Lucas says it will be key to keep them rolling into the playoffs.
"We've talked from the beginning of the year (that) we have to pass well. You've got to pass to play well," Lucas said. "When we pass well, it opens up the middle and works really well for us, and the games that we did lose, we didn't do that. When our passing is on, I think we can compete with anybody."
The Panthers, on the other hand, had some success early in the season but weren't able to keep that momentum. That edge is needed to buy the Panthers some time to recover from some key losses suffered at the beginning of the season.
"There's a little bit more competition now than at the beginning," Hurt said about the early season wins. "I still have a freshman who's green in the middle and we are just not in sync. We had two players quit right before the first week of the season. One of them was a starter, so we were bringing people up. By now, they should have it. It shouldn't be a problem, but it is."
The Mehlville coach also said she wants to see more "competitiveness" from her squad.
"We have a problem with when we get behind in points (and) they drop their heads," she said. "They say they want to win, but I don't see it out there."