Oakville softball team defeats Mehlville to end regular season
No. 1 Tigers ready to begin postseason play Friday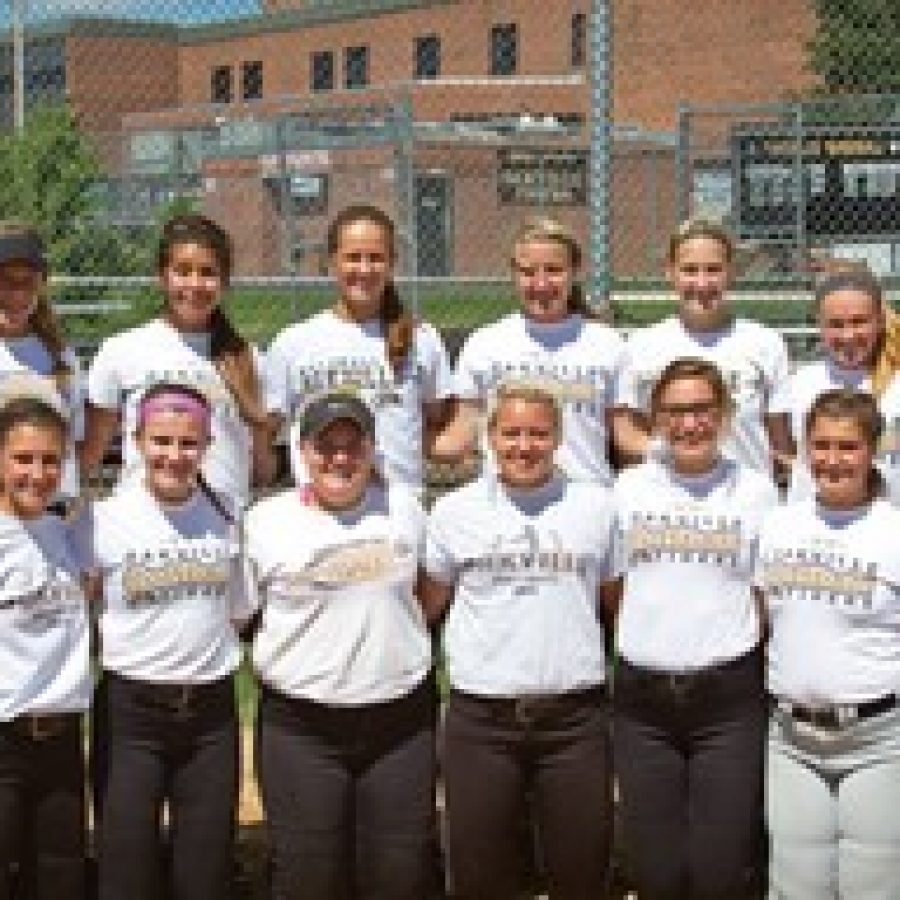 After suffering three rare losses in a row to De Soto, Eureka and Kirkwood, the Oakville Senior High School varsity softball team rebounded with a 9-1 victory over Hillsboro last week in its second-to-last, regular-season game.
Members of the Oakville team came into the game wanting to regain their winning form, according to head coach Rich Sturm
"I think the mindset was just trying to get back on track. We played three pretty good teams, three of, arguably, the top pitchers in the metro St. Louis area," Sturm told the Call. "We had to clean up various aspects of our defense (and) find a way to get some timely hits, which we didn't get against those three kids in those three games.
"So, against Hillsboro it was more of a matter of trying to regain a little bit of confidence and focus at the plate, have some better at bats, a better game plan as far as what we were trying to do, and then clean some things up on the defensive end."
Sturm continued, "… It was just a much-better-played game for us than what we had had, and anytime you play Hillsboro down there (at Hillsboro), they're a good team, a good program. So it was kind of good just to kind of get things back on track."
After defeating Hillsboro Oct. 1, the Tigers took on their closest geographic rival, the Mehlville Panthers, on Monday, ending the regular season on a high note with a dominating 14-3 victory and a 21-4 record.
The Tigers are No. 1 in the Suburban West N Division and are set to begin postseason play this Friday. Their opponent had not been determined as of Tuesday night.
Oakville has been a dominant force in its conference and in the postseason for the past several seasons. After winning the state championship in 2010, the Tigers have had the potential to repeat every year since.
Last season, the Tigers fell to Eureka, which has made it to the state quarterfinals the last three seasons.
All the ingredients are there for his 2014 squad, but sometimes a little luck is needed, too, according to Sturm.
"I think each year since 2010 we've had some very good teams," he said. "I feel like each year we've had good senior leadership … There's a couple of things — one, you have to be good to advance in the state playoffs. The second part of that is you've got to get some breaks, and in 2011 and 2012 the talent was there, but we didn't get the breaks that we needed."
Talent and luck are arguably two very important factors in the outcome of the team's playoff fate, but there is another key component to that, Sturm said.
"… The second part of that is the drive, the leadership, the intent and the purpose of the team," he said. "There's got to be intent and if you face a little bit of adversity in a state playoff game — knowing it's single-game elimination — how tough are you going to be to overcome that?
"inevitably, in the close playoff games both teams are really very good, so sometimes it comes down to which team blinks first.
"And sometimes it comes down to who gets a break … You've got to have talent. You've got to have some luck, and like I said, it takes a motivated senior group and that I know for sure we have. We have a very good senior group that's very motivated and very talented, so it's our goal and our aim to keep this thing rolling for as long as we can in October."