Oakville prevails over Mehlville 35-23
Tigers propel themselves to second straight comeback win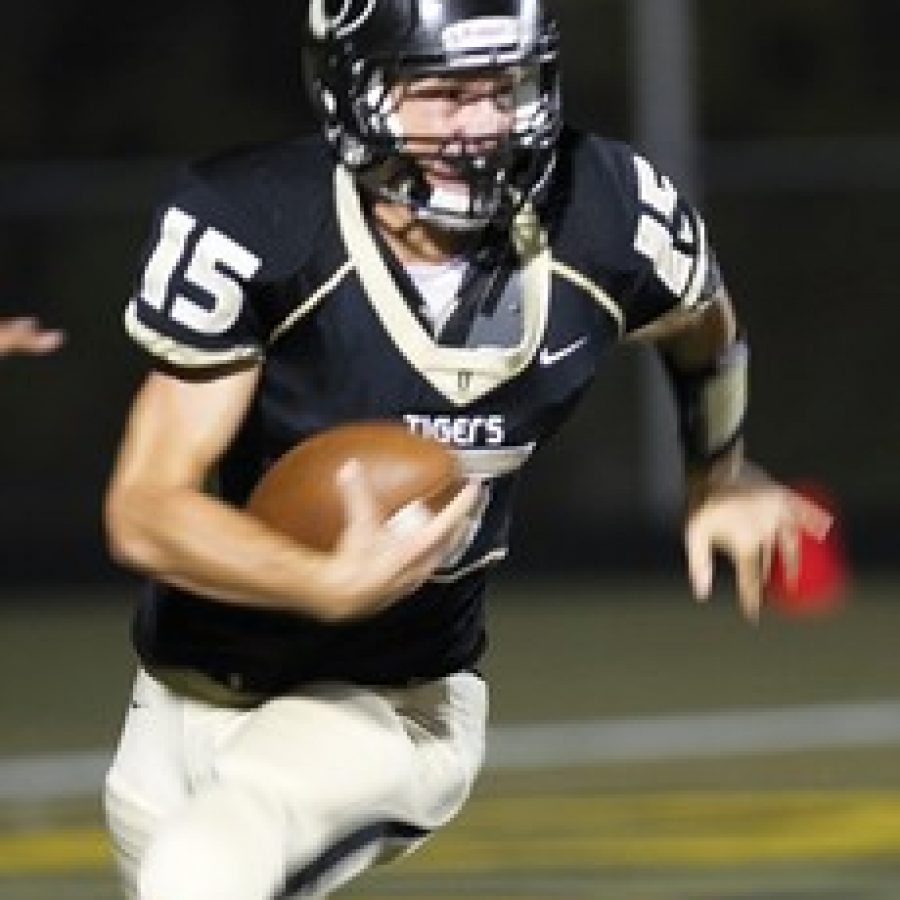 For interdistrict conference rivals — the Oakville and Mehlville senior high football teams — Friday night's contest between the two was all about momentum.
The 4-3 Tigers came into the game with some momentum following their come-from-behind win the week before over Fox High and were searching for more, while the 3-4 Panthers were riding a three-game winning streak and carried that momentum into the third quarter against Oakville.
But it was the Tigers who pulled away from the Panthers in the fourth quarter for a 35-23 victory and their second straight comeback win.
The Panthers started the scoring in the second quarter with a safety at the 11:17 mark, but not before saving themselves from some self-inflicted damage in the first quarter.
"We made some mistakes early that we were able to overcome," Panthers head coach Kent Heinemann told the Call. "We put ourselves in some tough situations, but we were able to delete those."
The safety didn't hold up long as Oakville's Carvon Robinson brought in 25-yard run for a touchdown at 8:28 of the second quarter.
But Mehlville answered right back and in dramatic fashion with a 16-yard fumble recovery return by Matt Mik at 7:25.
Kyle Hearn answered for the Tigers with a 9-yard run with about two minutes left in the half, but their lead would only last a few seconds as Mike Mik brought home an 87-yard kickoff return to send the Panthers to the dressing room with a 17-14 lead.
Both teams went scoreless in the third quarter, but the Tigers were led to victory by veteran quarterback Andy Oliver, who scored two touchdowns in the fourth quarter.
D'Juan Reaves also scored in the fourth for Oakville, while Mike Mik carried in his second of the night for the Panthers.
Heinemann said his squad missed the mark a few times.
"We didn't execute. We made some mistakes, especially late in the game," the Mehlville coach said.
Heinemann hopes to correct a few of those mistakes by next week, but praised his team's work ethic.
"I've said this all year and that is these guys never give up. They always battle. They never fold," he said. "We've just got to work on the little things and clean things up and get ready for next week.
This week, the Panthers will have to make sure they get everything cleaned up as they prepare to host 2-5 SLUH and look to climb back to the .500 mark for the season.
Oakville will be looking to improve to 5-3 as they travel to 2-5 Northwest to take on the Lions Friday night.
The Lindbergh High School varsity football team fell last Friday to the Eureka Wildcats 38-0.
The 2-5 Flyers are hoping to turn things around this Friday when they travel to Marquette to face the 1-6 Mustangs.