Nixon again vetoes transfer legislation
Districts to collaborate to aid Normandy, Riverview districts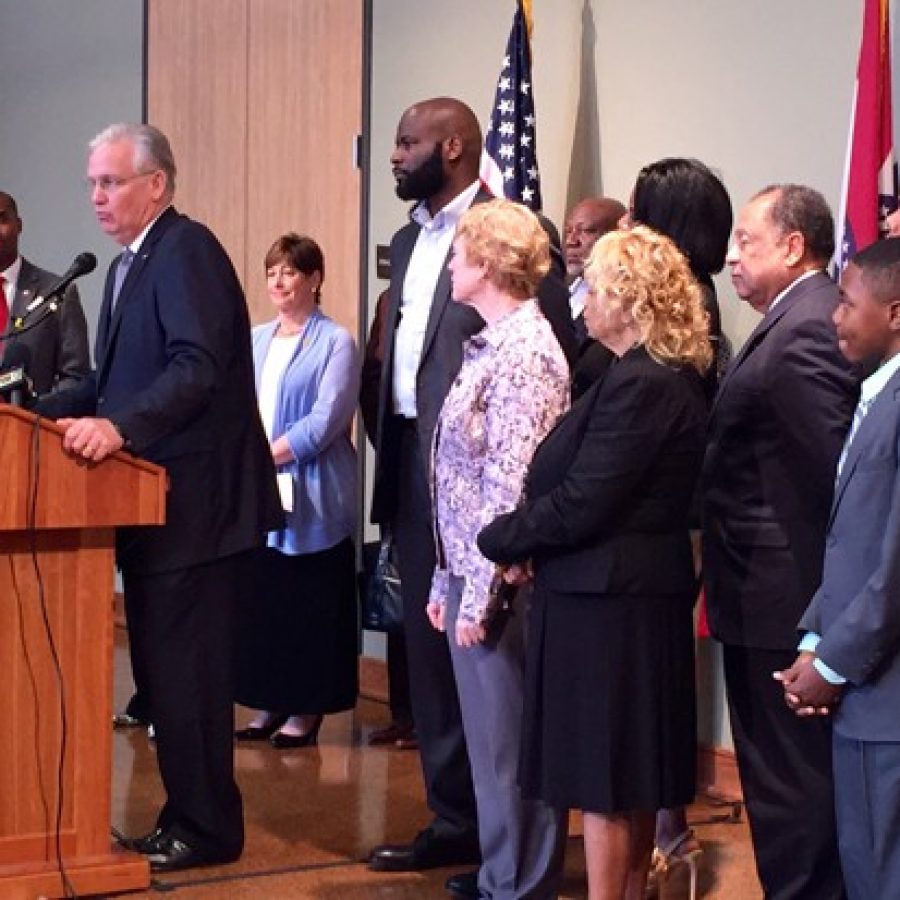 After vetoing an attempt by the Missouri Legislature to change the student transfer law for the second year in a row, Gov. Jay Nixon said last week that he's given up any hope legislators will figure out a fix for the law.
When Nixon announced his veto of House Bill 42 Friday at Ritenour High School, he said he rejected a bill that started strong but "veered off track" as it grew from four pages to 91 through amendments. Those amendments, he said, had little to do with fixing the transfer law, which allows students from unaccredited districts to attend other districts, including Lindbergh Schools and the Mehlville School District, at their own district's expense.
"By the time it got to my desk, it mandated expensive voucher schemes, it neglected accountability and skirted major underlying difficulties in the transfer law while creating a host of potential new problems for districts all across our state," Nixon said.
Nixon specifically referenced the six area schools named National Blue Ribbon Schools this year by the U.S. Department of Education, which he said are some of the highest-performing schools in the state, including Lindbergh's Long and Concord elementary schools.
The bill goes beyond providing alternatives to unaccredited districts, and top school districts like Lindbergh could be forced to divert their tax money to private online schools under the bill, the governor said.
At one point, Nixon stopped to apologize that his veto explanation was taking so long.
"There's a lot of reasons why this isn't a good bill," he said. "I apologize for that, but I didn't write it."
Mehlville Board of Education Vice President Larry Felton shook Nixon's hand after the announcement, and he told the Call the bill would damage Mehlville and school districts across the state, whose school boards Felton was representing at the event through his position on the board of the Missouri School Boards' Association, or MSBA.
At the MSBA's annual meeting early this month, Felton was elected president elect of the organization, and he said the statewide office gives him the opportunity to represent Mehlville's interests not only in Jefferson City but in Washington, D.C., where he will meet with U.S. Rep. Ann Wagner next week on issues that specifically relate to Mehlville.
As for the transfer bill, Felton said he spoke to the governor and state legislators about his opposition.
"It's the flow of public money into entities that aren't subject to public governance and public scrutiny," he said at the veto announcement. "If there's one thing we get scrutinized on, it's how well we do as public officials to manage the money we have. The idea of using public money for a private, virtual school when we've got one that's state-funded already, but funding for that keeps getting cut back."
The initiative would damage private schools along with public schools, said Interim Superintendent Norm Ridder, who will be succeeded by Chris Gaines as Mehlville's superintendent Wednesday.
"If he didn't veto it, as far as Mehlville's concerned, charters could pop up anywhere," said Ridder, who was once the superintendent of the Archdiocese of Denver. "It would hurt the Catholic schools as much as the public schools. Either way, it's a bad law."
In her end-of-session report, Rep. Marsha Haefner, R-Oakville, said the bill was meant to improve transfers by accrediting individual schools rather than districts, allowing students to take a first option of transferring to accredited schools in their own district and providing an option to transfer to an approved charter school or a virtual education program.
Receiving districts would be able to establish policies on classroom sizes and student-teacher ratios so that they were not overwhelmed with students from unaccredited districts, and unaccredited districts would benefit because receiving districts would have an incentive to lower their tuition so sending districts do not go bankrupt.
Local legislators split along party lines when they voted last month on the bill, with the exception of Sen. Scott Sifton, D-Affton, who voted for it. Haefner voted for it along with Rep. Cloria Brown, R-Lemay, and Rep. Mike Leara, R-Concord, but Rep. Bob Burns, D-Affton, and Rep. Genise Montecillo, D-Affton, voted against it.
In a move Nixon connected to his later veto, the governor also announced last week that all 22 St. Louis-area school districts will collaborate to send resources to improve education in the Normandy and Riverview Gardens school districts, including sending administrators or teachers to work in the districts. However, both Lindbergh and Mehlville said they will do what they can to help the unaccredited districts, but are not able to spare major resources.
Mehlville participated in the talks with the governor and was represented at Nixon's June 23 press conference by Executive Director for Student Services Jeff Bresler, who oversees the students in the transfer program, but the district has no extra resources to send to north county at a time when the district faces millions of dollars in budget cuts.
Other districts are offering tutoring to Riverview and Normandy, but Mehlville cut all its own district-paid tutoring this year, which made up $100,000 of the $4 million in budget cuts and new fees for its 2015-2016 budget, which still has a $2.6 million operations deficit.
Instead, Mehlville has invited Riverview and Normandy teachers to come to Mehlville for the district's professional-development training for teachers, Ridder said.
"We really didn't have any money, so if you want to participate in any of our training, you can come over for that," Ridder said. "And that's about all we can do."
Lindbergh will also open up its professional development to Normandy and Riverview teachers, said Communications Director Beth Johnston.
"Any assistance they need with professional development and curriculum, we'll be happy to help," she said. "We'll do whatever we can to help."
Felton said he will work with Riverview school board members to see if Mehlville can make its professional training even more readily available to Riverview teachers.
"If you say we're going to come up there and we're going to run professional development at your place because we're not sure you can get down to us – that's the kind of stuff that would go a long way, because financially I'm not sure that they have a lot of the same opportunities we have," Felton said.
As part of the deal brokered by Nixon, other districts volunteered to offer tuition relief to the unaccredited districts, whose budgets are strained from paying up to $20,000 a student for transfers, but Lindbergh is already discounting the tuition for its eight Normandy transfer students down to the same $7,000 rate that it charges students from the Voluntary Interdistrict Choice Corp., or VICC, $3,000 less than its usual tuition rate.
Mehlville will not be discounting its tuition any lower since it already has the lowest tuition rate of any school in the region at $9,500, a rate that state officials already cut to roughly $7,000 for transfer purposes, said Director of Communications and Public Relations John Wolff.