New Mehlville superintendent looks to follow strategic plan
New leader hoping to bring long-term stability to district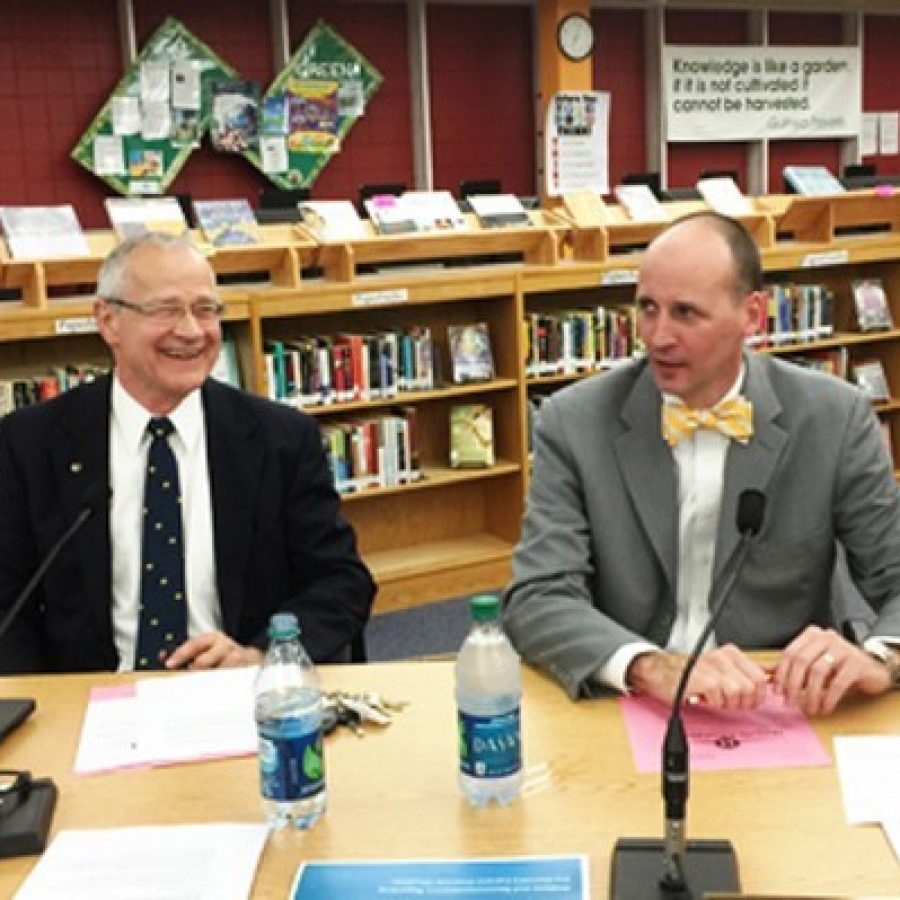 With his first month in Mehlville behind him, new Superintendent Chris Gaines said he looks forward to becoming part of the community long-term and showing the community what it is like to follow a strategic plan.
Former interim Superintendent Norm Ridder, who left Mehlville June 30 and took an interim position in Joplin last week, said the transition to Gaines should be seamless because of the strategic plan the Board of Education approved in February.
"Every community he's gone into he's done an awesome job, and he'll do a great job here," Ridder said of Gaines. "I can assure you the transition will look like it never happened — that's how smooth it's going to be. The plan will be in place, and he just has to lead it."
After a search conducted by the Missouri School Boards' Association, or MSBA, Board of Education members who voted 4-3 to hire Gaines Feb. 5 were Vice President Larry Felton, Secretary Samantha Stormer, Jean Pretto and Katy Eardley. Former President Ron Fedorchak, current President Venki Palamand and board member Lori Trakas were opposed, but all except Trakas later voted for contracts for Gaines.
Board members who hired Gaines said they believe he combines some of the best traits of Mehlville's last two leaders, Ridder and Rockwood Superintendent Eric Knost, while adding his own qualities that uniquely fit Mehlville.
With 14 years of experience as a superintendent split between the small Wright City and Crawford County school districts, Gaines, 45, has developed a "tremendous track record" building student achievement and overcoming financial issues, Fedorchak said — experience Mehlville needs with $4 million in budget cuts and new fees going into effect this year, a possible tax-rate increase on the table for the November ballot and test scores that have dropped significantly.
"The things that we're putting in place, he already has in place, so we know that these are the things he will continue to do," Stormer said. "He will continue to make sure that our community has a voice. You know how our community is, that's important to them to make sure they have that voice."
Gaines hopes to end the rotating door of superintendents and bring long-term stability to Mehlville, where he is the first superintendent to live in the district since 2006.
"We're looking to stay there for as long as the board will have us," Gaines said before his arrival, noting that Wright City also went through a string of four or five superintendents before him. "So me staying longer has led to a little bit more consistency, a little bit more long-range planning, and that will be the goal in Mehlville, too. Stay there so we can keep a plan moving forward, and not be kind of haphazard, because that's what you can get when you have a lot of superintendent turnover. But be thoughtful in terms of the long term — intentional and purposeful."
Like Ridder, Gaines is a strategic planner and Baldridge examiner of high-performing systems, who analyzes companies and organizations for performance and waste.
Gaines was personally trained in continuous improvement by Ridder before Wright City adopted the system.
"It's in his DNA," Ridder said of Gaines and strategic planning. "It's in his language, it's in everything he does."
Knost tweeted a welcome to Gaines on his first day on the job July 1. Like Knost, Gaines is a technology fan, blogger and frequent Twitter user, under the handle @paddlingsupt. Last October, Knost and Gaines presented alongside each other at a conference on how school districts can best use social media.
Gaines is an outdoorsman whose hobbies include canoeing, kayaking, camping and horses, which he will board locally once he sells his Wright City house. It was the former Boy Scout's love of kayaking that indirectly led him to Mehlville, he told the Call. On one of his kayaking trips, a friend from Oakville mentioned the vacancy and encouraged Gaines to apply.
Gaines is still settling into his new house in Concord with his wife, Debbie, and son Zack, 10, a Boy Scout who will attend Mehlville schools. The move brings Gaines closer to his mother-in-law, who lives near Mehlville High School. Ridder and board members believe the new superintendent's sense of family will help him fit into the Mehlville culture. When Gaines walked into his interview, he introduced himself not by name but as "Zack's dad."
Of the Mehlville superintendents they have known, both Ridder and former board President Dan Fowler said Gaines' quiet personality reminds them the most of former Mehlville and Special School District Superintendent John Cary, who died last year.
Gaines said past employees have joked that he squeaks when he walks because he is so frugal, which Eardley — sister of current board member Jamey Murphy — said is one of his top assets.
"He's very fiscally conservative, and we need that in Mehlville," she said. "Early on in the interview process, he said he's known as the squeaky superintendent because he can make every dime squeak. He doesn't spend money unless he knows it's going to make a difference."
One of the ways Gaines stands out from other superintendents is his colorful wardrobe, which on one of his first days in Mehlville included a coral shirt, a paisley tie and polka-dot socks, all matched by color.
Knost started his ongoing "Bow Tie Tuesday" tradition during his last semester in Mehlville, and it's a fashion choice shared by Gaines, who doesn't wear the ties on a set schedule. But when Gaines showed up in a bow tie at his first Mehlville board meeting March 11, Ridder clarified that Gaines has worn them for years.
"Dr. Gaines had the bow tie before Dr. Knost did — Dr. Knost learned from him," Ridder said.
The Bootheel native held a number of jobs in education before he became a superintendent at 30, after just one year in administration as a principal. Before that, he was a bus driver, a science and math teacher and coached girls' basketball and golf. He earned his doctorate from St. Louis University and his bachelor's and master's degrees from Southeast Missouri State University.
Gaines is a leader among superintendents, serving on the national committee of the American Association of School Administrators, or AASA. He is one of four national representatives from Missouri's region, which includes the Midwest and Canada.
Academically, board members who voted for Gaines said they appreciate that he took Wright City from one of the worst-performing districts in the state to the top third in academic performance, which he credits to the "rock, paper, scissors" system he has presented at national conferences.
Under the system, after officials identify the "rocks" holding students back, they take a laser focus on how to fix them as their "scissors" cut away distractions, then measure their progress on "paper."