New Crestwood administrator looks to bring stability to city
Simpson would love to serve as administrator for 20 years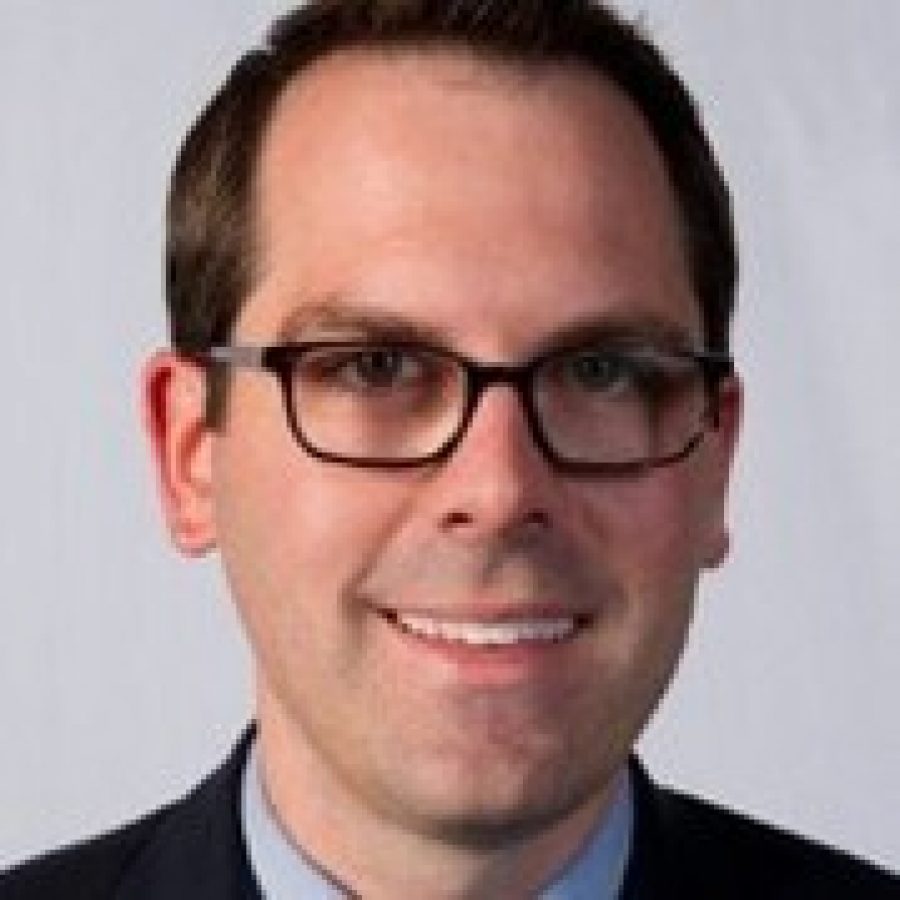 Crestwood's new city administrator hopes to bring some stability to the city's top appointed position and the city itself.
Kris Simpson, who began his duties Jan. 4, cited the turnover of city administrators since 2000 and believes Crestwood needs some longevity in the post.
"… I lose count. I don't know exactly, but I think it's something like seven, eight, nine city administrators since 2000 …," he told the Call last week. "And seeing it now, just two weeks in on the job, the impact that has on things like your chart of accounts and how you run your finances — too many cooks in the kitchen and it has never been done consistently one way …"
Simpson replaces Mark Sime, who resigned in October after serving as city administrator since January 2013. City Clerk Helen Ingold administered the oath of office to Simpson during last week's Board of Aldermen meeting.
Simpson grew up in the St. Louis area, before moving to Baltimore, Md., to attend college at Loyola University Maryland.
After earning a bachelor's degree in political science, Simpson returned to St. Louis to study at the University of Missouri-Saint Louis, where he earned his master's degree in public policy administration with a certificate in local government management.
Simpson worked as an unpaid intern for the city of Chesterfield before being hired there in February 2012 as a management analyst/assistant to the city administrator.
In May 2013, he accepted the position of assistant to the city administrator of Maryland Heights, Mark M. Levin.
Simpson said the advertisement for the position stated the person to be hired was expected to serve for no more than five years and then become a city administrator in another municipality.
Levin served as Maryland Heights city administrator for 30 years before he retired last July.
Of Levin, Simpson said, "He was my mentor. He is my mentor. We've stayed in touch … He's over at Indiana University overseeing their city administration training program, basically, through their School of Public and Environmental Affairs …"
Under the International City/County Management Association's Code of Ethics, professional local government managers are expected to make at last a two-year commitment to a community because of the costs associated with recruitment and training, Simpson said.
Levin said that after Simpson served two years in Maryland Heights, he could begin to seek employment elsewhere.
"So that's what I did," Simpson said, adding that his wife, Stacy, also is from the St. Louis area and they want to remain in the region. " … I started looking at jobs that came up and considering them as they came along … Crestwood opened up. I said, 'Yeah, I know Crestwood. I have memories going to the mall when I was younger. It's a safe community. The school district's good. The housing market's good. I mean, what more could you want?' …
"I met the board. I met the mayor. They all seem to be on the same page, and that's really what you're looking for because obviously I would serve at their pleasure. If there's a lot of turmoil and if there was a lot of infighting and things like that, that's a little bit more of a cautionary thing …"
After meeting city officials, Simpson said, "This group sent me the right message. I feel good about this going in, and they were in need of some stability …"
The management team that's in place will help him provide that stability to the city that he believes is needed.
"The team that we've got there, the management team, is great. I'm really impressed with the staff," Simpson said. "We're working on getting things aligned so that our operations are all in one direction, playing some catchup after 10 years of some serious budget difficulties. I don't know how you keep a ship sailing when it's patching holes left and right.
"But we're doing the best we can now to get caught up. I think things are heading in the right direction and then hopefully now, my plan is to be here for as long as they'll let me stay. I would love to be here for 20 years, if not longer. If I can do that, that would be great, and I think there's enough going on and there's enough here in the community to keep me engaged and interested in this position that long. So that's my goal."
The new city administrator has done his homework regarding Crestwood, particularly its finances.
"Financial difficulties certainly are not an easy thing to manage, and there were some difficult decisions that had to be made. The workforce was around 130 employees in the early 2000s and now we're down to 90," Simpson said. "The budget has decreased revenue-wise 21 percent since 2006, and expenditures have been mainly flat — 2-percent increases. That's not even enough to keep up with inflation.
"You had a recession in there. You had the mall going down. It's tough. It's not a strong recipe for stability, but that's what they need now."
In doing his research about Crestwood before being offered the position, Simpson said he read what he could about the proposed redevelopment of the former Crestwood Plaza.
The mall's owner, UrbanStreet Group of Chicago, is requesting about $25 million in economic assistance for a $104.3 million mixed-use project.
UrbanStreet's request for economic assistance, including tax-increment financing, or TIF, currently is being considered by the city's TIF Commission.
Regarding the mall, he said, "… Reading what I could, I was just optimistic that something was happening, really, because obviously it's the center of Crestwood. It's a really important piece to whatever is going to happen there, and it's nice to know: OK, something's moving here …
"I have economic development experience, but at this point, whether or not it's right for Crestwood is not up to me. It's up to the elected officials, and the TIF Commission is going through their process on the incentive for TIF and whether it's an appropriate thing. That's their decision to make."
The Board of Aldermen voted unanimously in closed session Dec. 15 to hire Simpson as city administrator at a salary of $93,500.
Ward 3 Alderman Grant Mabie's motion to hire Simpson, as recommended by Mayor Gregg Roby, was seconded by Ward 2 Alderman Justin Charboneau.
Approval of the motion also waived the city's residency requirement for the city administrator, as requested by Roby.
Aldermen voted unanimously last week to adopt an ordinance establishing Simpson's salary, benefits and other terms outlined in the city administrator's employment agreement with the city.