Neighbors threaten legal action if Tesson Ferry apartments approved
O'Leary could be 'one of the most hated men in south county' if apartments go through, Witzel says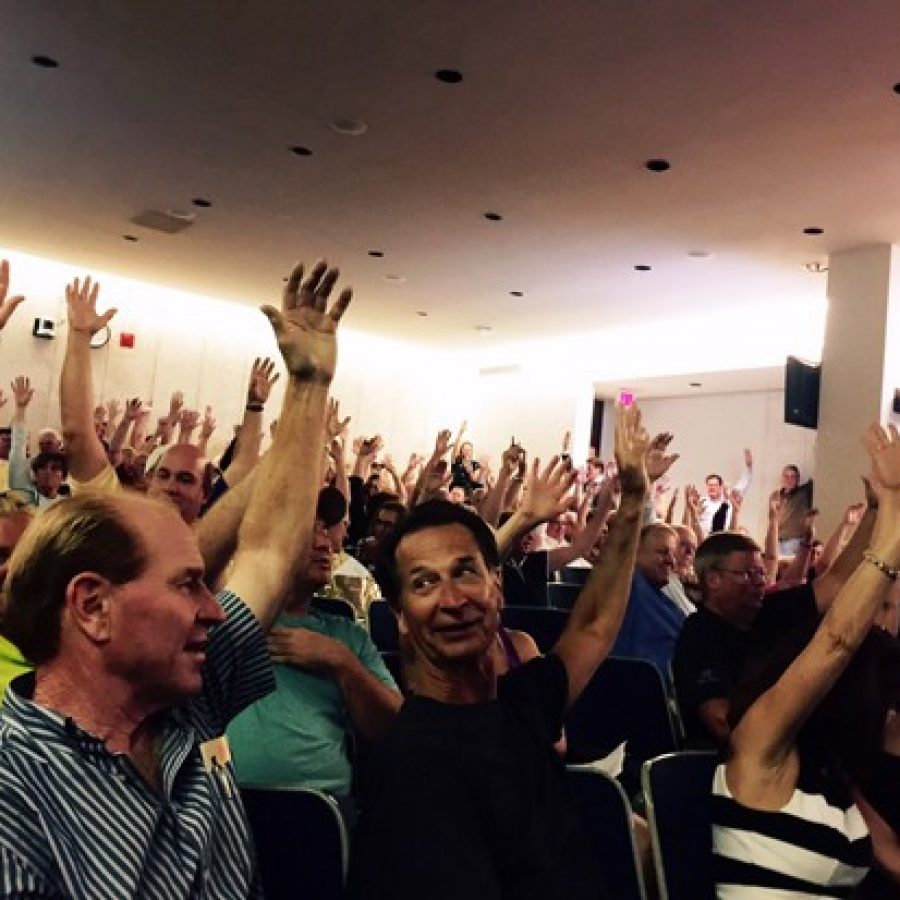 Neighbors of an apartment complex proposed at a busy south county intersection say if it the County Council approves it next week, they will take file a lawsuit against the county to contest the proposed development.
The council could grant final approval next week for a 232-unit apartment complex in south county, after 6th District Councilman Kevin O'Leary, D-Oakville, held off on calling for a final vote at the council meeting Tuesday night.
Developer J.H. Berra, operating as JHB Properties, is proposing to build "21Bauer," a multi-family apartment complex of 10 two-, three- and four-story buildings on a 17.2-acre site at the corner of Tesson Ferry and Bauer roads in the Mehlville School District, in an area represented by O'Leary.
At a series of meetings throughout the summer, residents have told county officials that they oppose 21Bauer because it would cause permanent damage to the residential character of their quiet neighborhoods, drag down their property values and make traffic on already-packed roads unbearable. The county Department of Planning and the county Planning Commission, however, recommended approval of the plan and believe it will be a good fit for the neighborhood as a buffer between the single-family residential nature of homes along Bauer Road and the commercial areas along Tesson Ferry.
At the meeting Tuesday, Sunset Meadows trustee Bill Hogan, who represents 600 single-family homes in the 1.6-mile corridor along Bauer Road, promised quick legal action if the bill passes.
Addressing O'Leary directly, Hogan said, "I ask you to listen to your people and shut this down. But if you don't, I will give you notice — we will proceed tomorrow morning with a lawsuit against the county in an effort to shut it down … I ask you to stop this madness and save us from this destructive cost and effort."
Public speakers have noted that many subdivisions in the area have approved extra assessments on themselves just for legal fees to fight the complex.
Throughout August, Hogan and dozens other neighbors of the project have gone to the council to, as some of them put it, "beg" for another public hearing on the apartments, which they believe will permanently damage the character of their quiet neighborhoods along Bauer and Keller roads.
O'Leary could drop the project if he wants to, but has instead advanced it. The apartments were perfected last week 4-3, with "yes" votes from O'Leary, 5th District Councilman Pat Dolan, D-Richmond Heights, council Chairman Mike O'Mara, D-Florissant, and 2nd District Councilman Sam Page, D-Creve Coeur.
Casting dissenting votes were 3rd District Councilwoman Colleen Wasinger, R-Town and Country, who represents some of the neighbors of the complex, along with 7th District Councilman Mark Harder, R-Ballwin, and 1st District Councilwoman Hazel Erby, D-University City.
O'Mara was absent this week for the second time in the three meetings since he was defeated in the Aug. 2 Democratic council primary by Rep. Rochelle Walton Gray, D-Black Jack.
O'Leary also held the legislation for the apartments when O'Mara was absent at the Aug. 16 meeting. In an email sent out by a group of neighbors opposing the project, residents speculated that O'Leary held the legislation directly because O'Mara was absent. If the vote on the apartments had tied 3-3, the bill would have been defeated and the measure dropped from council consideration.
After telling a reporter for another publication that he would hold a public hearing, O'Leary and his legislative assistant Diann Valenti have not responded to multiple requests for comment from the Call to discuss the project. Residents also report that their calls and emails to O'Leary and Valenti have gone unanswered.
That has been maddening for residents, who at the Aug. 30 meeting compared O'Leary to several notorious figures, both real and fictional.
Concord resident Bob Mahacek referred to the "culture of special interests," including developers and unions, that are pressing for the project's approval, and he asked O'Leary to resist.
"It's never too late — even Darth Vader came around and did the right thing," Mahacek said as he left the podium, cut off by Page's one-minute time limit for speakers.
Bob Schaefer of Bahnfyre Drive asked if O'Leary's best friend, actor and south county native John Goodman, would approve of O'Leary's choice to support the apartments.
He also compared O'Leary to a less beloved St. Louis figure.
"I don't want you to be south county's version of Stan Kroenke — vote no," Schaefer said.
Oakville Republican Committeewoman Celeste Witzel, who was just re-elected to a four-year term Aug. 2, has attended several of the meetings and told O'Leary that it is in his best interest to stop the apartments.
"You have the opportunity to either be a hero or be one of the most hated men in south county," Witzel told O'Leary, who sent out campaign mailers last year featuring Witzel's public criticism of his Republican opponent, former Green Park Ward 1 Alderman Tony Pousosa.
Although other council members have asked questions of the residents or asked for more meetings on the issue, O'Leary has consistently been silent on the issue.
"There is a rush to get this approved, and that's always suspect to me," Harder said. "I've been around government a long time. When people are pushing things too hard, that's usually when you need to wake up."