National Merit Scholarship finalists named in Lindbergh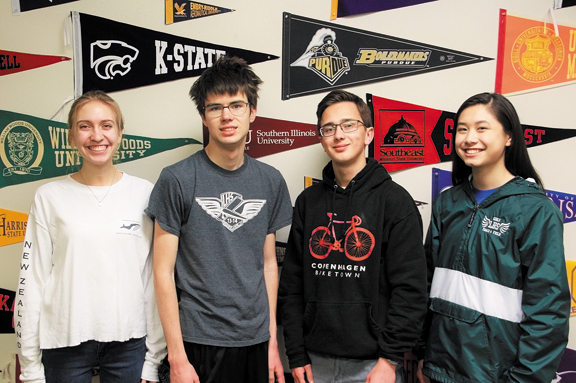 Lindbergh High School students who have been named finalists in the 2018 National Merit Scholarship Program, from left, are: Lauren Greiner, Aidan Matthews Kelley, Jack Fletcher and Leanne Dang.
Four Lindbergh High School seniors have been named National Merit finalists as part of the prestigious National Merit Scholarship Program.
LHS seniors Leanne Dang, Jack Fletcher, Lauren Greiner and Aidan Matthews Kelley are among 15,000 finalists nationwide who are now eligible to win Merit Scholarship awards based on their abilities, skills and accomplishments.
"These students have shown exceptional academic ability and a strong work ethic that will directly influence their potential for success in college studies, and we are extremely proud of them," LHS Principal Eric Cochran stated in a news release.
The four LHS students were among 1.6 million juniors in over 22,000 high schools who entered the 2018 National Merit Scholarship Program by taking the 2016 Preliminary SAT/National Merit Scholarship Qualifying Test.
The nationwide pool of semifinalists represents less than 1 percent of U.S. high school seniors and includes the highest scoring individuals in each state.
Each year, the National Merit Scholarship Corp. partners with more than 400 business organizations and higher education institutions to award 7,500 National Merit Scholarships worth about $33 million.
The goal of the program is to honor the nation's scholastic champions and encourage the pursuit of academic excellence.