Mueller and Noser engaged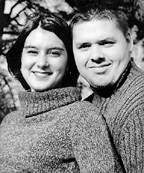 Michele Mueller, daughter of Ed and Rita Mueller of Oakville, and Brian Noser, son of Phil and Pat Noser of Imperial, announce their engagement and forthcoming marriage.
Mueller of Oakville is a 1998 graduate of Oakville Senior High School and attends Webster University where she will earn her bachelor's degree in business management in December. She is employed by Citi-Mortgage.
Her fiance, Noser, is a 1996 graduate of Affton High School and a 2001 graduate of Webster Univer-sity. He is employed by American Greetings as an area supervisor.
The couple plan a June 7 wedding at Peace Lutheran Church in St. Louis.